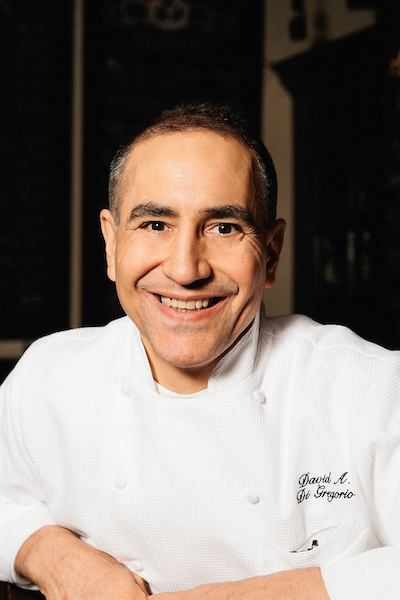 David DiGregorio
Chef Partner at Osteria Via Stato
Raised in Rhode Island, Chef David DiGregorio attributes his appreciation of food to his Italian family's tradition of cooking and eating together, later knowing as a child that he wanted to be a chef. At fourteen years old, he started his career working at various restaurants until entering the Culinary Arts Program at Johnson and Wales University in Rhode Island in 1978.

Throughout a two–year American Culinary Federation apprenticeship at the Mobil four-star Swiss Chalet Restaurant, Chef DiGregorio gained a strong background in cooking classic continental cuisine. In 1982, he moved his career path to Chicago and joined the reopening staff at the 95th Restaurant as a saucier. After working several positions in the kitchen, DiGregorio took over as the 95th's executive chef in March 1986. Under his leadership, the restaurant was named one of the top ten restaurants of the year by critic James Ward and earned many national industry awards.

During his time with the 95th restaurant, Chef DiGregorio gained the attention of Rich Melman of Lettuce Entertain You Enterprises. In 1992, he became a part of the Lettuce Entertain You family. As Executive Chef Partner of local River North Maggiano's, he brought to Chicago the Italian tradition of family-style dining and a greater appreciation of classic, American-Italian cuisine making the restaurant a legendary Chicago favorite.

In 2004, after taking a trip and dining throughout Italy with LEYE founder and Chairman Rich Melman, the team opened Osteria Via Stato in Chicago's River North. Focusing on Italian dining that he experienced during his journey, the restaurant follows the Italian tradition of seasonal ingredients and local flavors. Osteria Via Stato's simple and honest approach has made it a favorite mainstay for today's epicureans—from neighborhood locals to award-winning chefs and winemakers throughout the world. In 2007, Chef DiGregorio and his team launched Pizzeria Via Stato, a Roman-style pizzeria featuring ingredient-driven tavern pizzas, salads, and small plates.

Chef DiGregorio continues to keep creativity and quality his top priorities for developing his ever-evolving, seasonally-driven menus. He seeks out and develops relationships with farmers, family-owned establishments and artisanal purveyors throughout the Midwest, assuring him the freshest, most innovative ingredients available.

Osteria Via Stato has received numerous awards and accolades including recognition in Gourmet, Bon Appetit, Food & Wine; as well as being named Best Italian Restaurant in Time Out Chicago. The restaurant is also the recipient of Wine Spectator's Award of Excellence. Chef DiGregorio keeps an active schedule supporting charities and organizations close to his heart, including Chicago's Green City Market, Meals-on-Wheels and United Cerebral Palsy Seguin of Greater Chicago.

Chef DiGregorio and his wife, Tiyang, have been married for 30 years and have three sons.