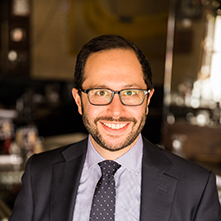 Ethan Samson
Vice President & Deputy General Counsel
Ethan Samson is the Vice President & Deputy General Counsel for Lettuce Entertain You Restaurants. Ethan grew up in Chicago and graduated from the University of Illinois (Urbana-Champaign) with dual degrees in Finance and Accounting, receiving his CPA shortly after. He started with Lettuce in 2003 as a summer intern and upon graduating college he immediately started as a Staff Accountant for Lettuce. Ethan continued in this role until earning his JD from Chicago-Kent College of Law in 2010 and was admitted to the Illinois Bar that same year. After spending the next four years working as a Corporate Attorney specializing in Mergers and Acquisitions at Reed Smith LLP, Ethan re-joined Lettuce in the legal department in January 2014.

Since his return, Ethan has had the opportunity to be on the frontlines of the company's growth by participating in the negotiations of new projects and helping the operations teams work through ever-changing regulations and a multitude of other legal matters. In June 2017, Ethan played a key role in facilitating the Wow Bao transaction with Valor Equity Partners (Valor), a Chicago-based equity firm that partnered with Lettuce to grow the Wow Bao brand.

Ethan sits on the Board of Directors for both the Legal Aid Society of Metropolitan Family Services and for the Kendall College Trust.

He met his wife, Michaela, through their careers at Lettuce. They live in the city with their Shiba Inu-mix, Maki. Ethan also enjoys golf, live music, trying new restaurants, rooting for the Cubs, grilling, and participating in his book club's debates.