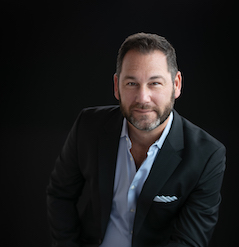 Geoff Alexander
President and CEO of Wow Bao
Nine days after graduating from the University of Wisconsin-Madison in 1993, Geoff Alexander joined Lettuce Entertain You Restaurants. During his more than 30 years with the Chicago-based company, he has worked on the implementation of various restaurant concepts including, Vong's Thai Kitchen, Big Bowl and Shaw's Crab House.

Always an innovative leader in technology, Geoff brought his expertise to Wow Bao in 2009. He immediately debuted self-ordering kiosks, and his knack for industry disruption didn't stop there. In 2017 he introduced a fully tech-enabled front-of-the-house environment where guests ordered via an iOS or Android device and received their food from animated personalized cubbies.

Recognizing the opportunity for growth, Geoff was responsible for bringing Wow Bao into airports, sports stadiums, university campuses, music venues, e-commerce platforms, and to more than 5,000 grocery stores across the country. He also launched Wow Bao vending machines, serving hot steamed buns, in multiple states, further positioning the brand as a pioneer in technology.

An early adopter of the dark kitchen space, Geoff and his team began to offer signature Wow Bao menu items to restaurants around the country in 2020.  This groundbreaking extension of the business allows restaurant operators to grow top-line sales and increase bottom-line profits, while expanding Wow Bao's rising profile. By early 2023, Wow Bao has added more than 700 Dark Kitchens across the U.S. and Canada.

Geoff has continued the revolutionary advances synonymous with Wow Bao with the recent launch of its CollectaBao Digital Collectibles. By joining the metaverse, Wow Bao is the first virtual restaurant to successfully marry a web3 integrated loyalty program with a traditional guest rewards program.

Nation's Restaurant News placed Geoff on their Power List and cited him as one of their Most Influential Restaurant CEOs in the country. Under his leadership Wow Bao was named "Brand of the Year" twice – the first company to be recognized more than once.

An industry thought leader, Geoff is a sought-after voice and is frequently showcased at conferences, on podcasts, and in consumer and trade press. He is also Chairman of the National Restaurant Association's Fast Casual Industry Council.