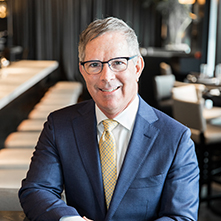 Jeffrey Hubbeling
Partner & Director of Operations
Jeffrey Hubbeling is Partner and Director of Operations for Pizzeria Portofino, RPM Events and RPM Seafood, all located at 317 N. Clark Street along the Chicago River in downtown Chicago.

After receiving a Bachelor of Arts in history from American University, Jeffrey opted to forgo graduate school and instead head to Colorado to ski. There, he took a job with the Chart House restaurant so he could ski during the day and work at night. This is where he found his passion for the restaurant business. The Chart House soon offered him the opportunity to go into management, so in 1992 he joined their team. In 1994, he moved to New York to become the General Manager of Ruth's Chris Steak House in Manhattan where he enjoyed great success. After more than a decade there, Jeffrey was promoted to Midwest Regional Vice President, covering eleven locations, and relocated to Chicago in 2006.

Having moved to the Chicago area with his wife – who was expecting their first child at the time – the couple landed in Naperville. The job of RVP required a great deal of travel, which Jeffrey grew tired of, so he applied to work for Lettuce Entertain You Restaurants. In March 2010, he was hired as the General Manager of Shaw's Crab House. In 2015, Jeffrey moved to the role of General Manager at RPM Italian where he thrived on the excitement of the industry and focused on personal and professional development for both himself and his team and was later named Associate Partner.

Jeffrey spent four years as General Manager of RPM Italian before moving over in 2019 to the RPM brand's latest development – a multi-level project located right on the Chicago River – where he serves as both Partner and Director of Operations. The space houses three different concepts: the casual riverfront restaurant, Pizzeria Portofino; a private event and wedding space, RPM Events; and the fish and seafood-focused restaurant, RPM Seafood.

When asked what he's most proud of, Jeffrey says it's having worked for Lettuce brands that have had sales growth year after year, and he is looking forward to working with his partners in developing RPM into one of the best restaurant brands in the country.

Jeffrey resides in Naperville and enjoys spending time with his lovely wife, Jana, and their daughter, Abigail, who is a competitive figure skater. He also enjoys playing golf, running, rock climbing and reading in his free time.