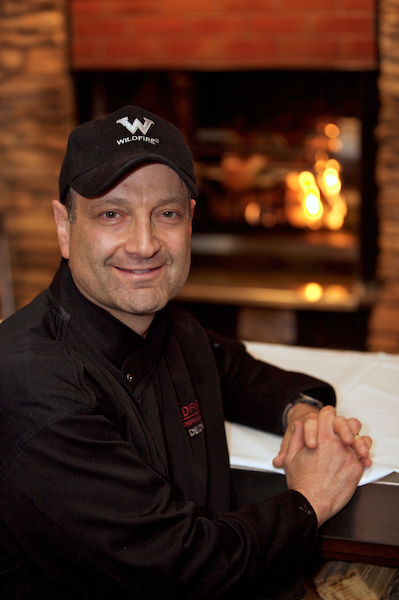 Joe Decker
Vice President and Executive Chef of Wildfire
Joe Decker is Vice President and Executive Chef of Wildfire. He currently oversees all Wildfire culinary operations in Chicago, Oak Brook, Glenview, Schaumburg, and Lincolnshire, IL, Minnesota, and Virginia locations. Joe was part of the initial team which developed the menu at the 1940's-inspired dinner club. Signature dishes at Wildfire include Filet Medallion Trio, Macadamia Nut Crusted Halibut, Wildfire Chopped Salad, Horseradish Crusted Filet Mignon, Roasted Prime Rib of Beef, and Cedar Planked Salmon. It prides itself on being ranked in the top five "Most Popular" restaurants in Chicago's Zagat Guide.

Decker, a Chicago native, got his start in the food business by volunteering to work for free at Ann's Bakery in suburban Wilmette in exchange for learning the secrets of great baking.

His next stop was the Oakton Bakery in Skokie, where he confirmed the hunch that he loved the food business but disliked bakery hours. Decker continued his culinary education and added a few hours to his sleep by enrolling in Washburne Trade School, graduating in 1981.

Decker pursued a career track that took him through some of the top restaurants in the country. He apprenticed at Jimmy's Place in Chicago and went on to become sous chef at Cafe Provencal in Evanston, where he mastered French food preparation. "The roots of my cooking stem from Cafe Provencal. The rustic French cuisine: olive oil, tomatoes, garlic, and peppers. The transition is easy to make. Both cuisines utilize the finest ingredients, prepared simply."

The next stops were Mallory's, where he ran the kitchen, and Don Roth's Restaurants. While with Roth's, Decker took a cooking sabbatical to New Orleans, where he studied Cajun cooking at four famed restaurants — K-Paul's, LeRuth's, Commander's Palace and Mr. B's. From there, he embarked on the fate-determining trip to Europe.

After traveling throughout Italy, Decker came back to the U.S. with the inspiration to re-create the rustic Italian cuisine with which he had fallen in love. He headed out to California to hone his country Italian cooking at Trattoria Primizia near San Jose. The restaurant was one of the first to feature thin-crust "designer" pizzas.

Less than a year later, Decker auditioned before Lettuce Entertain You Restaurants's Richard Melman. It was the late Marvin Magid who extended the invitation to Decker, stating, "You talk a big game, now I want to see if you can cook." The twelve-course Italian feast Joe created was such a success that he was awarded the position of chef at Avanzare, Lettuce's first Italian restaurant. He became Scoozi!'s head chef when it opened in 1986, creating its healthy country Italian cuisine.

In addition to Scoozi! and Avanzare, Decker has been instrumental in opening several other of Lettuce's successful restaurants over the years including Twin City Grill in Minneapolis; Tucci Bennuch in Minneapolis; Tucchetti in Arizona; foodlife in Chicago; and Ben Pao in Chicago. He helped bring a version of the 87-year-old Miami Florida's best-kept secret, Joe's Stone Crab to Chicago and is a partner and helped open Chicago's Joe's Seafood, Prime Steak & Stone Crab.

Decker continues to play an integral role in the Lettuce's corporate and restaurant kitchens to develop the innovative food concepts that have made the company one of the nation's leading independent restaurant groups. He has joined the Big Bowl team and oversees chefs and menu development. Decker enjoys the diversity of complex Asian cooking and the simplicity of American food.

Decker is happily married to his wife, Kim and enjoys working out and cooking at home. His family loves attending sporting events, especially their two athletic sons'.