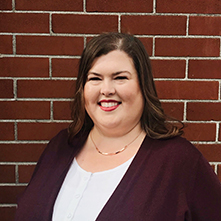 Kaela Young
Managing Partner
Kaela Young is the Managing Partner at KremeWorks. She joined the Krispy Kreme team in February 2004 as a Guest Service Representative. She quickly fell in love with the culture of the company and the opportunities for growth. After six months, Kaela transitioned to a leadership position as Shift Supervisor. After learning more about business operations, she developed her finance skills and advanced to an Office Manager.

In 2007, she briefly left Krispy Kreme to teach English in Harbin, China. Although it was a great experience, she returned to Krispy Kreme as the Assistant General Manager in Delta and a year later was promoted to General Manager. In 2010, the Multi-Unit Manager position was created and she was asked to oversee operations in Delta, British Columbia as well as Maui, HI. She was promoted to Director of Operations in 2012 and took on the additional responsibility of the 10 Krispy Kreme locations in the Pacific Northwest.

Kaela moved to the U.S. in 2015 and in her free time, she enjoys traveling, photography, baking, playing board games, and reading.