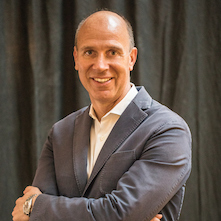 Scott Barton
Divisional President of Eiffel Tower Restaurant, Osteria Via Stato, Pizzeria Via Stato, Tallboy Taco, M Burger, Ozzie's Pops & Pretzels and Big City Chicken
Scott Barton is Divisional President at Lettuce Entertain You Restaurants and oversees concepts from fine dining to fast-casual, delivery and carryout only concepts to private event spaces including Eiffel Tower Restaurant, Osteria Via Stato, Pizzeria Via Stato, Tallboy Taco, M Burger, Ozzie's Pops & Pretzels and Big City Chicken.

Scott joined Lettuce in 1992 as a restaurant manager for Avanzare. Today he works directly with chefs, managers, and partners to develop and grow a variety of Lettuce concepts.

Working closely with his management teams, he strives to define and achieve new goals to improve the restaurants and guest experience. His attention to what makes a restaurant successful— genuine hospitality and a focus on details—remains at the core of his operations and training.