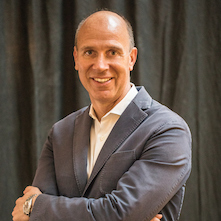 Scott Barton
Divisional President
Scott Barton serves as a Divisional President at Lettuce Entertain You Restaurants, where he brings his expertise to a diverse array of dining concepts ranging from fine dining to fast-casual experiences. Establishments under his guidance include Miru, Eiffel Tower Restaurant, Osteria Via Stato, M Burger, and Big City Chicken. His leadership will soon extend to Tre Dita, set to launch in Chicago in the Fall of 2023.

Scott embarked on his journey with Lettuce in 1992, assuming the role of restaurant manager for Avanzare. Presently, he collaborates closely with chefs, managers, and partners to cultivate and expand the captivating portfolio of Lettuce's culinary concepts.

Working closely with his management teams he strives to define and achieve new goals, all aimed at enhancing restaurant experiences for both guests and staff alike. His attention to what makes a restaurant successful— genuine hospitality and a focus on details—remains at the core of his operations and training.