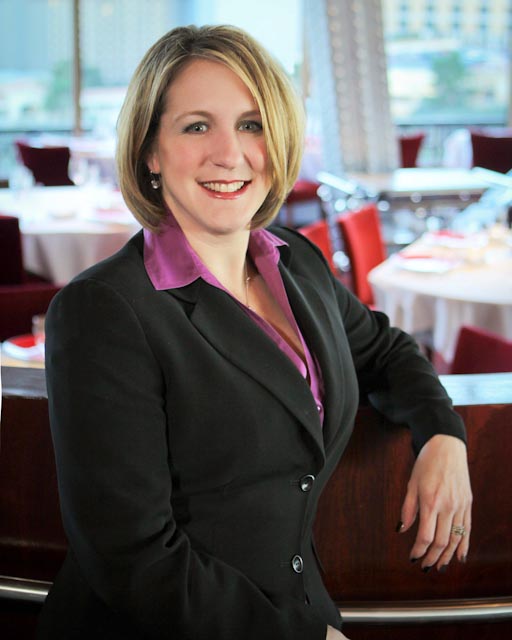 Sharon Boudreau
Partner with Eiffel Tower Restaurant
Sharon Boudreau is a Partner at Lettuce Entertain You's Eiffel Tower Restaurant in Las Vegas, NV.

She grew up in Skokie, IL and started her career in the restaurant industry at her parents' restaurant in Highland Park, IL. Upon graduating high school, Sharon went on to perform with Ice Capades and Disney on Ice, traveling all over the world before landing in Las Vegas. After being part of the opening food and beverage teams at a couple of casinos, including the opening of Aladdin now Planet Hollywood, she found herself wanting to get back into restaurants.

In 2001, Sharon joined Lettuce as a manager at Eiffel Tower Restaurant, a fine dining French restaurant in the Paris Hotel from acclaimed Chef and Partner Jean Joho. During her nearly two decades at Eiffel Tower, she worked her way up, even becoming the restaurant's General Manager for 15 years before being named Partner. Today, Sharon oversees a team of 180 people as well as managing the restaurant's food costs and labor. In 2008, Sharon collaborated with Chef Joho and the team on the development of the Eiffel Tower cookbook.

Sharon is most proud of the restaurant's growth and creativity, especially during the COVID-19 pandemic. Eiffel Tower Restaurant serves more than 4,100 guests per week, who come from all over the world.

A Chicago native and now a Las Vegas transplant, Sharon lives with her husband Bradley whom she met after starting at Eiffel Tower. She enjoys the company of her two amazing daughters Josilyn and Nirvana, her step-sons Tristan and Dustin, and her grandchildren Jameson and Beau.