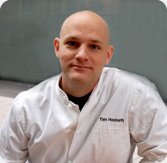 Tim Hockett
Chef Partner of M Burger, Tallboy Taco, Wow Bao and Big City Chicken Navy Pier
Tim's culinary education began when he took a summer job as a food runner at Lettuce Entertain You Enterprises' Maggiano's and got his first glimpse into a professional kitchen. For the first time in his life, he saw sauces being made from scratch, whole fish being filleted and a kitchen team serving thousands of people a night and was instantly hooked. Inspired, he decided to attend Washburne Culinary School in Chicago.

Since then, Tim has worked his way up the culinary ladder for various restaurants within and outside of Lettuce, including positions as varied as an ice sculptor for Nadeau's Ice House in Forest Park, IL and a cook for Pappadeaux Seafood Kitchen in Arlington Heights, IL. He joined the Lettuce team in 1997 as banquet sous chef for Maggiano's before moving on to sous chef and executive sous chef for Vong and Vong's Thai Kitchen in Chicago, under chef Jean-Georges Vongerichten.

Tim later joined the kitchen staff at Tru as a sous chef. In 2004 he moved to Charlottesville, VA, where he spent two years as executive chef/partner for FUEL Co. Bistro & Café and Kluge Estate Farm Shop. Returning to Chicago, he rejoined the Lettuce family as a corporate chef, working directly with Rich Melman creating dishes for many of the newest Lettuce restaurants.

He left the corporate chef world and teamed up with partners Scott Barton and Randy Brand. Since then they have opened 12 restaurants together, including M Burger, Chicago's favorite fast-casual burger joint; Tallboy Taco a taqueria in Streeterville and Big City Chicken, a quick-service fried chicken restaurant on Navy Pier.

Tim's food philosophy is concise: Keep it simple, make sure it has clear direction and always cook from the heart.

Tim has been married 20 years and lives with his wife and two children, Mason and Harley, in Evanston, IL. The family enjoys spending time together over great food—whether at home or any of their favorite restaurants—and going to Disney World whenever possible.