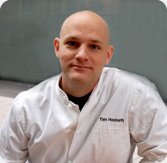 Tim Hockett
Chef Partner of Wow Bao
Tim's culinary adventures began 25 years ago when he took a summer job as a food runner at Lettuce Entertain You Enterprises' Maggiano's. Upon experiencing the delights of food preparation, serving thousands of people every night, and the fast pace of a professional kitchen, he knew that's where he was meant to be. He then promptly enrolled and graduated from Chicago's Washburne Culinary School.

From there, Tim worked his way up the culinary ladder, within and outside of Lettuce. Whether ice sculpting at Nadeau's Ice House or opening Vong and Vong's Thai Kitchen with Chef Jean-Georges Vongerichten, and working at Chef Rick Tramonto's acclaimed TRU; his culinary bandwidth has encompassed a vast breadth of experiences. Throughout his career, Tim has also prioritized travel in an effort to experience and taste authentic cuisine from around the globe, further expanding his gastronomic knowledge.

After two years in Charlottesville, VA, as the Chef/Partner of Fuel Co. Bistro & Café and Kluge Estate Farm Shop, Tim returned to Chicago to join the Lettuce team as a corporate chef, working directly with Rich Melman to create new dishes and helping to open the newest Lettuce restaurants. He then partnered with Scott Barton and Randy Brand to create seven entirely new concepts and open 14 restaurants, including M Burger, Tallboy Taco, and Big City Chicken.

In 2014, Tim started cooking for and leading the growing Wow Bao team with CEO Geoff Alexander. As Vice President of Culinary Operations, Tim has been integral in scaling the Wow Bao brand from five Chicago stores to over 600 virtual restaurants throughout the U.S. and Canada, six airport locations, 1,500 take and heat grocery sushi counters, and 5,000+ grocery store freezer sections. Tim's extensive focus on research and development has positioned Wow Bao as one of the only restaurant brands that provides a consistent recipe for its product within every channel it's served, including CPG. Wow Bao is the first restaurant to top Fast Casual's Top 100 Movers & Shakers list twice, winning the award in 2019 and 2022.