Beef and Broccoli
Recipe by Big Bowl
Big Bowl's Beef and Broccoli is a flavorful and easy recipe that combines tender strips of beef and fresh broccoli florets in a savory sauce. It's the perfect meal for a busy weeknight or a cozy night in, just be sure to marinade the beef ahead of time.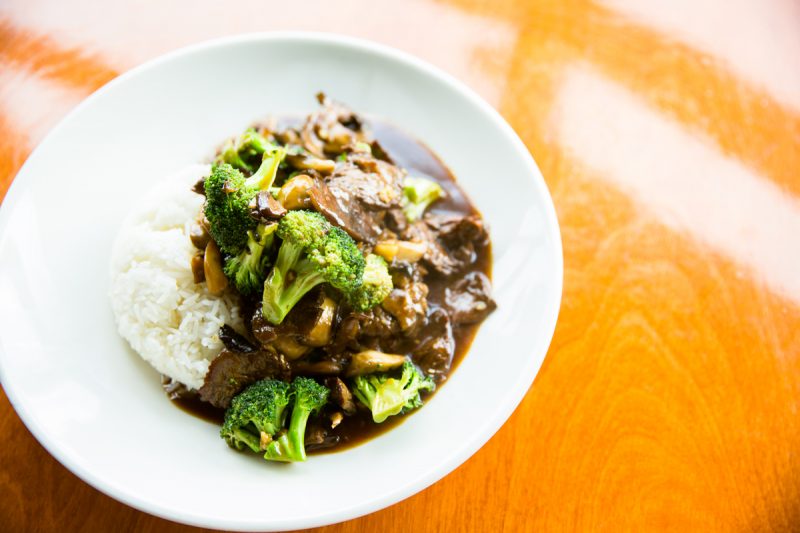 Beef and Broccoli
A recipe for your weeknight rotation
Serving Size: 4
Ingredients:
¼ cup Canola Oil
1 lb Flank Steak Sliced
7 tsp Soy Sauce
5 tsp Cornstarch
1 tsp Sesame Oil
3 Tbsp Oyster Sauce
1 Tbsp Sugar
1 cup Chicken Broth
1 Tbsp Rice Wine
2/3 cup Shitake Mushrooms, sliced
2 cups White Mushrooms, sliced
1/4 cup Bamboo Shoots, sliced
1 cup Onions, diced
1 Tbsp Garlic Chopped
1 Tbsp Ginger Chopped
4 Cups Broccoli Florets
1 lb Jasmine Rice
Method:
1. Cook rice according to the instructions from the package.
2. In a bowl, mix cut flank steak with 2 teaspoons of soy sauce, 2 teaspoons of cornstarch, 1 teaspoon of sesame oil and 1 tablespoon of water. Let it sit for 45 minutes in the refrigerator.
3. For the sauce, mix together the oyster sauce, soy sauce, sugar, rice wine, chicken stock and cornstarch, and set a side.
4. In a wok or skillet, heat 2 tablespoons of canola oil. When hot but not smoking add beef.
5. Stir beef to separate the pieces. Cook beef for about 2 to 3 minutes or until it reaches an internal temperature of 135 degrees Fahrenheit. Remove beef from heat into a colander to drain excess oil.
6. Heat a clean wok or skillet on high heat and add 2 tablespoons of the reserved oil.
7. When hot, add mushrooms, onions, bamboo shoots, garlic and ginger. Cook for 2 to 3 minutes.
8. Add broccoli and cook for 2 more minutes
9. Add sauce and bring it to a boil. Stir briefly to coat vegetables
10. Add pre-cooked beef and stir well to incorporate, bring it back to a boil. Turn off heat.
11. Serve with your favorite rice.
Download the recipe