Beef Bolognese
Recipe by il Porcellino
What is pasta without the sauce? We're not quite sure but it's definitely a world we don't want to live in.
Thankfully, our chefs at il Porcellino have come to the rescue! Before you think "oh no, not another impossible restaurant recipe", home chefs of any skill level can concoct this easy bolognese.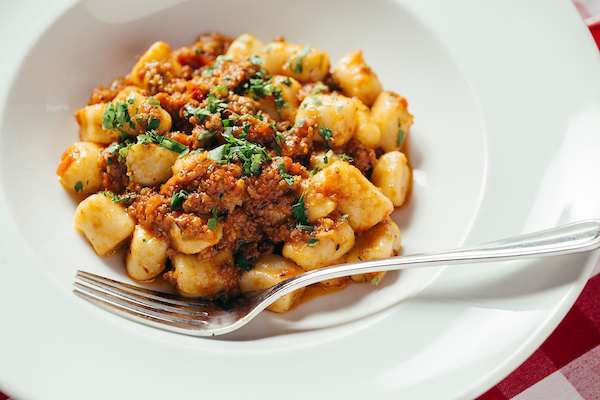 Don't let the laundry list of ingredients intimidate you, you're likely to have most of these in your pantry already! We recommend it with a nice potato gnocchi but pairs well with any pasta your heart desires.
Beef Bolognese
Dress up the pasta of your choice with this complex yet simple sauce
Serving Size: 8 portions
Ingredients:
1 tbsp. extra-virgin olive oil
2 lbs. ground beef
2 tbsp. unsalted cold butter, cubed and divided
2 carrots, peeled and finely chopped
1 large onion, finely chopped
2 cloves garlic, finely chopped
2 tbsp. fresh rosemary, finely chopped and divided
Kosher salt and fresh ground black pepper
15-ounce can crushed tomatoes
½ cup tomato juice
2 tbsp. parsley, chopped
Method:
1. Heat olive oil in large pot over medium-high heat. Add ground beef and cook, breaking up meat, until caramelized, about 6-8 minutes. Using a slotted spoon, remove beef from pot and set aside.
2. Add 1 tbsp. butter, carrot, onion and garlic to pot; cook until onion is translucent, about 8 minutes. Stir in rosemary and reserved beef; season with salt and black pepper.
3. Pour in crushed tomatoes; bring to a rapid simmer and cook 5 minutes.
4. Add tomato juice and bring to a boil. Reduce heat and cook until slightly thickened, about 20 minutes. Remove from heat and stir in remaining 2 tbsp butter. Season to taste with salt and black pepper.
Download the recipe