Blackberry-Rosemary Sangria Recipe
Recipe by Big Bowl
Entertaining your crew at home? Try making Big Bowl's Blackberry, Rosemary Sangria recipe for everyone to try. Garnish with your favorite fruits and voila. Cheers!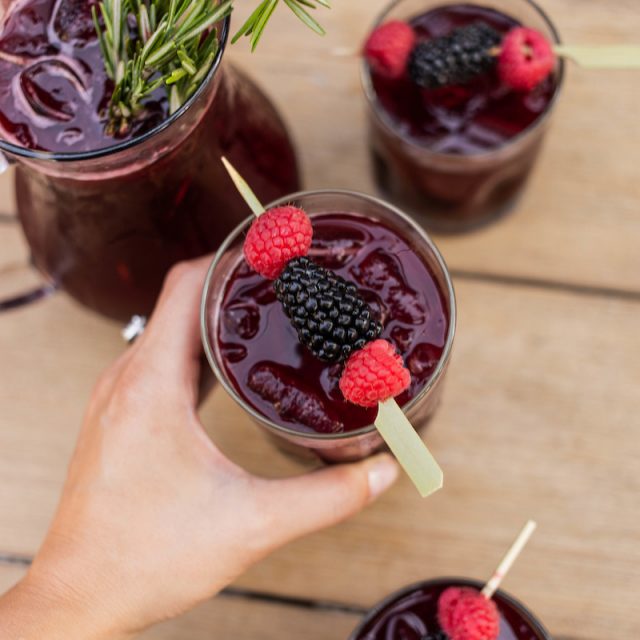 Blackberry-Rosemary Sangria Recipe
A sweet way to enjoy fresh blackberries
Serving Size: 1 pitcher
Ingredients:
SANGRIA INGREDIENTS
5 oz. Rosemary Simple Syrup**
5 oz. Triple Sec (orange liqueur)
1 ½ oz. Fresh Lime Juice
½ pint of Fresh Blackberries
1 bottle of Cabernet Sauvignon (if you don't have a Cabernet, Zinfandel or Petit Syrah can be used)
1 Lime, thinly sliced
1 Lemon, thinly sliced

ROSEMARY SIMPLE SYRUP INGREDIENTS:
1 cup Sugar
1 cup Water
4 sprigs of Rosemary
Method:
SANGRIA METHOD:
1. Blackberries are difficult to use in a sangria due to their thick skin. To extract their flavor you can either muddle them with lime juice to help break open the clusters, or by using an immersion blender you can combine the berries with the Triple Sec and lime before giving them a few quick pulses
2. Add half of the simple syrup in, adding in more to taste preference. If you don't care for rosemary, you can always substitute regular simple syrup
3. Combine remaining ingredients in a large container and refrigerate overnight then add ice prior to serving and give it a quick stir

ROSEMARY SIMPLE SYRUP METHOD:
1. Bring the rosemary to a boil before reducing heat and letting it steep in the simple syrup. The rosemary needs time and heat to get its full flavor.
2. Once the simple syrup starts to take on a green hue, remove from heat and strain.
Download the recipe