Chili Cheese Nachos
Recipe by Bub City
These are not-cho mama's nachos! Game day grub guru and Bub City Chef Tim Cottini shares his go-to recipe for Chili Cheese Nachos. This tasty, towering indulgence calls for fresh-made guacamole, pico de gallo and charred tomato salsa, piled high over tortilla chips and warm chili (we recommend Bub City's Smokie's Double Beef Chili). Bring the heat to your next fiesta with this Tex-Mex treat that is cold weather comfort food at its finest.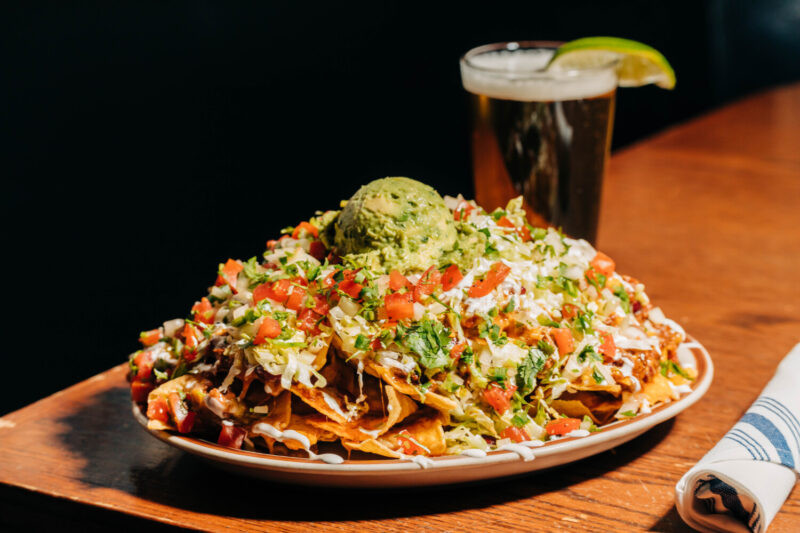 Chili Cheese Nachos
A tasty Tex-Mex treat
Serving Size: 2-4
Ingredients:
1 ½ cups shredded cheese of your choice
1 ½ cups Smokie's Double Beef Chili - recipe on Lettuce.com
7 cups of tortilla chips
¼ cup sour cream
¾ cup shredded lettuce
¼ cup pico de gallo (recipe below)
⅓ cup guacamole (recipe below)
⅓ cup charred tomato salsa (recipe below)
1 jalapeño, sliced

PICO DE GALLO:
½ cup tomatoes, medium dice
1 tsp. jalapeño, seeds removed and minced
2 Tbsp. sweet onion, medium dice
1 tsp. cilantro, chopped
½ tsp. lime juice
½ tsp. kosher salt

CHARRED TOMATO SALSA:
1 lb. tomatoes, ripe
2 jalapeños
2 Tbsp. onion, medium diced
2 garlic cloves
1 Tbsp. lime juice
2 Tbsp. cilantro leaves
1 Tbsp. kosher salt

GUACAMOLE:
4 avocados
1 tsp. jalapeño, minced
2 tsp. red onion, minced
2 Tbsp. cilantro, chopped
1 Tbsp. kosher salt
¼ cup lime juice

Method:
PICO DE GALLO METHOD:
Combine all ingredients and reserve.

CHARRED TOMATO SALSA METHOD:
1. In a broiler set at high heat, on a sheet pan, char the halved tomatoes, onions and whole jalapeños for 3-4 minutes.
2. Rotate all items, add whole garlic cloves and continue to roast for another 3-4 minutes until garlic is golden brown and tomatoes, onions and jalapeños have a nice char.
3. Remove from the broiler and allow to cool. Once cooled, remove the seeds from jalapeños.
4. In two batches, blend tomatoes, jalapeños, onions and garlic, making sure to not purée too smooth - it should be chunky.
5. Season with salt and lime juice, mix in the cilantro, and reserve.

GUACAMOLE METHOD:
1. In a medium bowl, mix together the garnishes: jalapeño, cilantro, lime juice and red onion, reserve.
2. De-seed and spoon out the avocados from the peel into a bowl.
3. Take two of the avocados and half of the garnish mix and puree together using a food processor.
4. Chop the remaining avocado.
5. In a large bowl, add all of the ingredients and fold until fully combined.
6. Taste and season with more salt and lime if you like. Refrigerate until needed.

CHILI CHEESE NACHOS METHOD:
1. Heat chili using a small saucepan until hot.
2. On a small baking tray, place the chili and top with 1 ¼ cups of the shredded cheese, Reserve the remaining ¼ cup. Place under your broiler until cheese is melted.
3. On a large plate, lay the tortilla chips.
4. Place the hot chili cheese on top of chips, fully covering the surface.
5. Top with remaining ¼ cup of shredded cheese.
6. Drizzle the sour cream over the top. To make it easy, you can place the sour cream into a food safe plastic baggie, slightly cut a corner and use it to zig zag the sour cream over the nachos.
7. Top with shredded lettuce, pico de gallo, jalapeño slices, guacamole and salsa, and serve.
Download the recipe