Coconut Shrimp
Recipe by Three Dots and a Dash
Every party needs a little crunch. In walks the Coco's Coconut Shrimp inspired by the menu at Three Dots and a Dash. Dip in Orange Sweet & Sour Sauce for an optimal flavor boost.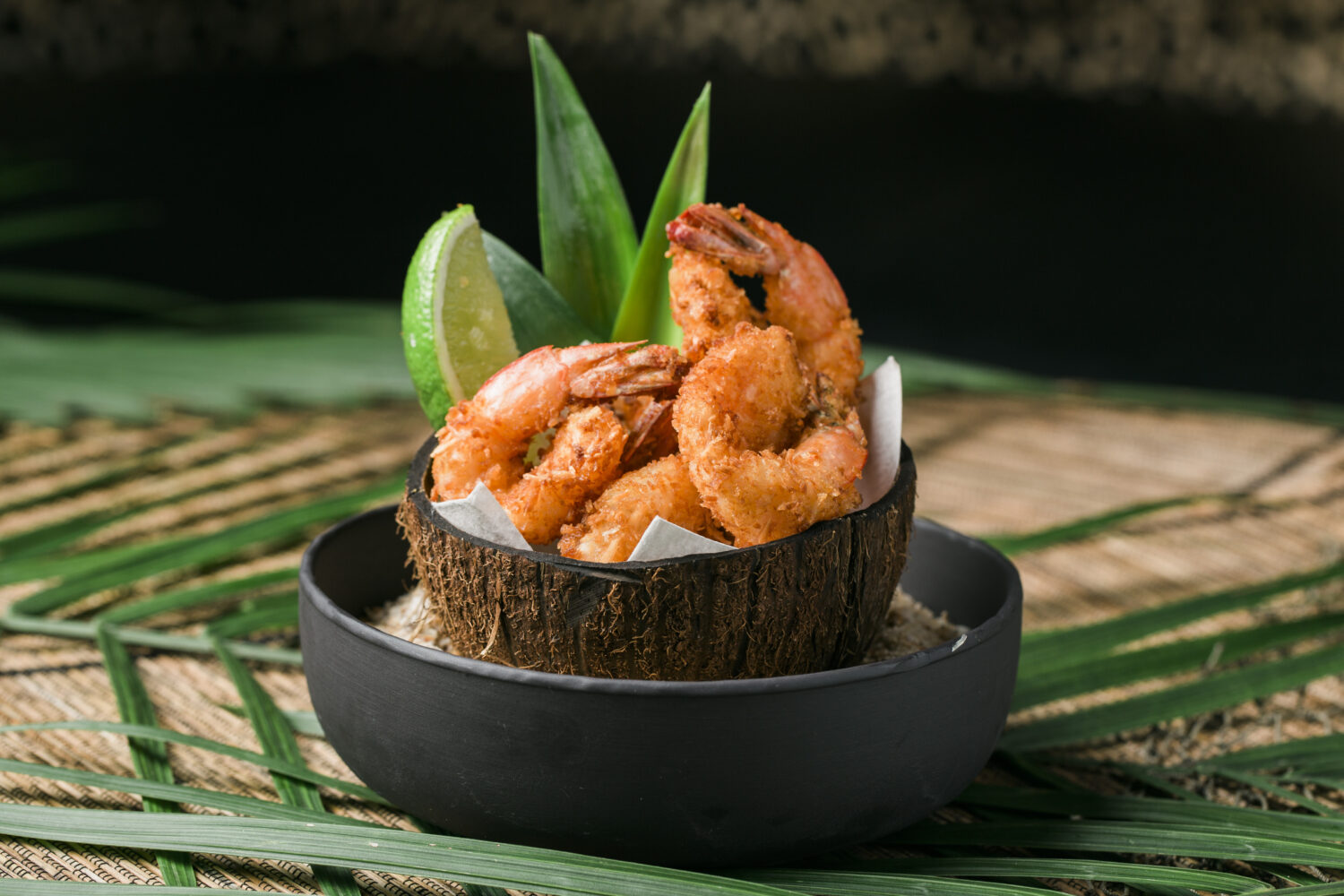 Coconut Shrimp
Looking for a crunchy snack? Three Dots and Dash has you covered with this crispy coconut shrimp
Serving Size: makes 6 shrimp
Ingredients:
For the shrimp:
Canola or vegetable oil, for frying
Orange Sweet & Sour Sauce (see recipe below)
½ cup all-purpose flour
2 Tbsp baking powder
½ tsp kosher salt, plus more for sprinkling
Pinch cayenne pepper
1 egg, beaten
½ cup ice water
½ cup dry shredded coconut, unsweetened
½ cup panko breadcrumbs
6 large raw shrimp, peeled and deveined
Fresh cilantro sprigs, for garnish

For the Orange Sweet & Sour Sauce:
½ cup orange marmalade
1 Tbsp white distilled vinegar
1 Tbsp water
½ Tbsp Dijon mustard
½ Tbsp horseradish
½ Tbsp passion fruit purée
Method:
1. In a large shallow pot, pour in enough oil to reach a depth of 2-3 inches. Heat over medium-high heat until oil reaches 375°F.
2. Meanwhile, in a small bowl, mix together the ingredients for the Orange Sweet & Sour Sauce; reserve.
3. In a medium bowl, mix together the flour, baking powder, salt and cayenne. Whisk in the beaten egg and ice water until a batter forms (it should be the consistency of heavy whipping cream).
4. In another small bowl, combine the shredded coconut and panko breadcrumbs.
5. Dip each shrimp into the batter, allowing excess to drip back into the bowl. Carefully toss each shrimp in the coconut-panko mixture until evenly coated.
6. Carefully place each shrimp into the hot oil and fry until golden brown and crispy, about 2 minutes. Remove and drain on paper towels; sprinkle with fine sea salt.
7. Garnish with fresh cilantro and serve with Orange Sweet & Sour Sauce.
Download the recipe