Crispy Buffalo Cauliflower
Recipe by L. Woods
L. Woods Tap & Pine Lodge is serving up a vegetarian version of buffalo wings with their Crispy Cauliflower appetizer. These crispy morsels are smothered in buffalo sauce and served with a side of blue cheese or ranch dressing. Add this recipe to your must make list at home, especially on game day!
An insider chef tip: Add a splash of Tobasco to your preferred buffalo sauce for the "L. Woods" effect!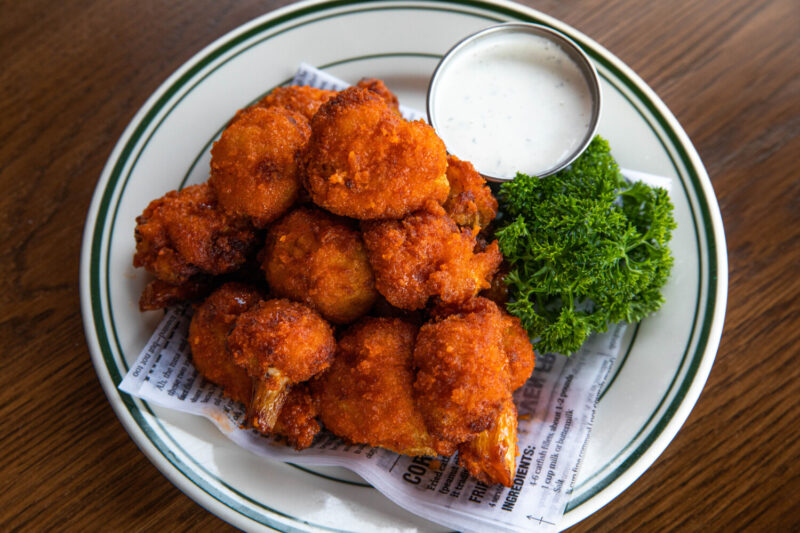 Crispy Buffalo Cauliflower
A vegetarian take on buffalo wings
Serving Size: 4
Ingredients:
2 Cauliflower Heads
1 cup Beer Batter Dry Mix (can be store-bought)
2 cups Light Beer
2 cups Water
1 cup All-Purpose Flour
2 cups Panko Breadcrumbs
2 cups Buffalo Sauce
Salt (to taste)
Pepper (to taste)
Canola Oil (to fry with)
Method:
1. In a mixing bowl, whisk the light beer and beer batter dry mix until combined. Set aside.
2. In a separate bowls, line up the water, all-purpose flour (with salt and pepper to taste) and Panko breadcrumbs.
3. Cut the cauliflower heads into medium-size florets.
4. Dip each cauliflower floret into the water to moisten.
5. Dip the damp cauliflower florets the flour mix and coat evenly. Pat off excess flour.
6. Dip each piece into the beer batter mix, then quickly coat in Panko breadcrumbs. Gently press breadcrumbs onto each piece until completely covered.
7. Place breaded cauliflower florets on a parchment-lined tray.
8. Fry at 350 degrees until golden brown and crisp, about 3-4 minutes. Drain excess oil off each piece and place into a large bowl.
9. Toss with your desired amount of warm buffalo sauce, and serve with a dipping sauce of your choice like ranch, blue cheese or green goddess dressing.


Download the recipe