Deviled Eggs
Recipe by Cafe Ba-Ba-Reeba!
Ever wondered what the secret to easy-peel hardboiled eggs is? Chef Eric Jorgensen from Cafe Ba-Ba-Reeba! shares his secret: SALT. See below for his method. If you're curious to try his method but wondering what you'll do with those freshly hardboiled eggs, why not make Cafe Ba-Ba-Reeba's Deviled Eggs?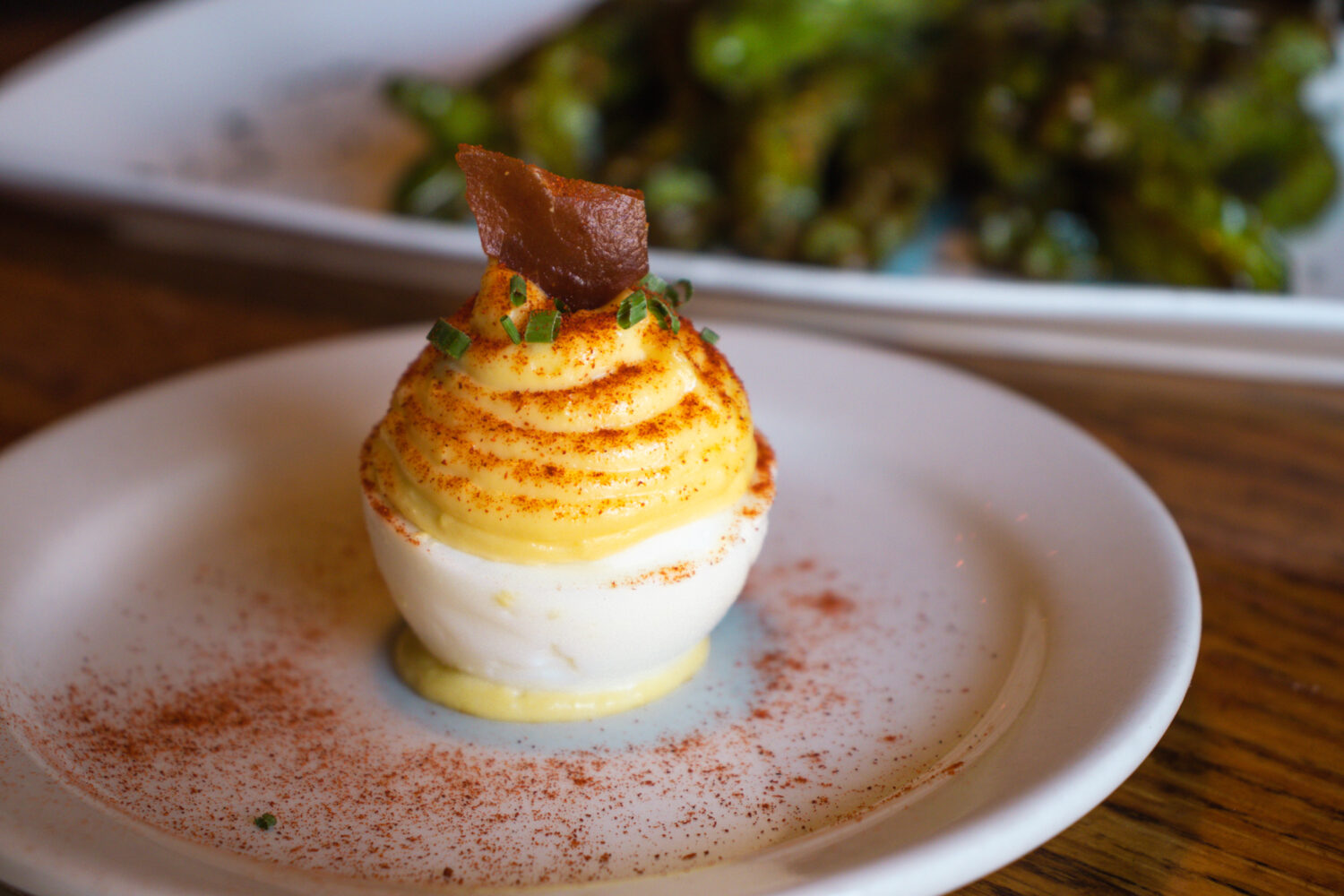 To make the easiest easy-peel eggs Chef Eric uses a surprising amount of salt. Here's his go to method:
Easy-Peel Hard Boiled Eggs
Ingredients:
12 Whole Eggs
2 cups kosher salt
3 quarts water
1 small pot
Method:
1. Bring water and salt to a boil
2. Add eggs and cover
3. Cook for 16 minutes
4. Shock eggs in ice water to stop the cooking process
5. Peel by tapping egg lightly and rolling across the counter or a cutting board, and then peel
Try this and other tapas and pintxos at Cafe Ba-Ba-Reeba!
Deviled Eggs
Spice up your classic deviled egg with a touch of paprika
Serving Size: 40 individual servings
Ingredients:
INGREDIENTS FOR DEVILED EGGS
• 20 egg whites cut in half from previously hard boiled eggs
• deviled eggs filling
• smoked paprika to garnish
• finely chopped chives to garnish

INGREDIENTS FOR DEVILED EGGS FILLING
• 20 egg yolks from previously hard boiled eggs
• 1 ½ cups mayonnaise
• ⅓ cup Dijon mustard
• ½ Tbsp Tabasco hot sauce
• Kosher salt to taste
Method:
METHOD FOR DEVILED EGGS
1. Fill a piping bag with the filling.
2. Fill each egg white half with the desired amount of filling.
3. Garnish each filled egg with a dusting of smoked paprika and a sprinkle
of chopped chives.

METHOD FOR DEVILED EGGS FILLING
Combine all of the ingredients in a food processor and purée until smooth.
Download the recipe