French Onion Soup
Recipe by Mon Ami Gabi
Nothing is more comforting than a piping hot bowl of French Onion Soup and who best to share their recipe than the expert chef team at Mon Ami Gabi. Check out Mon Ami Gabi's home-cook friendly recipe for French Onion Soup au Gratin, the perfect dish to warm you up.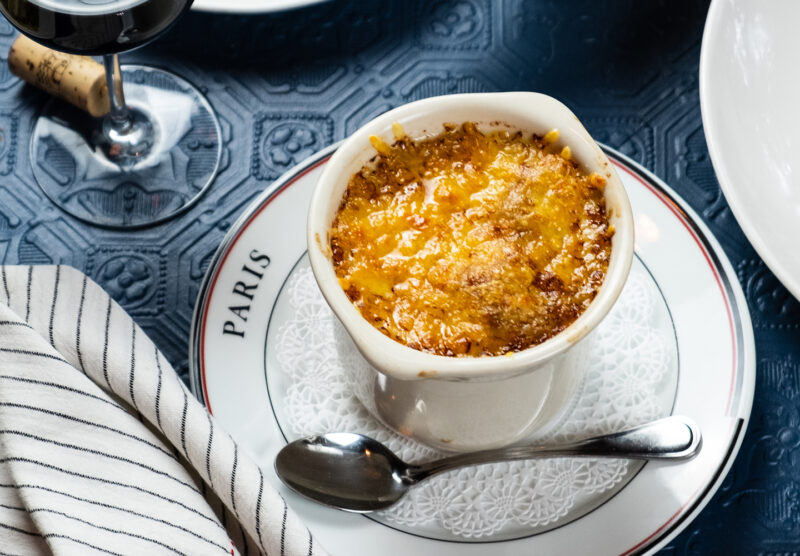 French Onion Soup
How to make this French classic
Serving Size: 4 people
Ingredients:
2 pounds yellow onions, julienned
1 garlic clove, sliced into small slivers
¼ cup butter, melted
½ bay leaf
2 fluid oz. white wine
4 cups chicken stock
4 cups beef broth
Kosher salt and freshly ground black pepper, to taste

INGREDIENTS FOR SERVING:
12 toasted baguette slices, cut ½-inch-thick croutons, 3 each per bowl
4 oz. Gruyere cheese, grated per bowl, 1 oz. per bowl
4 oz. Jarlsberg cheese, grated per bowl 1 oz. per bowl
Method:
1. Cut the yellow onions into julienne strips.
2. Slice the garlic clove into small slivers. To sliver garlic, rest a paring knife at a slight angle against the peeled clove and use a gentle rocking motion to slice the clove into several slices.
3. In a heavy bottom sauce pot with melted butter, sauté together the julienned yellow onion and sliced garlic clove with the ½ bay leaf. Caramelize slowly over medium heat to develop flavor, approximately 20 minutes.
4. Add in the white wine and reduce for 5 minutes.
5. Add chicken and beef stock. Simmer, uncovered, until the liquid is deeply flavored and slightly reduced, about 15 minutes.
6. Season to taste with salt and pepper.
7. Place crocks on a sheet pan. Ladle 10 ounces of soup into each of the crocks (or oven proof bowls).
8. Top each soup with 3 slices of toasted baguette and a generous amount of grated Gruyere and Jarlsberg cheese on top of bread.
9. Place the onion soup crocks under the broiler until the cheese is brown and begins to bubble.
Download the recipe