Ginger Turmeric Labneh
Recipe by Ema
Labneh is a tangy and creamy Greek yogurt often used in Mediterannean dishes! At Ema, mezze is the name of the game and the delicious spreads from Chef CJ Jacobson are at the core of the menu. Try the Ginger Turmeric Labneh recipe, a fun riff of a classic labneh topped with a salsa verde.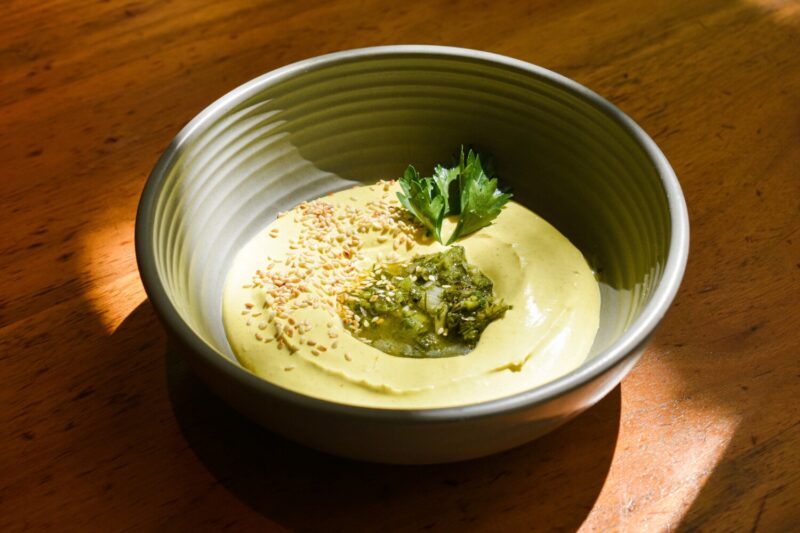 Ginger Turmeric Labneh
A creamy and delicious riff on a Greek yogurt dip
Serving Size: 1 quart
Ingredients:
GINGER TURMERIC LABNEH INGREDIENTS
1 lb. cream cheese
2 cups yogurt
1⁄2 tsp. turmeric powder
1 Tbsp. ginger (finely diced)
2 Tbsp. roasted garlic
1 clove garlic (microplaned)
2 Tbsp. lemon juice
1 tsp. salt
1⁄2 tsp. sugar
2 tsp salsa verde (per serving)
sesame seeds (to taste)

SALSA VERDE INGREDIENTS
*Prepares 2 cups of Salsa Verde
1 bunch scallions
1 cup parsley leaves
1 cup cilantro leaves
1 clove garlic (microplaned)
3 Tbsp. lemon juice
3 Tbsp. olive oil
salt (to taste)
Method:
SALSA VERDE METHOD
1. Add lemon juice and microplaned garlic to a bowl. Let sit for 10 minutes.
2. Finely chop the parsley, cilantro and scallions.
3. Mix all ingredients together until incorporated. Add salt to taste.
4. Refrigerate for two hours.
5. Add to the Ginger Turmeric Labneh when ready to serve. Keep the remainder in a
sealed container in the fridge until ready to use.

GINGER TURMERIC LABNEH METHOD
1. Add microplaned garlic, roasted garlic, lemon juice, sugar, diced ginger,
turmeric powder and salt to a bowl.
2. Mix until incorporated. Let sit for 10 minutes.
3. Add in cream cheese and yogurt. Mix well.
4. Add salt to taste.
5. Scoop 4 oz. of labneh into a bowl and make a small well in the center.
6. Spoon 2 tsp. of salsa verde into the well and top with sesame seeds.
7. Serve immediately with bread or crudité, and enjoy!
Download the recipe