Grilled Carne Asada Tacos
Recipe by Tallboy Taco
Tallboy Taco's Executive Chef Kevin Marquardt shares his go-to Carne Asada recipe great for any summer event or simple cookout. The Adobo Marinade gives skirt steak the perfect balance of citrus and spice with just a touch of sweetness. After a quick char on a hot grill, these ingredients will caramelize, resulting in a flavor that will be a winner amongst your friends and family.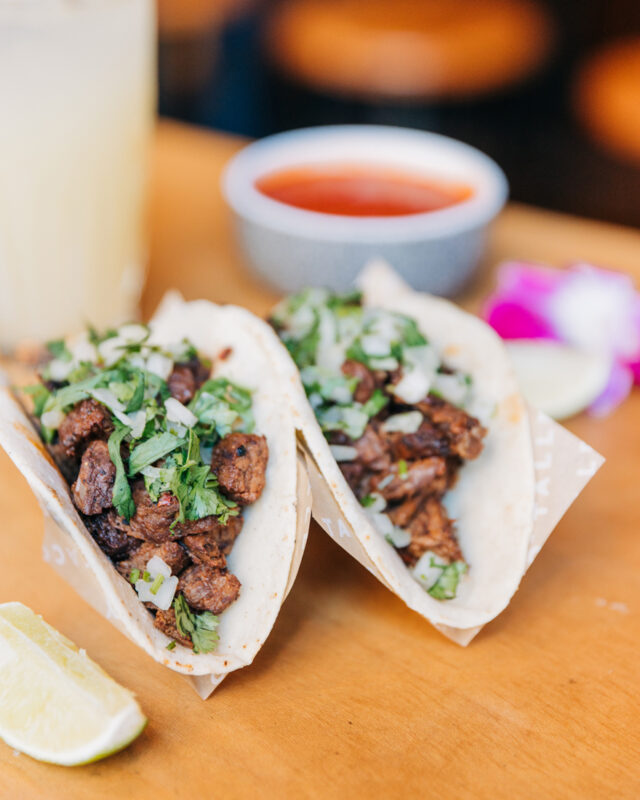 Craving tacos now?
Grilled Carne Asada Tacos
Mix it up on the grill with this burst of flavor
Serving Size: 4
Ingredients:
INGREDIENTS FOR TACOS
• 12 Tortillas
• 2 Lbs. Adobo Marinated Carne Asada
• 1 C. Chopped Cilantro
• 1 C. Chopped Sweet White Onion
• 2 Limes

INGREDIENTS FOR ADOBO MARINADE
Yields 1 Cup
• 1 Dry Guajillo Chile
• 3 Dry Ancho Chiles
• 2 Tbsp. of Vegetable Oil
• 3 Large Cloves of Garlic, Sliced
• 2 Tbsp. of Water
• 1 Chipotle Chile in Adobo Sauce
• 1 Tbsp. of Lime Juice
• ½ Bunch of Cilantro, Chopped
• 1 Tbsp. of Kosher Salt
• 1 tsp. of Sugar

INGREDIENTS FOR CARNE ASADA
• 2 Lbs. of Outside Skirt Steak, cleaned of silver skin and excess fat
• 1 C. of Adobo Marinade
Method:
METHOD FOR TACOS
1. Preheat the grill to high heat and grill the steak on both sides until charred and cooked to your desired temperature. Remove from the grill and let it rest on a plate.
2. Heat a flat skillet over high heat. Warm the tortillas on both sides until hot. Stack them together and wrap in a towel to allow them to steam and soften.
3. Cut the limes into wedges.
4. Chop the steak and toss it back with the juices that came out while resting.
5. Build your tacos with the steak, onion, and cilantro. Squeeze a fresh lime wedge over the taco before serving.

METHOD FOR ADOBO MARINADE
1. Remove and discard the stems and seeds from the chiles and tear them into smaller pieces.
2. In a sauté pan, heat the vegetable oil to medium heat and add the sliced garlic.
3. Cook for 2 minutes until it begins to get color.
4. Add the dry chiles and cook for two more minutes until toasted and fragrant.
5. Add the water, stir, and turn off the heat. Let the mixture cool at room temperature.
6. Add the pan mixture with all the other ingredients to a blender.
7. Blend on high until the marinade is smooth.

METHOD FOR CARNE ASADA
1. Toss the steak with the marinade and let it sit for an hour.
Download the recipe