Grunt Burger
Recipe by R.J. Grunts
Get ready to fire up your grill this National Burger Month with a mouth-watering recipe from R.J. Grunts, the Grunt Burger. The key to the Grunt Burger's irresistible flavor is in the details. The homemade onion strings are coated in a flavorful blend of flour and spices, then fried until perfectly crispy. And the bleu cheese dressing is made with tangy Danish bleu cheese crumbles and buttermilk, resulting in a creamy and zesty sauce that perfectly complements the burger.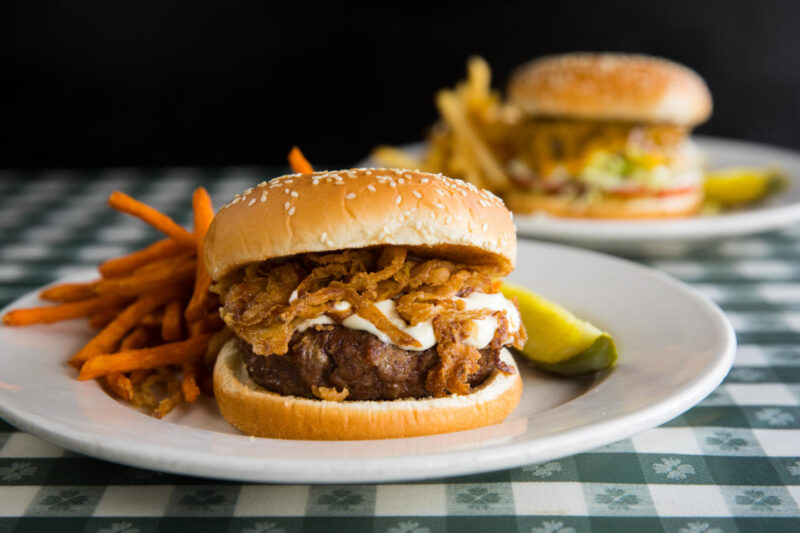 Grunt Burger
Your new go-to burger recipe
Serving Size: 4
Ingredients:
GRUNT BURGER INGREDIENTS
• 4 (½ lb.) hamburger patties
• 4 ea. sesame seed hamburger buns
• onion strings - use the recipe below
• bleu cheese dressing - use the recipe below

ONION STRINGS INGREDIENTS
• 2 ea. Spanish onions thinly sliced
• 1 cup flour
• 1 tsp. black pepper
• 1 tsp. celery salt
• 1 tsp. granulated garlic
• 1 tsp. dry mustard
• 1 tsp. Kosher salt
• ½ tsp. cayenne pepper
• ½ tsp. ground thyme
• ½ tsp. ground oregano
• 1 qt. frying oil

BLEU CHEESE DRESSING INGREDIENTS
• 1 cup mayonnaise
• ¼ cup Danish bleu cheese crumbles
• ½ cup buttermilk
• dash white pepper
Method:
GRUNT BURGER METHOD:
1. On a preheated grill, cook burgers to the desired degree of doneness and toast buns.
2. Place cooked burger patty on the bottom bun and top with one heaping tablespoon
of Bleu Cheese Dressing and add fried Onion Strings on top of the dressing.
3. Finish with top bun.

ONION STRINGS METHOD:
1. Heat oil in a small pot over medium heat.
2. Combine the flour and spices for the Onion Strings and mix well.
3. Place sliced onions in a large mixing bowl and add a little water to lightly coat the onions.
Add the seasoned flour and toss to coat.
4. Fry coated onions in the small pot until golden brown, remove and drain. Reserve.

BLEU CHEESE DRESSING METHOD:
1. Combine all the ingredients for the Bleu Cheese Dressing, mix well and chill.
Download the recipe