Patatas Bravas
Recipe by Cafe Ba-Ba-Reeba!
Cafe Ba-Ba-Reeba!'s Patatas Bravas (or Spicy Potatoes) has been one of our all time favorite dishes for decades and now we're sharing the recipe with you to try at home! Dip these perfectly tender potatoes in a spicy, sundried tomato aioli and you've got the perfect side dish.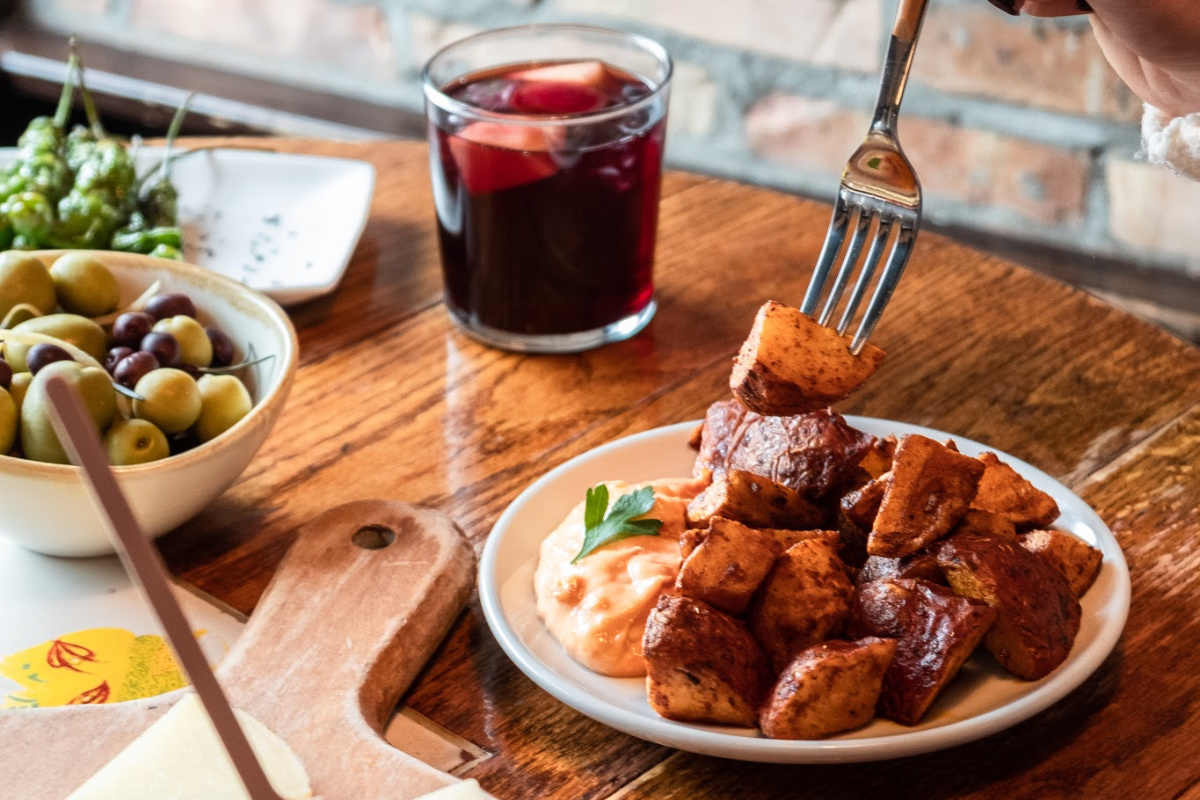 Patatas Bravas
A Spanish favorite for you to try at home
Serving Size: 1-2
Ingredients:
INGREDIENTS FOR PATATAS BRAVAS:
3/4 lb "A" size red potatoes (about 2.5 inches in diameter)
4 cups canola or vegetable oil
1/4 cup Brava Oil (see recipe below)

INGREDIENTS FOR BRAVA OIL (makes 16 fl oz):
1 ½  cups canola or vegetable oil
1 Tbsp paprika
1 ⅔  Tbsp Spanish sweet pimentón
1 Tbsp cayenne
2 tsp dry thyme
2 tsp ground cumin
1 ½ Tbsp sherry vinegar
½ tsp ground black pepper
1 tsp salt
2 tsp garlic, minced

INGREDIENTS FOR SUN-DRIED TOMATO AIOLI (makes 32 fl oz):
3 oz. (or a little more than 1/3 cup) sun-dried tomatoes
2 Tbsp canola or vegetable oil
3 cups mayonnaise (do not use Miracle Whip)
2 tsp tomato paste
1 tsp salt
½ tsp white pepper
Method:
METHOD FOR PATATAS BRAVAS:
1. Cut potatoes into quarters to create bite-sized chunks.
2. Place oil into a 4-quart saucepan over medium-high heat.
3. Very carefully add half of the potatoes to the oil and cook for 11 minutes, stirring occasionally.
4. Remove potatoes with a slotted spoon and place onto a baking sheet lined with a paper towel.
5. Repeat with remaining potatoes, and let them cool completely.
6. Reheat the oil back to medium-high heat (approx 350°F).
7. Fry the potatoes for 6-7 minutes until crispy and golden brown.
8. Remove potatoes with a slotted spoon and place into a bowl lined with a paper towel to drain excess oil.
9. Remove towel and season with kosher salt to taste, and add the Brava Oil. Toss to coat and serve with Sun-Dried Tomato Aioli

METHOD FOR BRAVA OIL:
1. Combine all ingredients in a metal bowl and mix well. If possible, let sit in a plastic container in the refrigerator 24 hours before serving.
2. Mix well before using. The Brava Oil keeps for 7 days.

METHOD FOR SUN-DRIED TOMATO AIOLI:
1. Soak sun-dried tomatoes in hot water for 30 minutes and allow to soften. Squeeze dry.
2. Incorporate sun-dried tomatoes with remaining ingredients until you reach desired consistency.
Download the recipe