Leftover Turkey Mole Tacos
Recipe by Tallboy Taco
Step away from the bun post-Thanksgiving and get your gridle on instead with this Leftover Turkey Mole Tacos recipe from Tallboy Taco's Executive Chef Kevin Marquardt. Add the missing ingredients to your Thanksgiving shopping list and you'll be set for Thanksgiving leftover heaven.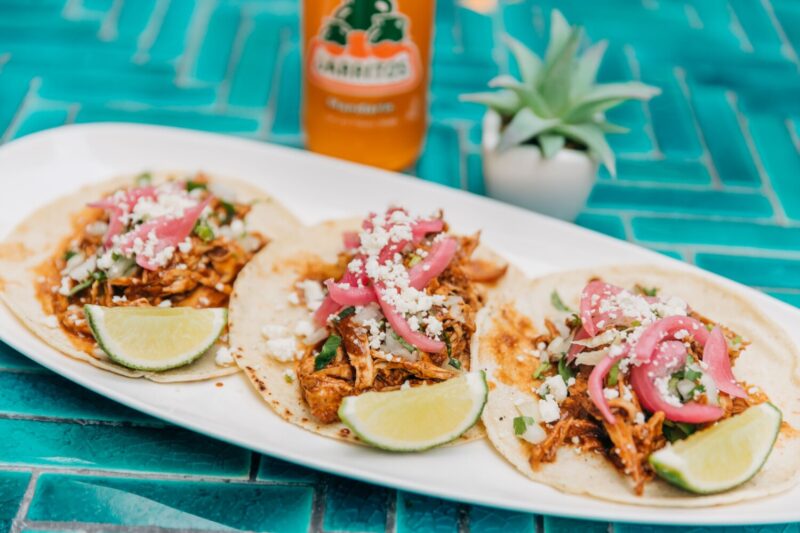 Leftover Turkey Mole Tacos
This Thanksgiving make leftovers anything but boring
Serving Size: 4 servings
Ingredients:
INGREDIENTS FOR TACOS
• 1 Cup Mole Sauce*
• 1 Cup Turkey Broth/Gravy
• 2 Pounds Turkey Meat
• 12 Tortillas
• 2 Limes
• 1 Cup Chopped Cilantro
• 1 Cup Chopped Sweet White Onion
• 1 Cup Pickled Red Onion (recipe below)
• ½ Cup Crumbled Queso Fresco
*Pre-made mole sauces like Teloloapan and Doña Maria are good options.

INGREDIENTS FOR PICKLED RED ONION
• 1 Small Red Onion
• ½ Cup Apple Cider OR Rice Wine Vinegar
• 3 Tablespoons Sugar
• 2 Tablespoons Water
Method:
METHOD FOR TACOS
1. In a pot, warm up the mole sauce and broth over medium heat until it begins
to simmer.
2. Pick the turkey meat until shredded and add to the broth. Bring it back to a
simmer and cook for 5 minutes. Hold it warm until ready to use.
3. Heat a cast iron or steel pan over medium-high heat.
4. Warm the tortillas on both sides until hot. Stack together and keep warm in a
towel or covered bowl.
5. Cut the limes into wedges.
6. Build your tacos with the turkey mole, onion, cilantro, pickled red onions, and
queso.
7. Squeeze a fresh lime wedge over the taco before serving.

METHOD FOR PICKLED RED ONION
1. Cut the onion into thin slices and put in a bowl.
2. In a pot, combine the vinegar, water, and sugar and bring to a boil.
3. Remove from the heat and pour over the onions. Put a second bowl or plate on top to keep them
submerged. Let them cool at room temperature for 2 hours.
Download the recipe