Lobster Benedict
Recipe by Di Pescara
Level up your at-home brunch with this Lobster Benedict recipe from Chef Partner Mychael Bonner from Di Pescara. Featuring lobster tails, creamy Hollandaise sauce, and perfectly poached eggs, follow Chef Mychael's steps to create a restaurant-quality dish at home.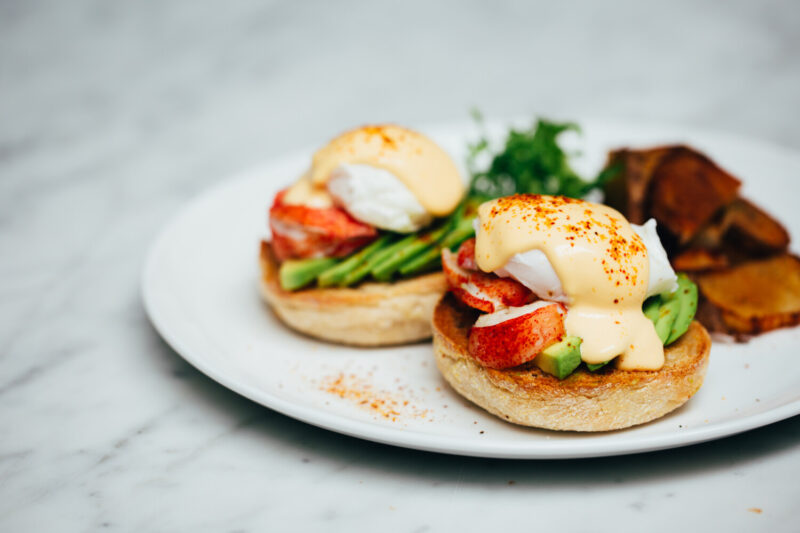 Lobster Benedict
The perfect dish to elevate your brunch game
Serving Size: 2
Ingredients:
LOBSTER BENEDICT INGREDIENTS
• Hollandaise Sauce (see recipe)
• 2 lobster tails, cooked and cut in half (see recipe)
• 2 sourdough english muffins
• 1 tbsp. unsalted butter
• ½ cup arugula
• 1 avocado, halved and thinly sliced
• 4 fresh eggs
• 4 sprigs of fresh dill
• 1 tbsp. white vinegar
• salt and fresh cracked peppercorn to taste

HOLLANDAISE SAUCE INGREDIENTS
• 5 egg yolks
• 2 tbsp. lemon juice
• ½ cup melted unsalted butter
• ¼ tsp. of cayenne pepper
• salt to taste

LOBSTER INGREDIENTS
• 2 (4 oz.) lobster tails
• 1 qt. water
• 1 bay leaf
• ½ cup white wine
Method:
HOLLANDAISE SAUCE METHOD
1. Set up a small saucepan with water and bring it to a boil. You will use this as a double boiler.
2. Place egg yolks in a deep metal pan or bowl that can be placed atop the saucepan with boiling water. Add lemon juice and whisk until frothy, about 1 minute.
3. Place your pot (or bowl) over the pot of boiling water, and continue whisking. Do not let your pot dip into the water, or your yolks will scramble. Whisk until mixture thickens and
ribbons appear, about 5 minutes.
4. Remove the bowl from the hot water and place it on the counter on a folded towel so the bowl doesn't move around. Slowly whisk in the melted butter, adding it in a slow and steady stream. The mixture will thicken.
5. Once the butter is incorporated, if the mixture is too thick, thin it out with a little warm water. You will know if it is too thick if you cannot easily spread it over your food.
6. Add sea salt and cayenne pepper to taste.

LOBSTER METHOD
1. Combine water, bay leaf, and white wine and bring to boil.
2. Put lobster tails into boiling water, bring water back to boiling and cook for about 7 minutes.
3. Remove tails from water, running them under cool to touch water.
4. Carefully cut tail in half and remove meat.

LOBSTER BENEDICT METHOD
1. Preheat your oven broiler.
2. To poach the eggs, combine salt, vinegar and 2 cups of water in a shallow pot and bring to a simmer.
3. Crack an egg into a small bowl. Carefully slide the egg from the bowl into the simmering water. Repeat with the remaining eggs.
4. Simmer eggs in the water for 3 minutes or until they feel slightly firm.
5. Remove the egg with a slotted spoon and place on a paper towel.
6. Season the egg with fresh cracked pepper.
7. Slice the muffins in half and spread butter on each half.
8. Toast under the preheated broiler until golden brown.
9. Remove your toasted English muffins and plate.
10. Divide arugula and avocado between each toasted muffin.
11. Place half a lobster tail on each. Carefully place your
poached eggs on top of the lobster.
12. Drizzle with the Hollandaise Sauce and garnish with fresh dill.
Download the recipe