Local Burrata with Heirloom Tomatoes & Strawberries
Recipe by Beatrix
There is no better way to celebrate summer than by enjoying its peak produce – that's why Beatrix created the NEW Local Burrata with heirloom tomatoes and strawberries. In this recipe, Beatrix Chef Partner Andrew Ashmore highlights two ingredients that are most fresh during the summer, and loves the unexpected pairing of tomatoes and strawberries. 
"The balance of this dish comes from the acidity of the fresh tomatoes and the sweetness from the strawberries," shared Chef Andrew. "Plus, the flavors from these ingredients are amplified by their inclusion in the vinaigrette which ties the whole dish together."
Whether you're serving it at your next grill out or enjoying it all for yourself pool-side, this dish is sure to impress and keep you cool all summer long.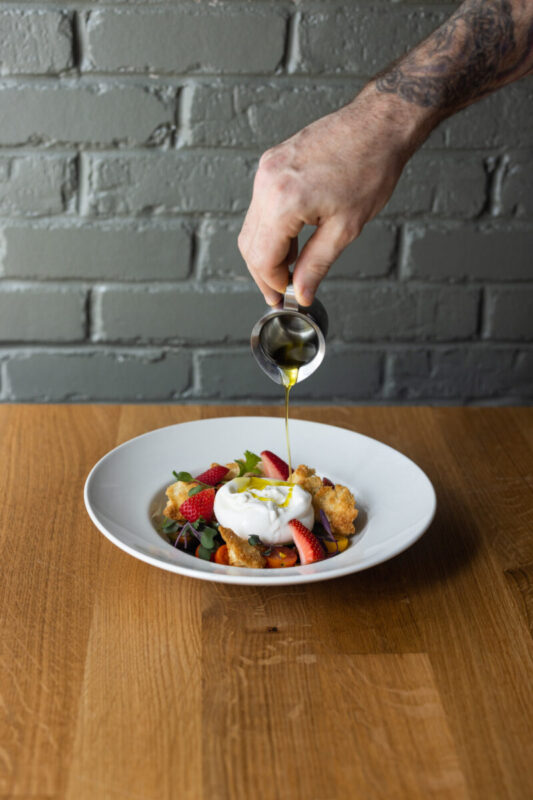 Want it but don't want to make it? We've got you!
Local Burrata with Heirloom Tomatoes & Strawberries
Beatrix has the ultimate recipe to satisfy your burrata cravings
Serving Size: 1 shareable appetizer
Ingredients:
Local Burrata with Heirloom Tomatoes & Strawberries Ingredients
- 1 Cup Baby Heirloom Tomatoes
- Pinch of Pea Shoots
- ½ oz Strawberry Rosé Vinaigrette
- 1 4-Ounce Ball of Burrata
- ¼ Cup of Quartered Strawberries
- 1 Tbsp Chopped Pistachios (roasted and salted)
- Torn Croutons
- Olive Oil to taste
- Sea Salt to taste
- 1 pinch of Torn Basil and Cilantro for Garnish

Strawberry-Rosé Vinaigrette (makes 1 cup)
- ¼ cup Rosé Vinegar
- 3-4 Baby Heirloom Tomatoes
- ¼ cup Chopped Strawberries
- Pinch of Kosher Salt
- 1 ½ tsp Sugar
- ½ cup Olive Oil
- ½ tsp Oregano
- ¼ finely Chopped Shallot

Torn Croutons Ingredients
- 1 thick Slice White Bread
- 1 Tbsp Olive Oil
- Pinch of Kosher Salt

Method:
Local Burrata with Heirloom Tomatoes & Strawberries
1. In a bowl, toss the tomatoes, pea shoots, ½ oz of the vinaigrette, salt and pepper.
2. Arrange the tomatoes in the bottom of a shallow bowl and top with the croutons
3. Place the drained burrata on top of the tomato mixture.
4. Cut into the Burrata with a paring knife to expose the creamy center. Drizzle with olive oil and sea salt
5. Place strawberries around the burrata and sprinkle with pistachios.
6. Garnish with torn basil and cilantro leaves

Strawberry-Rosé Vinaigrette
1. In a blender, blend together the vinegar, tomatoes, strawberries, and salt
2. While blending, slowly stream in the oil until the dressing is emulsified
3. Transfer dressing to a bowl and stir in oregano and shallots
4. Extra dressing can be stored in an airtight container in the fridge for up to a week.

Torn Croutons
1. Preheat oven to 325 degrees Fahrenheit
2. Tear the slice of bread into bite size pieces and place in a bowl
3. Toss the bread pieces with oil and salt, then place on a lined baking sheet
4. Bake for 20 min or until Croutons are golden brown