Mushroom & Quinoa Burger
Recipe by Beatrix
The Mushroom & Quinoa Burger has been a beloved staple at Beatrix since 2013, combining quinoa and mushrooms with the savory touch of shredded parmesan. Topped with Swiss cheese, baby kale, and tomato, it's served with kennebec fries and sriracha aioli. The patty is gluten-free, so swap the bun and you have a gluten-free option too!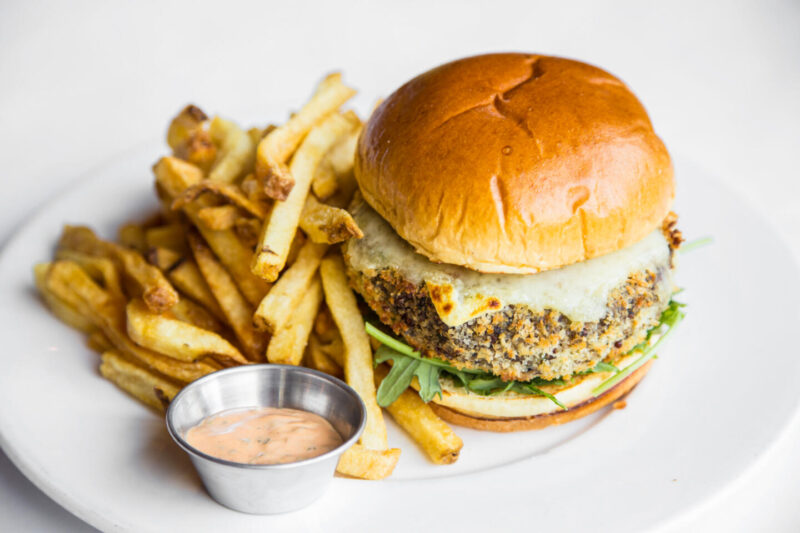 Mushroom & Quinoa Burger
A Nutrient-Packed Veggie Burger
Serving Size: 4
Ingredients:
INGREDIENTS FOR BURGER
• 4 Mushroom & Quinoa Patties
• 4 Hamburger Buns
• 4 oz. Clarified Butter
• 8 Slices Swiss Cheese
• 8 Thick Slices Vine Ripened Tomatoes
• 1 cup Baby Kale
• Sea Salt, to taste
• Sriracha Aioli, as needed
• Ketchup, as needed

INGREDIENTS FOR PATTIES
• 12 oz. Cremini Mushrooms, sliced
• 1 Tbsp. Unsalted Butter
• ½ cup Spanish Onions, minced
• ½ cup Red Bell Peppers, minced
• ½ tsp. Garlic, minced
• 1 cup Red Quinoa, cooked and cooled
• 3 Tbsp. Parsley, minced
• ½ Tbsp. Gluten-Free Soy Sauce
• ½ tsp. Sriracha
• ½ tsp. Kosher Salt
• ¼ tsp. Ground Black Pepper
• 1 Egg, lightly beaten
• ½ cup Gluten-Free Rice Panko Breadcrumbs
• 1/3 cup Grated Parmesan Cheese
• 2 cups Rice Flour

INGREDIENTS FOR PATTY BREADING
• 2 Eggs
• 1 cup Milk
• 2 cups Gluten-Free Rice Panko Breadcrumbs

INGREDIENTS FOR SRIRACHA AIOLI
• 1 cup Mayonnaise
• 3 Tbsp. Sriracha
• 1 Tbsp. Cilantro
Method:
METHOD FOR PATTIES
1. Finely chop mushrooms in a food processor or by hand with a knife.
2. Melt butter in a wide pot.
3. Add mushrooms, onions, red peppers and garlic to pot, stirring frequently until dry and browning, about 15-20 minutes. Spread mixture on a sheet tray and allow to cool completely.
4. In a mixing bowl, add the mushroom mixture, cooked red quinoa, parsley, soy sauce, salt, pepper, egg, ½ cup gluten-free rice panko breadcrumbs and parmesan cheese. Mix by hand until thoroughly combined.
5. Divide the mixture into 4 equal balls. Press each ball into a patty, then freeze.
6. Once the patties are frozen, prepare the breading.
7. For the breading place ingredients, combine the 2 eggs and milk in a shallow bowl to create an egg wash. Place the rice flour and 2 cups of breadcrumbs in separate shallow bowls.
8. Dip each patty into the rice flour, dust off excess flour, then dip into the egg wash and coat well with gluten-free rice panko breadcrumbs.
9. Once breaded, patties should be cooked and served immediately, or can be kept frozen for up to two weeks.

METHOD FOR SRIRACHA AIOLI
1. Stir all ingredients together until fully combined and set aside.

METHOD FOR BURGER
1. Preheat a griddle pan to medium heat. Preheat the oven to 375 degrees.
2. Drizzle butter onto the griddle and sear the mushroom & quinoa burger patties to a golden brown color on both sides.
3. Place patties on a sheet tray and finish cooking in the oven until fully hot throughout.
4. Top each patty with two slices of Swiss cheese and place back into the oven until the cheese is melted.
5. While the patties are cooking, toast buns on the griddle pan until golden brown and warm.
6. Place kale and tomato slices on the bottom portion of the bun, and place the finished patty on top. Top with the other half of the bun.
7. Serve with sriracha aioli and ketchup on the side. Enjoy!
Download the recipe