Peaches & Feta Salad
Recipe by Aba
Hit up any local farmer's market right now and you'll find bushels of perfectly-ripe peaches gracing the tables at each stand. We've officially reached prime peach season, ya'll!
If you happen to buy a few too many peaches (hey, we don't blame you, they're hard to resist!), we have a recipe from Aba to help you get through your summer stash. Executive Chef/Partner CJ Jacobson shares how to make his Peaches & Feta Salad with fresh herbs, cool cucumbers and an easy rose water vinaigrette.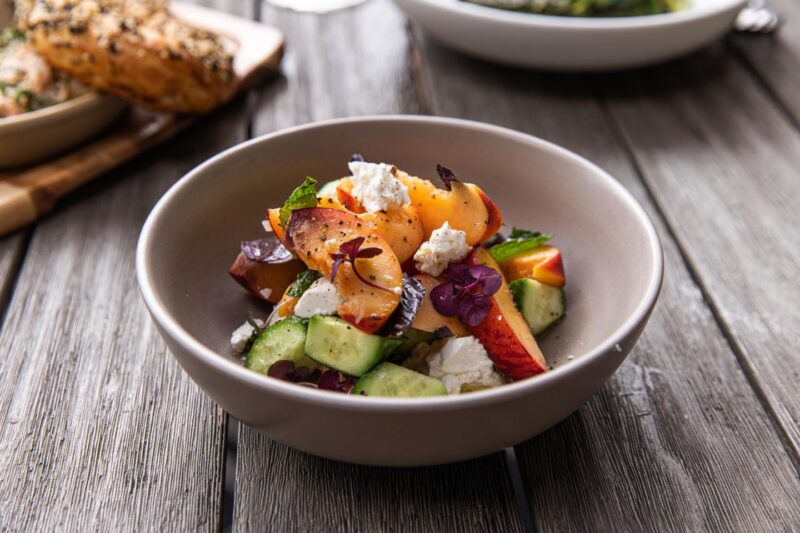 Peaches & Feta Salad
If you need to use up some summer peaches, try this savory salad recipe with feta and cucumber
Serving Size: serves 2
Ingredients:
1 cup ripe peaches, sliced
½ cup cucumber, sliced into half moons
2 tbsp. rose water vinaigrette (recipe below)
3 tbsp. feta cheese, crumbled into chunks
5 leaves mint, torn
5 leaves shiso, torn
5 leaves basil, torn
4 turns black pepper, ground fresh from a mill
sea salt, to taste

FOR ROSE WATER VINAIGRETTE:
1 tsp. shallot, finely diced
1 tsp. rose water
¼ cup fresh squeezed grapefruit juice
1 tsp. red wine vinegar
1 tbsp. white balsamic
1 tsp. granulated sugar
8 turns black pepper, ground fresh from a mill
2 tbsp. extra virgin olive oil
lemon juice, from one lemon wedge
sea salt, to taste
Method:
1. Toss peaches and cucumber with rose water vinaigrette and salt to taste.
2. Plate half the mixture in a bowl. Arrange half the feta over the top and sides.
3. Repeat with the second half of the peaches and cucumber mixture and feta in the second bowl.
4. Garnish both bowls with herbs
5. Grind pepper over the top and season with sea salt.
6. Drizzle any additional vinaigrette over the top of the salad, if desired.

FOR ROSE WATER VINAIGRETTE:
1. Add shallot, vinegars and sugar in a bowl. Allow to sit for ten minutes. During this time the acid "cooks" the shallot, removing its harshness.
2. Add a small pinch of salt. Whisk to make sure sugar is dissolved. Then, add the pepper, rose water and grapefruit juice.
3. Whisk in the olive oil and whisk for 3 minutes until emulsified.
4. Adjust seasoning with salt and lemon juice, if needed.
Download the recipe