Roasted Heirloom Peppers
Recipe by The Oakville Grill & Cellar
Make the most out of sweet summer peppers with The Oakville Grill & Cellar's recipe for Roasted Heirloom Peppers. This light and flavorful side dish is perfectly enjoyed warm or at room temperature and compliments a variety of grilled meats and fish. It also makes a great addition to summer salads for an unexpected pop of flavor.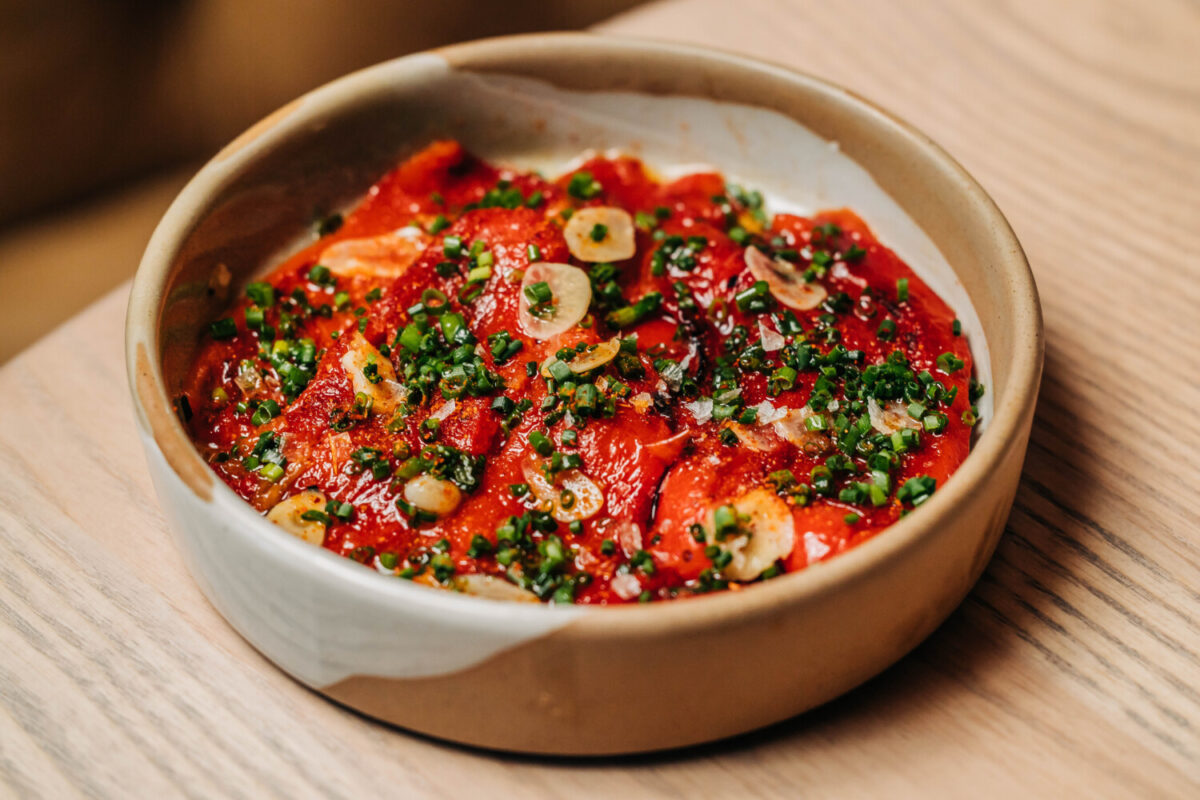 Roasted Heirloom Peppers
This summer's most versatile side dish
Serving Size: 2 - 3
Ingredients:
ROASTED HEIRLOOM PEPPERS INGREDIENTS
6 ea. Marinated Red Peppers, recipe below
Kosher Salt to taste
1 ⅛ cups Garlic Sherry Vinaigrette, recipe below
1 pinch Chives, minced
1 Tbsp. Extra Virgin Olive Oil, for drizzling
1 pinch Maldon
1 pinch Espelette

MARINATED PEPPERS INGREDIENTS
6 ea. Red Bell Peppers
2 Tbsp. Olive Oil, for roasting peppers
Salt to taste
Pepper to taste
¼ cup Roasted Pepper Liquid, reserved after roasting the peppers
⅔ cup Sherry Vinegar
⅓ cup Sugar, Granulated
¼ cup Extra Virgin Olive Oi

GARLIC SHERRY VINAIGRETTE INGREDIENTS
1 cup Garlic Cloves, peeled
1 ¾ cups Garlic Infused Olive Oil
1 ¼ tsp. Salt
5 Tbsp Sherry Vinegar
Method:
ROASTED HEIRLOOM PEPPERS METHOD
1. Preheat the oven to 450 degrees Fahrenheit.
2. Place previously prepared marinated peppers on a sheet tray and season with salt.
3. Toast in a 450 degree oven until hot, about 6 minutes.
4. Remove and plate peppers onto your serving dish of choice.
5. Spoon the garlic sherry vinaigrette over the peppers and garnish with chives and extra virgin olive oil.

MARINATED PEPPERS METHOD
1. Turn on your oven's broiler.
2. Toss the peppers in olive oil, salt and pepper.
3. Place peppers on a sheet tray and into the oven. Cook until the outer skin is charred turning occasionally to ensure even roasting.
4. Remove from the oven and place peppers in a bowl, cover with plastic wrap and let steam, saving the roasted pepper liquid.
5. While the peppers steam, make an escabeche (pickling) sauce.
6. In a pot combine the roasted pepper liquid, sherry vinegar, sugar and extra virgin olive oil. Bring it to a boil and reserve.
7. Devein, deseed and peel the roasted skin off the peppers and place into a bowl.
8. Pour the boiling hot escabeche sauce over the peppers to cover completely.
9. Allow peppers to cool at room temperature and then place in the fridge.
10. Allow peppers to marinate at least overnight, the taste is enhanced after 2-3 days.

GARLIC SHERRY VINAIGRETTE METHOD
1. Begin by taking garlic and shave thin using a mandolin or slice thin with a sharp knife.
2. Place garlic in a pot with oil, season with salt and gently cook garlic on very low heat for about 10 minutes until soft and tender.
3. Once garlic has cooked, fold in the sherry vinegar and bring to a simmer.
4. Once the mixture is simmering, remove and let cool. Reserve for plating with the Heirloom Roasted Peppers.
Download the recipe