Simply Grilled Branzino
Recipe by Wildfire
This Simply Grilled Branzino is a light flaky fish that's perfect for a weeknight meal. Wildfire's Executive Chef / Partner Joe Decker shares the recipe that's topped with a lemon vinaigrette and capers.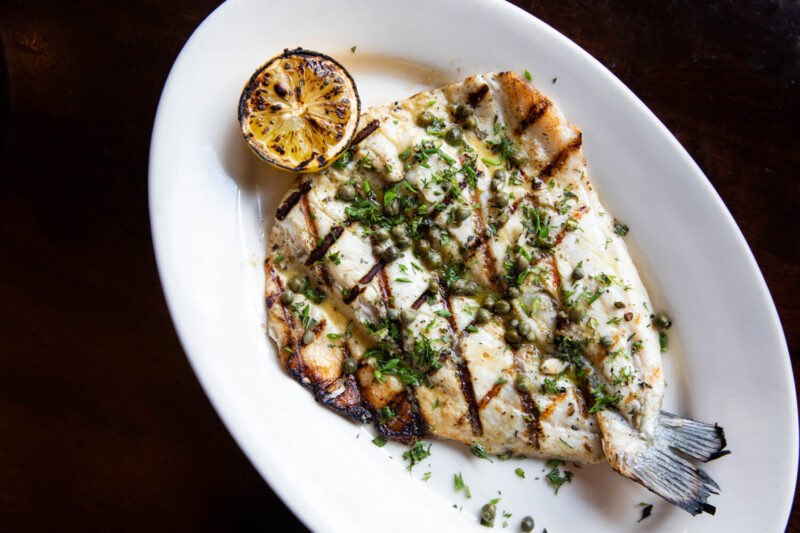 Simply Grilled Branzino
This fish may be simple, but it's packed with flavor
Serving Size: 2
Ingredients:
2 whole branzinos, boneless, butterflied, skin on
4 Tbsp lemon vinaigrette (recipe below)
¼ tsp per side Kosher Salt
Fresh ground black pepper, to taste
2 lemons cut in half
1 Tbsp fresh dill, coarsely chopped
1 Tbsp fresh mint leaves, coarsely chopped
1 Tbsp fresh chives, coarsely chopped
2 tsp small capers

INGREDIENTS FOR LEMON VINAIGRETTE:
2 Tbsp fresh squeezed lemon juice
2 Tbsp red wine vinegar
½ lemon zested
2 Tbsp minced shallots
¼ tsp minced garlic
1 Tbsp water
¼ tsp sugar
½ tsp kosher salt
Fresh ground black pepper, to taste
¼ tsp old bay seasoning
1 ½ tsp dijon mustard
½ cup extra virgin olive oil
¼ cup canola oil

Method:
METHOD FOR LEMON VINAIGRETTE:
1. In a stainless steel bowl, whisk together all ingredients well, except oils.
2. Slowly whisk in oil until vinaigrette comes together.

METHOD FOR FISH:
1. Spread 1 Tbsp of lemon vinaigrette on each side of the branzino.
2. Season each side with kosher salt and pepper, one hour before grilling.
3. Turn on the grill to medium hot heat about 20 minutes prior to grilling.
4. Brush the grill grates well.
5. Lightly spray the grill with pan spray.
6. Grill lemon halves flat side down for 1 minute and set aside.
7. Mix chopped herbs together.
8. Grill each piece of branzino top side down for 2 minutes, and then rotate 45 degrees and grill for another 2 minutes, making nice grill marks.
9. Carefully flip over the fish on the skin side and grill for another 2 minutes.
10. Transfer to 2 large plates.
11. Top with 1 ½ tsp of chopped herbs, 1 tsp capers and 2 tsp of lemon vinaigrette per fish.
12. Garnish with grilled lemon halves.




Download the recipe