Sweet Potato Casserole
Recipe by Wildfire
Embrace all of the fall flavors in Wildfire's Sweet Potato Casserole. Ginger and cinnamon warm up this dish and marshmallow fluff lends a nostalgic touch. Grab the little ones to throw together this casserole!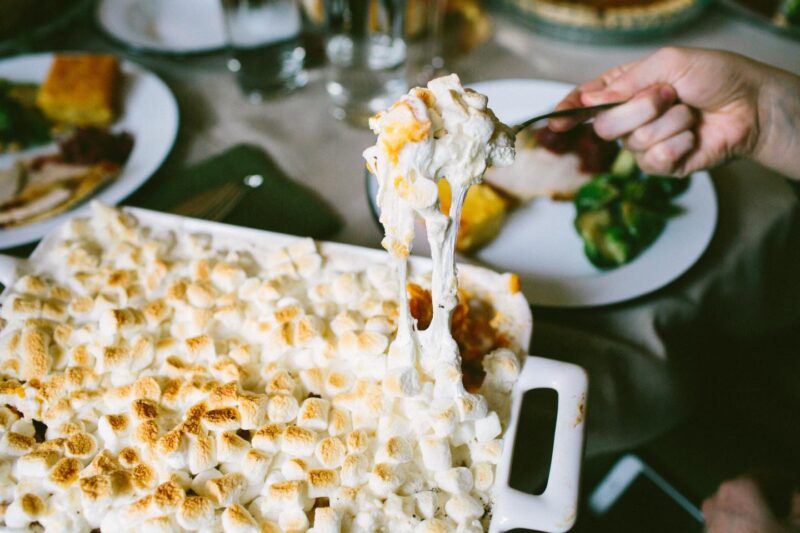 Too much fun making this casserole? We can help with the rest! Wildfire is open on Thanksgiving Day for dine-in service and carryout.
Sweet Potato Casserole
Topped with toasted, chewy marshmallows
Serving Size: 8
Ingredients:
3 pounds sweet potatoes, raw & peeled
3 tablespoons whipping cream
3 tablespoons half & half
1 tablespoon fresh grated ginger
4 ounces (1 stick) unsalted butter, cubed
2 tablespoons brown sugar
1 teaspoon kosher salt
¼ teaspoon fresh ground black pepper
¼ teaspoon cinnamon
7 ½ ounce jar marshmallow fluff
2 cups mini marshmallows
Method:
1. Cut sweet potatoes into 2 inch cubes and steam till soft.
2. Scald whipping cream and half & half with fresh grated ginger.
3. With a hand masher, mash hot sweet potatoes and mix in all remaining ingredients together.
4. Lightly butter a standard rectangle casserole dish (9'' x 13'' X 2 ½ '').
5. Fill casserole dish with mashed sweet potato mixture.
6. Top and evenly spread marshmallow fluff over sweet potatoes.
7. Then evenly top with mini marshmallows and place into 400º oven, bake till golden brown,
about 5-10 minutes and serve.
Download the recipe