Truffled Garlic Bread
Recipe by RPM Italian
RPM Italian shares the recipe to their Truffled Garlic Bread, a luxurious riff on the classic!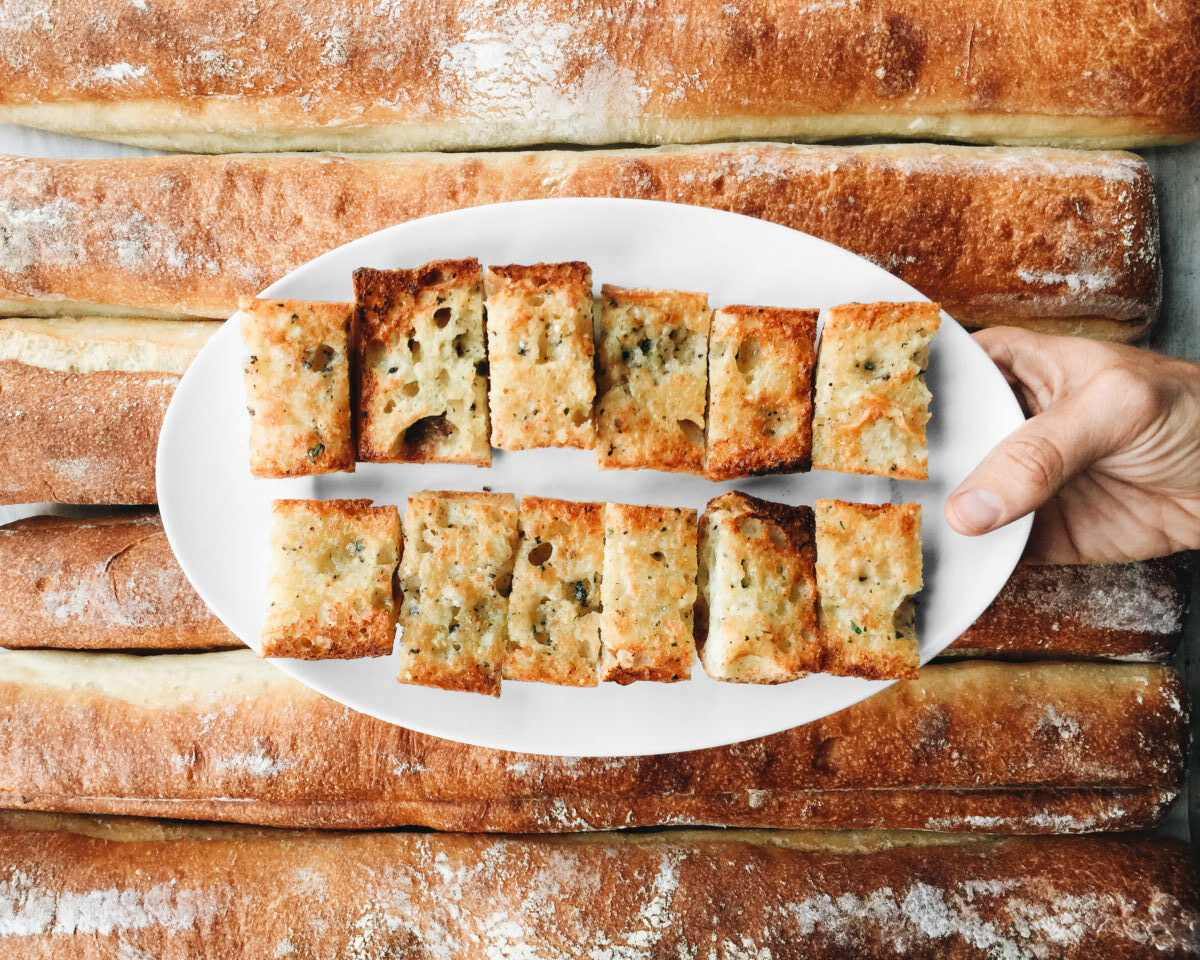 Visit RPM Italian
Truffled Garlic Bread
Great for sharing or enjoying solo
Serving Size: 10 pieces
Ingredients:
INGREDIENTS FOR BREAD
• 10-inch piece fresh baguette bread
• ½ cup Truffle Garlic Butter (see recipe below)
• 6 tablespoons Parmesan cheese, grated
• 1 tablespoon fresh parsley, chopped

INGREDIENTS FOR BUTTER
• 1 stick (4 ounces) unsalted butter, at room temperature
• 2 tablespoons roasted garlic puree
• 1 clove finely chopped raw garlic
• 1-2 teaspoons garlic oil
• ½ cup Parmesan cheese, finely grated
• 1 tablespoon store-bought truffle-mushroom sauce (optional)
• 2 teaspoons kosher salt
• ½ teaspoon freshly ground black pepper
• 2 teaspoons black truffle oil
Method:
METHOD FOR BREAD
1. Preheat the oven to 450ºF
2. Slice baguette in half lengthwise. Brush each half with True Garlic Butter
and sprinkle each half with 2 tablespoons of grated Parmesan.
3. Toast bread halves on a sheet tray in the oven until crispy and golden.
4. Remove and cut each half into 5 pieces for a total of 10 pieces.
5. Place on a plate; sprinkle with parsley and remaining Parmesan.
Serve immediately.

METHOD FOR BUTTER
1. In a food processor or standing mixer fitted with the paddle
attachment, whip the butter until soft.
2. Add in all ingredients except the truffle oil; mix well until thoroughly combined.
3. With the mixer running at a low speed, slowly drizzle in truffle oil.
4. Reserve ½ cup of the Truffle Garlic Butter for Truffled Garlic Bread.
Tightly wrap any remaining butter and refrigerate for up to
two weeks for another use.
Download the recipe