Whole Smoked Turkey
Recipe by Bub City
This Thanksgiving, Bub City is spilling the secrets to its perfectly smoked bird. Chef tip: Brine the turkey before smoking or frying to ensure a moist, cooked bird and extra added flavor. Let the finished turkey rest for an hour before carving to allow the juices to redistribute. It will still be warm come dinnertime, we swear.
Not into cooking? You can order Bub City's Thanksgiving Feast to-go.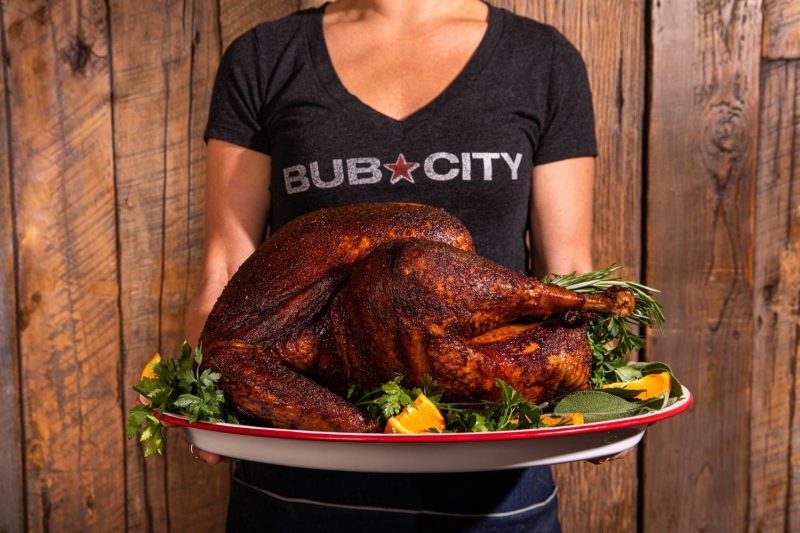 Whole Smoked Turkey
A classic recipe perfect for any holiday table
Serving Size: 8 (with leftovers)
Ingredients:
FOR TURKEY
1 whole turkey, about 14-16 lbs.
2 gallons Turkey Brine (see below)
2-3 cups Bird Rub (see below)

FOR TURKEY BRINE
1 gallon water
1½ cups sugar
½ cup kosher salt
1 cup paprika
½ cup ground cumin
8 fresh bay leaves
8 smashed garlic cloves

FOR BIRD RUB
½ cup kosher salt
1 cup sugar in the raw/demerara sugar
⅓ cup granulated sugar
¼ cup black pepper
1 tablespoon onion powder
1 tablespoon dried oregano
2 tablespoons dried mustard
3 tablespoons paprika
2 tablespoons granulated garlic
1 tablespoon dried thyme
1 tablespoon dried sage
2 teaspoons celery seeds


Method:
FOR TURKEY
1. Place the whole turkey in an extra-large container or cooler and pour in the Turkey Brine. Cover the
container and chill overnight.
2. Remove the turkey from the brine and place on a large sheet tray; pat dry with paper towels. Season
the turkey with the Bird Rub, pressing to adhere; chill the bird while the smoker is being prepared.
3. Prepare a smoker with hickory wood; heat smoker until it reaches 250°F. Add the turkey and smoke for
approximately 4 hours until the bird reaches an internal temperature of 165°F and turns mahogany in color.
4. Remove turkey over smoker; cover with foil and let rest at least 1 hour before carving

FOR BRINE
1. Bring all ingredients to a boil in a large pot, stirring to ensure the sugar and spices dissolve.
2. Add 1-gallon ice water and chill the brine until ready to use.

FOR RUB
1. In a large bowl add all ingredients.
2. Stir to combine.
Download the recipe