Bub City – River North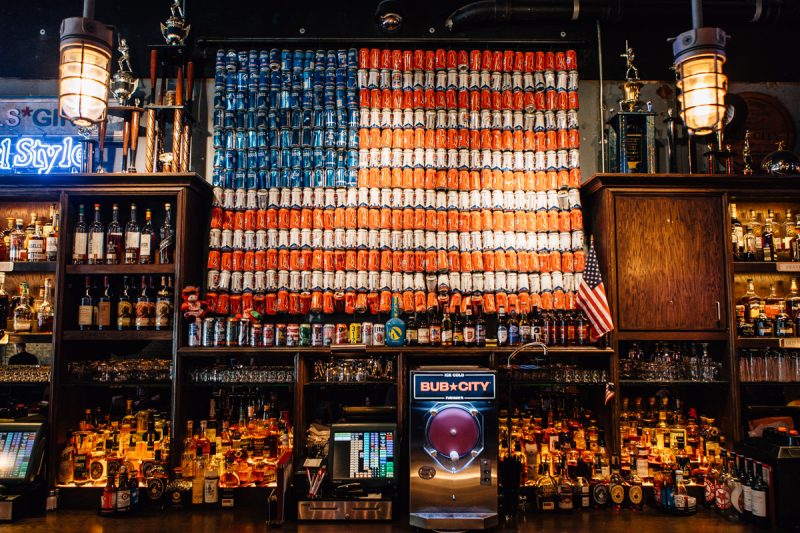 Hours
Sunday - Tuesday: 11:00 AM - 9:00 PM
Wednesday - Saturday: 11:00 AM - 1:00 AM
Menus
Lunch and Dinner
Pitmaster Specials
limited quantities available
Green Chili Burritoyour choice of smoked brisket or smoked chicken, with rice and green hatch chilis served with guacamole & charred tomato salsa14.95
Salmonyour choice of grilled, blackened or bbq sauce... served with coleslaw and our comeback sauce19.95
Burnt Endssmoked and then smoked again! served on texas toast with coleslaw and pickles22.95
Almost Famous
Fresh Smoked BBQ Meats
quality meats, smoked daily, 'til we run out
Hickory-smoked Jumbo Chicken Wingswhite lightning sauce15.95
Atlantic Salmonyour choice of grilled, blackened or BBQ – served with comeback sauce & coleslaw19.95
Salads
add fried chicken for $6.95, buffalo chicken for $7.95, grilled chicken breast for $6.95, hickory smoked berkshire pulled pork for $6.95, smoked creekstone brisket for $9.95 or atlantic salmon for $12.95
Classic Iceberg Wedgecrispy bacon, buttermilk blue cheese, ripe cherry tomatoes13.95
Burgers & Sandwiches
served with golden waffle fries or tater tots. add atomic cheese sauce for $1.95, add bacon for $2.95, add roasted jalapeños for $.95
Buffalo Chicken Sandwichblue cheese, lettuce, pickles12.95
Nashville Hot Chicken Sandwichcreamy pickle slaw12.95
Chicken Tender Baskets
served with golden waffle fries, add a buck for buffalo or nashville hot
2 Pc.9.95
3 Pc.12.95
4 Pc.14.95
5 Pc.16.95
Shrimp Basket
Mac N' Cheesy
Original8.95
Pulled Pork12.95
Brisket13.95
Chili13.95
Sides
Deluxe Tots
golden tots with the works
Desserts
*Consuming raw or undercooked meats, poultry, seafood, shellfish, or eggs may increase your risk of foodborne illness. | A 3% processing fee is added to all guest checks. This fee may be removed upon your request.
Brunch
Pitmaster Special
limited quantity
Bbq Green Hatch Chili Burritoyour choice of bbq chicken or brisket, green hatch chili with rice in a flour tortilla14.95
Almost Famous
Cinnamon Sticky Bunshot out of the oven with cream cheese frosting8.95
Buttermilk Biscuits
Country Biscuit Sandwichegg, cheese with your chose of bacon or breakfast sausage13.95
Fried Chicken Biscuitdill pickles, mayo, honey13.95
Brisket On A Biscuitscrambled eggs, jalapeños14.95
Specialties
Buttermilk Wafflecinnamon apples, whipped cream10.95
Chicken And Wafflesmaple syrup, hot sauce14.95
Lil' Country Breakfast3-eggs your way with bacon or chicken sausage, cheesy grits and a biscuit14.95
Brisket Eggs Benedict2 poached eggs on a buttermilk biscuit with 18-hr smoked brisket and country gravy15.95
Tex Mex Breakfast
Breakfast Tacosthree tacos. cheesy scrambled eggs, flour tortillas, guacamole and roasted tomato salsa11.95
Sides
Biscuit3.95
Bacon/sausagegf7.95
Creamy Corn Gritsgf5.95
Drinks
Mimosagiuliana prosecco with fresh-squeezed orange juiceglass 11bottomless 28
Bub's Bloody Maryour signature bloody mary mix and a skewer with all the fixin'sglass 12bottomless 30
A 3% processing fee is added to all guest checks. This fee may be removed upon your request.
Drinks
Signature Cocktails
Bub's Old Fashionedvery old barton bourbon, demerara sugar, angostura bitters14
Back Porch Teasweet tea vodka, tennessee whiskey, lemonade, black tea13
Classic Margaritablanco tequila, mezcal, lime, agave13
80's Mercedessazerac rye, amaretto, lemon, soda12
Turkey Dewwild turkey 101 bourbon, passionfruit, lime, Mountain Dew12
Mega Mulea mule for the stable40
No Shoes No Shirttequila, aperol, lime, passion fruit, pineapple15
Ice Cold Draft
order a pitcher and save a few bucks!
Bub City Goldbrewed in collaboration with our friends at goose island - 5.9% abv make it a bub handshake with a shot of our jeppson's single barrel bourbon for $7 more!5
Bud Lightheard it in a country song... - 4.2% abv6
Great Lakes Christmas Aletis the season - 7.5% abv8
Pacifico Claramexican lager 4.5% abv7
Begyle Freebirdyou can't request the song, you can request this american pale ale - 5.4% abv7
Old Stlyeyou might be too cool, you might not be cool enough... 4.6%abv make it a Chicago Handshake for just $5 more!6
Revolution Anti-heroChicago's true craft IPA - 6.7% abv7
Pipeworks Blood Of The UnicornIt's really a hoppy red ale. 6.5% abv8
3 Floyds Zombie Dustsometimes plays hard to get - 6.2% abv9
Maplewood Son Of Juicelike father like son - 6.3% abv8
Goose Island Lost Palatehazy with mango & cinnamon - 6.3% abv7
Allagash Whiteamerica's best wit! - 5.1% abv8
Bottles & Cans
Rhinegeist Franzmarzen style lager from our franz in cincinnati - 5.4% abv6
Goose Island Next Coast Ipanext coast is the best coast - 7% abv7
Modelo Especialbottle, mexican lager 5.0% abv7
Michelob Ultrabottle, VERY light lager 4.2% abv6
Miller Liteis it miller time? - 4.2% abv6
Coors Lightmade with rocky mountain water - 4.2% abv6
Coors Banquetalso made with rocky mountain water. - 5.0% abv5
Vander Mill Totally Roastedloads of vanilla, cinnamon and roasted pecan - 6.8% abv6
Cruz Blanca El Trainamerican ipa - el train, get it? - 6.2% abv6
Around The Bend Verapistachio cream ale - just try it! - 5% abv8
Maplewood Brownie Pointsthis brown ale scores points for tons of vanilla to balance the dark malt 5.7% abv8
Revolution Eugene Porterheavy toasted chocolate malt from our friends at Revolution 6.8% abv7
Goose Island 312Chicago's pale wheat ale 4.2% abv7
Goose Island Christmas IpaA spiced IPA 7.5% abv6
Hard Seltzers
ladies love 'em, fellas too!
High Noon Watermelonmade with real vodka!8
Wine In A Can
Cycles Gladiator Pinot Noircalifornia, 375ml15
Crafter's Union Rosecalifornia, 375ml15
House Wine Chardonnaywashington, 375ml15
Barnard Griffin Sauvignon Blancwashington, 375ml15
A 3% processing fee is added to all guest checks. This fee may be removed upon your request.
Events at Bub City – River North