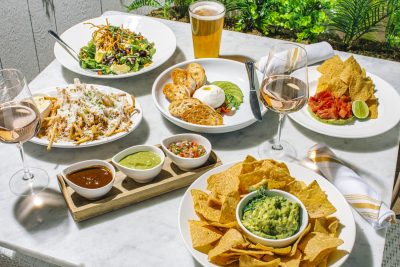 Best Spots for Group Dining
From celebrations to reunions, we've got you covered
You finally got the whole crew to agree on the same day and time, now you just have to find the perfect place to get together. Looking for a boisterous place that's perfect for a wild night? We've got that. Hoping to find somewhere that's fun and intimate? Got ya covered. Whatever it is you're looking for, you'll find it with us. We've rounded up some of our prime locations that are good for group dining.
Jump to:  Austin | Metro Washington D.C. | Las Vegas | Los Angeles| Twin Cities

CHICAGOLAND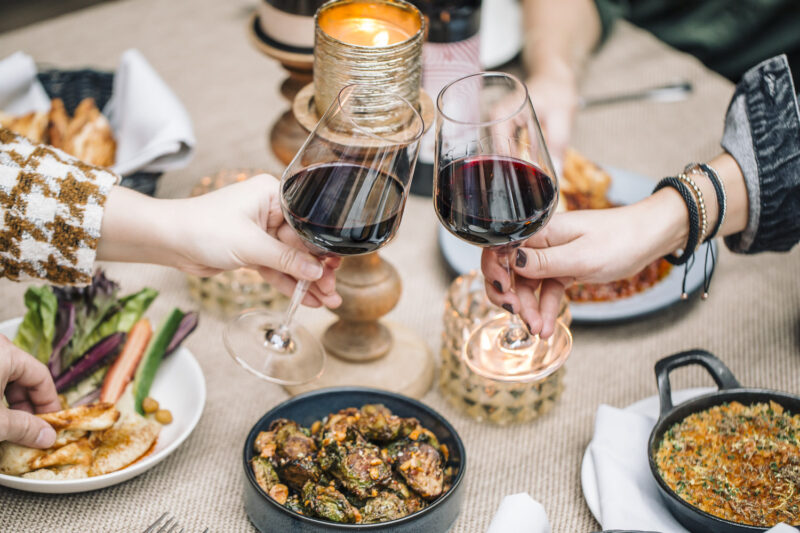 Aba – Chicago
Take a trip to the Mediterranean for your next celebration at Aba and feast on mezze plates all night long! Order up favorites like the Muhammara, Whipped Feta Spread, Lamb & Beef Kefta Kebab and more. For those looking for a more private dining experience, join us at the chef's table seating up to 12 people, or grab a spot on the patio.
Make a reservation at Aba – Chicago
View Aba- Chicago's menu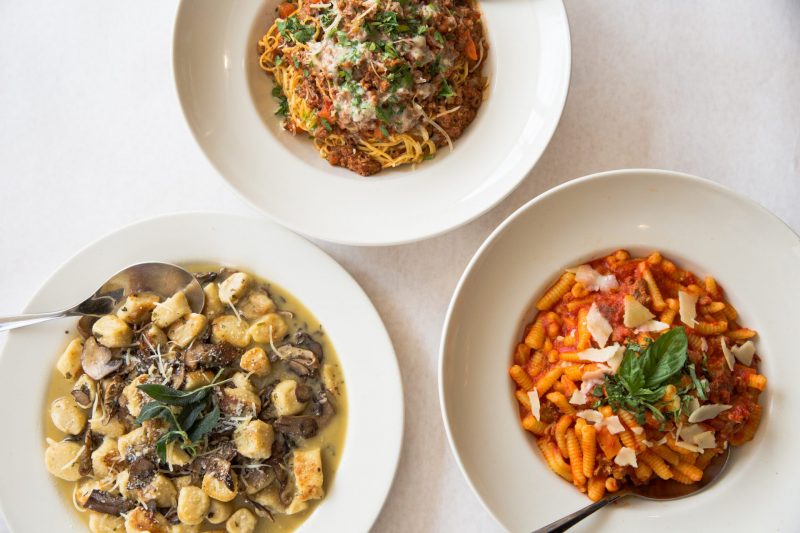 Antico Posto
Enjoy an Italian feast at Antico Posto in Oakbrook when you're headed out with a big group! Whether it's an office party, special occasion, or a simple night out with friends, spend it with family-style pasta and pizzas, and specialty entrees like Chicken Limone and Eggplant Parmesan. For those looking for a more private setting, guests can dine in Antico Posto's private dining room and enjoy a full family-style menu.
Make a reservation at Antico Posto
View Antico Posto's family-style menu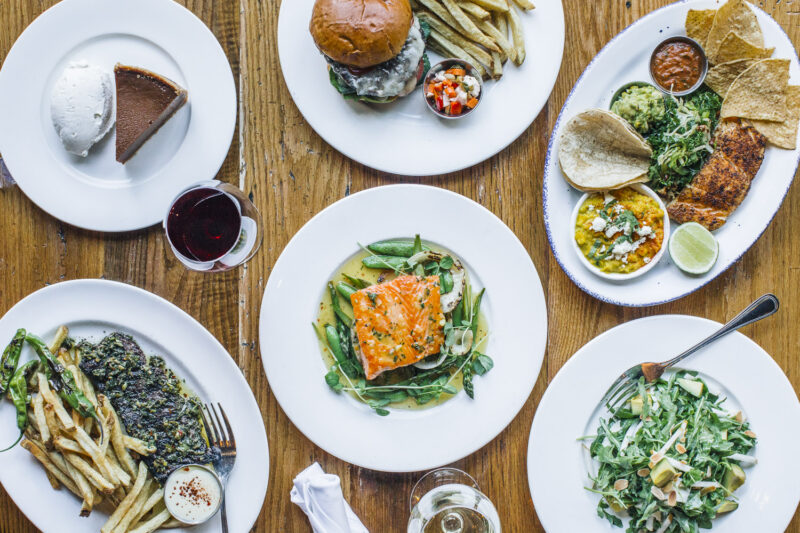 Beatrix – Fulton Market. River North, Streeterville, The Loop & Oak Brook
No matter what the occasion, Beatrix is the perfect meeting place for a big group! Enjoy the energetic vibe and comfort food with a healthful twist for your next celebration, team meeting, or a night out. Dine on a variety of dishes available in family-style including the Prime Steak Frites, Straight "A" Salad, Ahi Tuna Poke Bowl and more! To learn more and inquire about group dining, email beatrixparties@leye.com.
Make a reservation at the Beatrix location nearest you
View Beatrix's family-style menu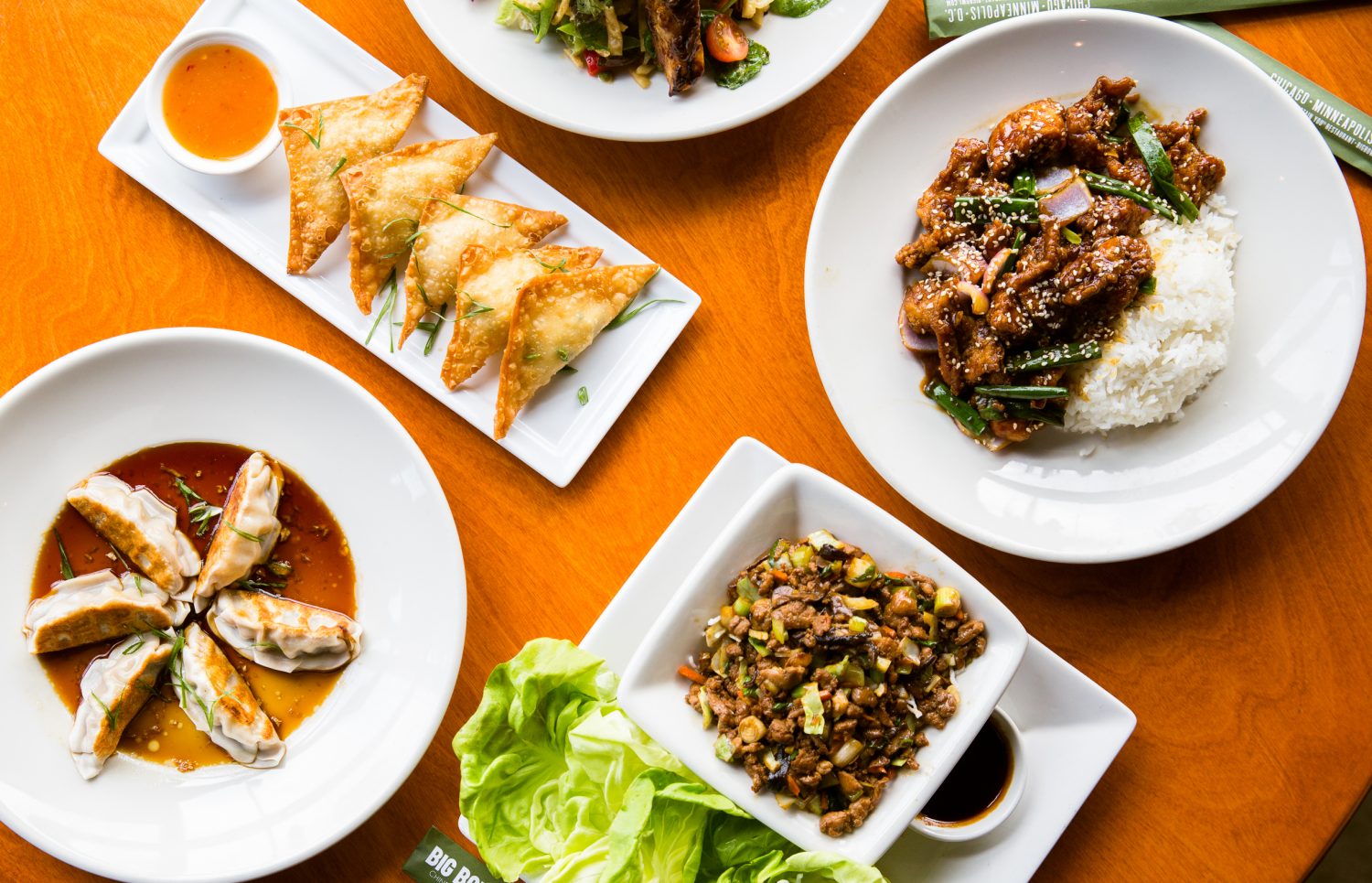 Big Bowl – Chicago, Lincolnshire, Schaumburg
Big Bowl's lively and exciting atmosphere is the ideal space for group reservations. Available for parties of 6 or more, we offer a group share menu, served family-style.  It's the ideal way to sample a variety of Big Bowl favorites, while enjoying the traditional way of Chinese dining, providing our guests the option of trying a variety of delicious flavors.
Make a reservation at the Big Bowl location nearest you
View Big Bowl's group share menu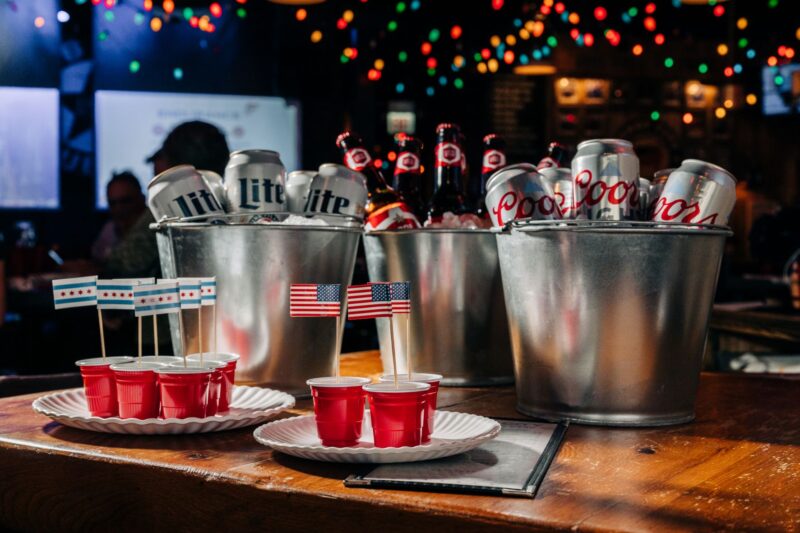 Bub City – River North and Rosemont
Southern BBQ, whiskey and live country music and Karaoke—this is Bub City. Whether you're a party of 2 or 20, Bub City is the perfect place to hang out with your group and dive into decadent (and shareable!) dishes like Giddy Up Fries, Nachos Bub Grande, Game Day Platter and more, plus cold pitchers of draft beer and Malort Jell-O shots. Insider tip: Make it a Boilermaker by adding Old Forester 86 Bourbon (1 pint; approximately 10 shots) to any pitcher.
Make a reservation at the Bub City location nearest you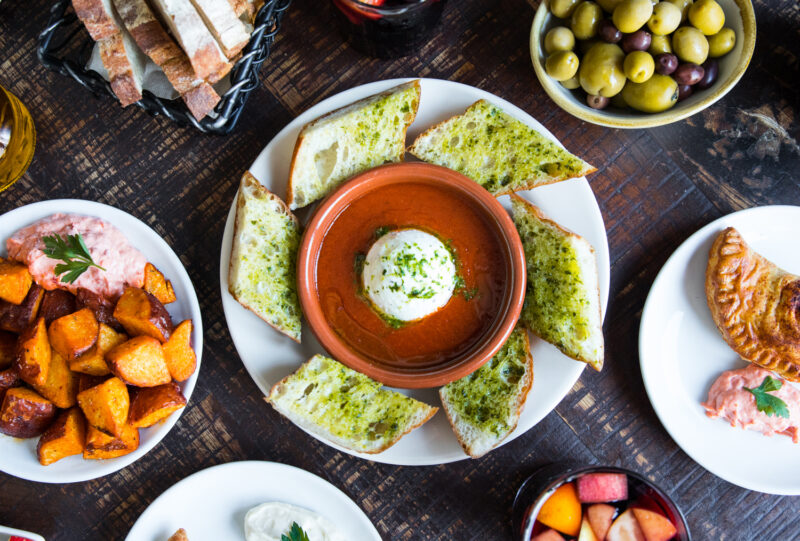 Cafe Ba-Ba-Reeba!
Nothing says group outing like tapas! Cafe Ba-Ba-Reeba! is the perfect place to bring your crew for a lively night out. Everything on the menu is designed to share, including our signature paella and pitchers of sangria. The weekend brunch selections are also served tapas-style, so your group can partake in sweet and savory brunch bites as well as breakfast paella with a scrambled egg crust and Spanish sausages. Normal reservations accepted up to 20 guests at select times.
Make a reservation at Cafe Ba-Ba-Reeba!
View the Cafe Ba-Ba-Reeba! menu
Di Pescara
Devoted regulars frequent this gem in the North Shore where groups can gather to watch a game and enjoy sushi and craft beers in the bar area, and families often unite to mark birthdays, anniversaries and engagements in a modern setting in private or semi-private rooms. Meticulously selected fresh seafood is the star, with prime steaks and lobster as the supporting cast. The menu is vibrant and global, with rotating seasonal specials.
Make a reservation at Di Pescara
View Di Pescara's menu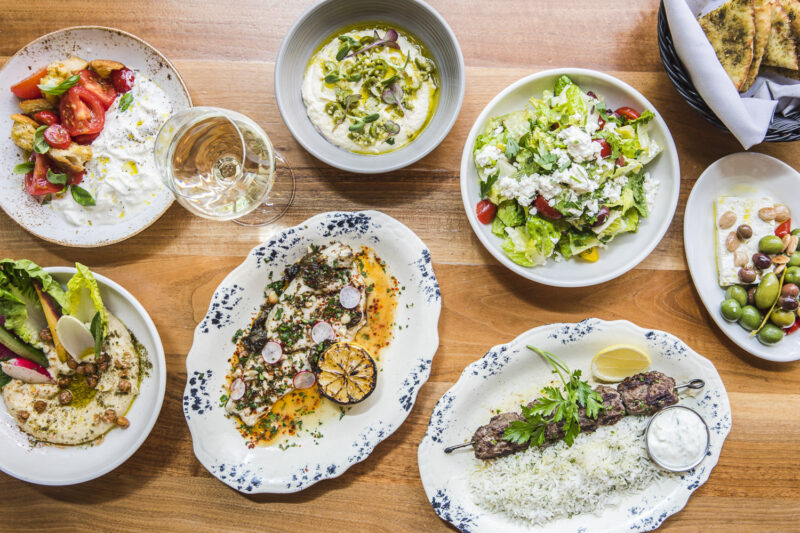 Ema
Share a mezze feast under the twinkling ivy or on the patio at Ema! Enjoy Chef CJ Jacobson's lighter California style of cooking with Mediterranean-inspired small plates including Toasted Almond & Garlic Spread, Crispy Potatoes, Faroe Islands Salmon Kebab and more for lunch, dinner and weekend brunch. Plus, cheers with curated cocktails and refreshing zero proof options, as well as wines from Greece, Italy, Spain and more.
Make a reservation at Ema
View Ema's menu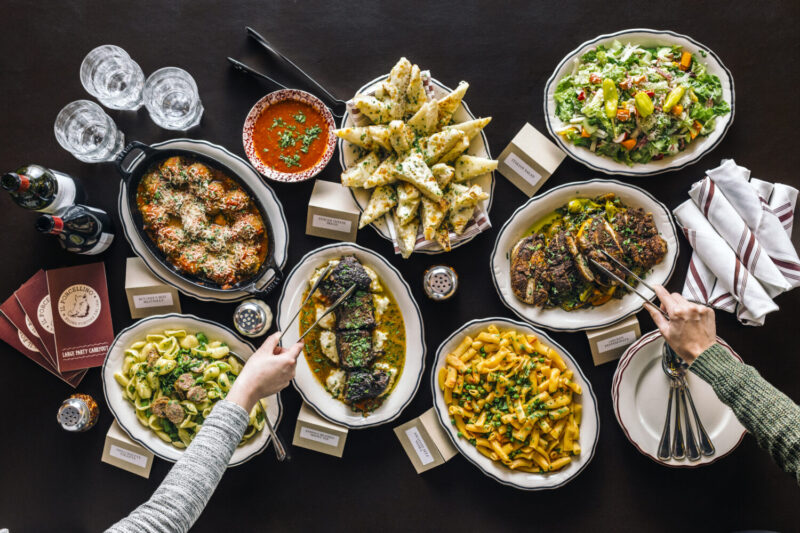 il Porcellino
Share pastas and classic antipasti every night of the week at River North's favorite Italian-American comfort food spot, il Porcellino. What's not to love about homey dishes like Fried Calamari and Prime Beef Meatballs, Gnocchi Bolognese and Spicy Scampi Spaghetti, Brick Chicken Vesuvio and Eggplant Parmesan?
Make a reservation at il Porcellino
View il Porcellino's menu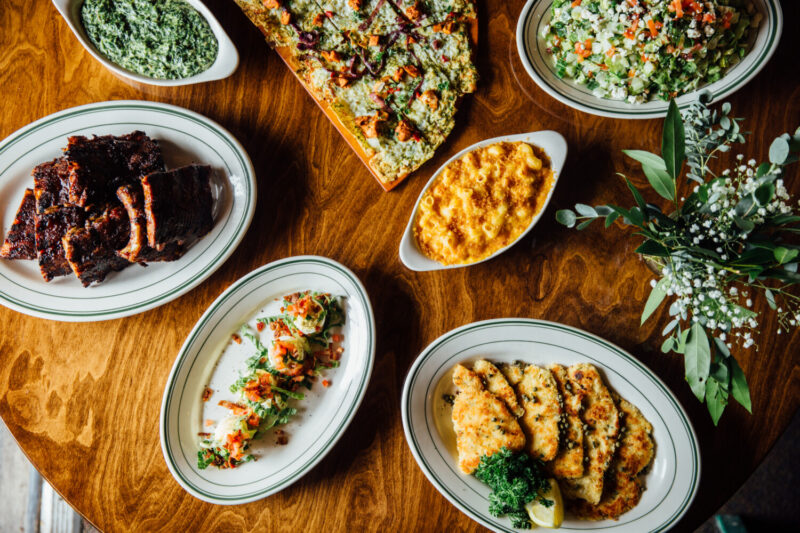 L.Woods Tap & Pine Lodge
Host your next celebration, event or special occasion at L. Woods Tap & Pine Lodge! Curate a custom group dining menu featuring classic American dishes and barbecue specialties, including ribs, chicken, fresh fish, traditional salads, comfort-food sides and housemade desserts. For private events, enjoy the secluded Lynn's Back Room accommodating groups of up to 36 guests.
Make a reservation at L. Woods
Learn more about L. Woods private dining options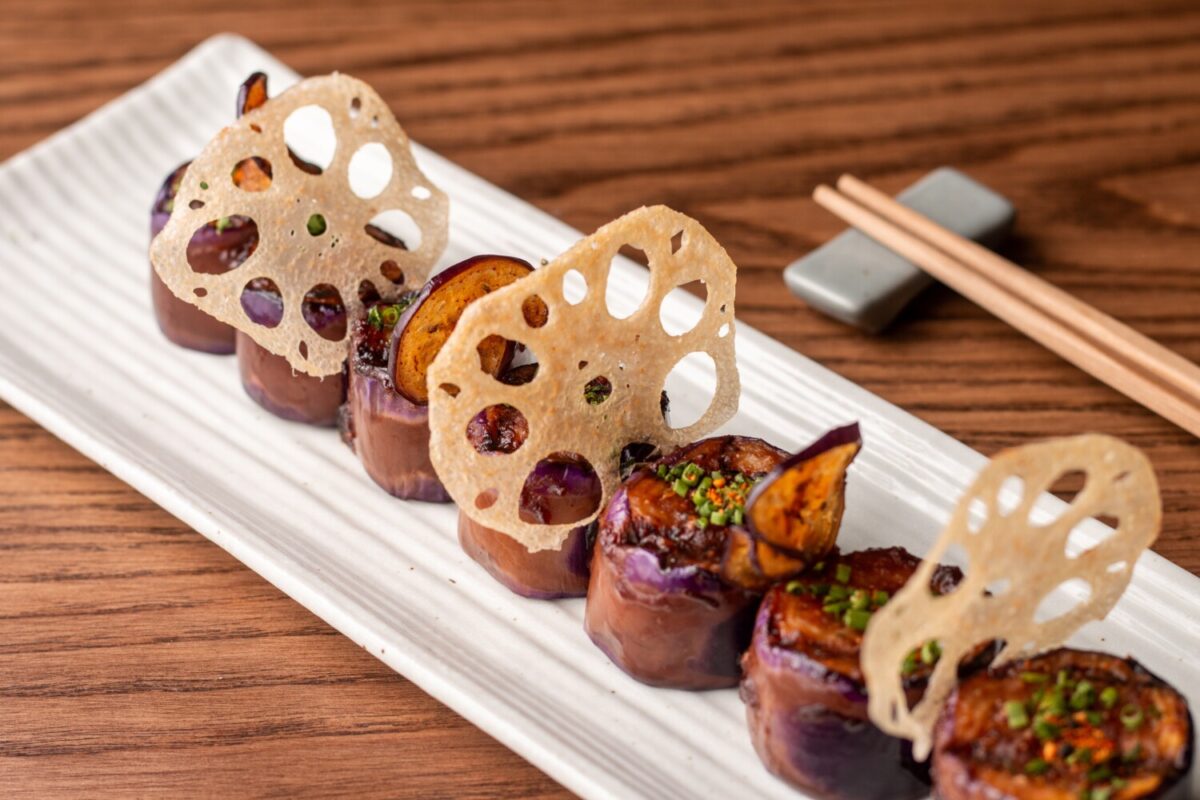 Miru
Treat your guests to a collection of sharable Japanese-inspired dishes, perfect for entertaining a large group. Choose from dishes from the various menu options like Rice & Noodles, Signature Maki, Robata Skewers and more.
Make a reservation at Miru
View the menu at Miru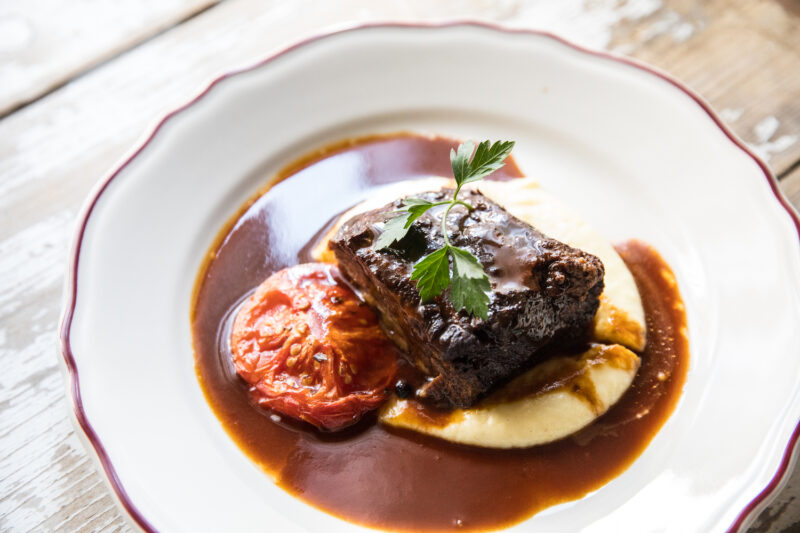 Osteria Via Stato
Food for Italians is something to be savored with family and friends – and our Italian Dinner Party follows this tradition. The family-style menu features a bounty of chef selected antipasti and seasonal pastas, followed by a choice of entrée, individually plated. Guests can choose from dishes like; Slow Braised Short Rib with whipped potatoes, Chicken Mario with broccolini or Seafood Stew with scallops, shrimp and market fish. Relax, enjoy and let us bring the party to you!
Make a reservation at Osteria Via Stato
Osteria Via Stato's Italian Dinner Party menu
Saranello's
Saranello's has become a prime destination in Wheeling for groups with a private room for 8 all the way up to 200. Flexible arrangements are equally suited for social and corporate gatherings, and the menu is full of full-flavored crowd-pleasers, from housemade pasta and pizza to prime steaks and fresh seafood.
Make a reservation at Saranello's
View Saranello's menu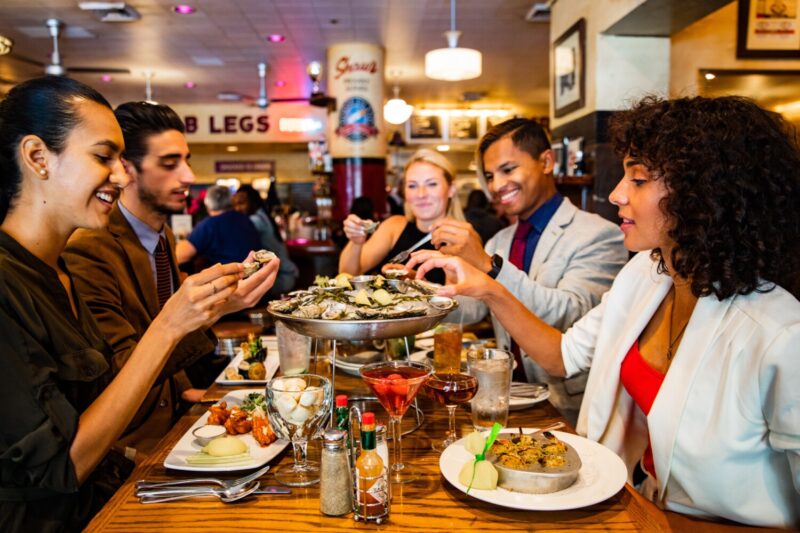 Shaw's Crab House
Get your group together over oysters! For a more lively atmosphere, bring your group to the Oyster Bar, perfect for groups up to 12. For a more formal option, the Main Dining Room has tables for up to 8.
Make a reservation at Shaw's Crab House – Chicago. Make a reservation at Shaw's Crab House – Schaumburg.
View the Shaw's Crab House – Chicago menu. View the Shaw's Crab House – Schaumburg menu.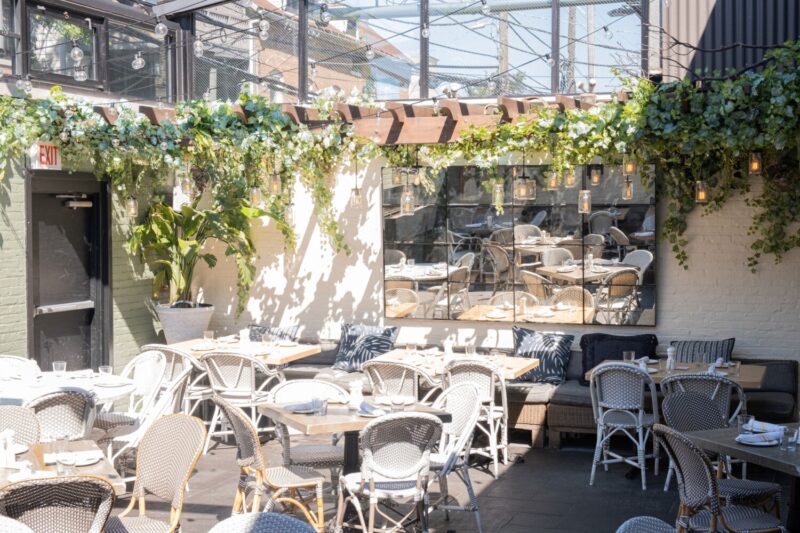 Summer House – Lincoln Park
Round up friends and family to enjoy California inspired seasonal dishes and craft cocktails from Summer House. Escape to the warmth and laid-back vibes of the West Coast complete with beach house décor, a beautiful retractable glass ceiling and all-seasons courtyard patio with plenty of group seating.
Make a reservation at Summer House – Lincoln Park
View Summer House – Lincoln Park's Menu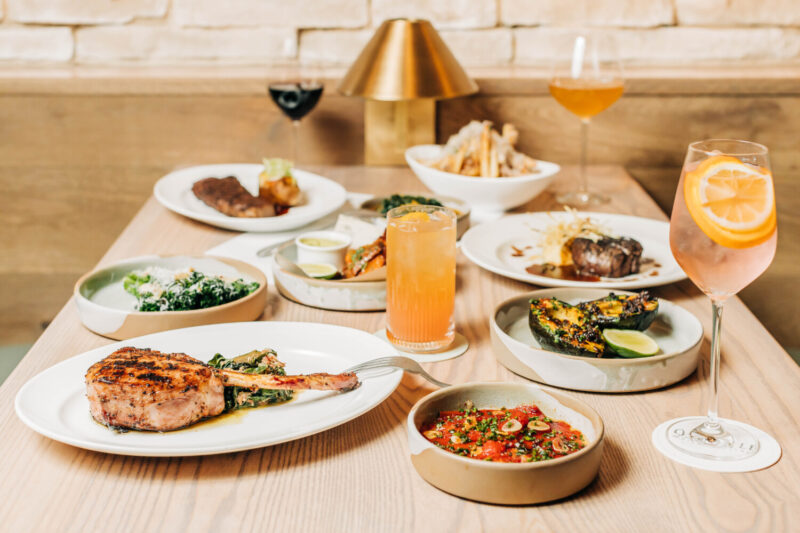 Gather your friends and family for a getaway to Napa Valley
! Located in the dynamic Fulton Market District of Chicago, The Oakville Grill & Cellar celebrates the spirit of Wine Country and the warmth of Midwest hospitality, creating an easygoing atmosphere for forging new connections and strengthening old bonds. 
Enjoy enticing shareables like the 
Pacific Snapper Crudo
 and entrées like the 
Sakura Farms Pork Chop
 as you toast to a great meal with great company. Looking to celebrate something special? Book your private party with The Oakville Grill & Cellar by contacting 
theoakvilleparties@lettuce.com
 today.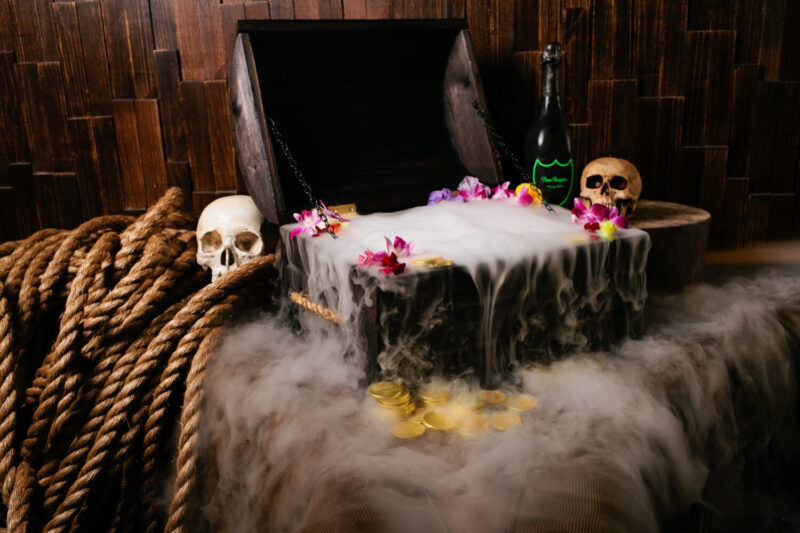 Three Dots and a Dash
Chicago's premier tropical bar and craft cocktail destination, Three Dots and a Dash, is the perfect place for a group, small or large. The menu boasts several shareable food and drink options, like the Conch Out! large-format cocktail, featuring Japanese Whiskey, aged Cachaça, banana, almond orgeat, lime, and pineapple (serves 5-6 people). Or go for la piece de resistance, The Treasure Chest, which has a long aged Venezuelan Rum, Ace of Spades champagne, passion fruit, guava, lemon, and tangerine (serves 6-8). Wash down the libations with Captain Dino's Pu Pu Platter — an assortment of coconut shrimp, spring rolls, Thai fried chicken, pork sliders, crab rangoon, prime skirt steak skewers (serves 3-4).
Make a reservation at Three Dots
View Three Dots and a Dash's menu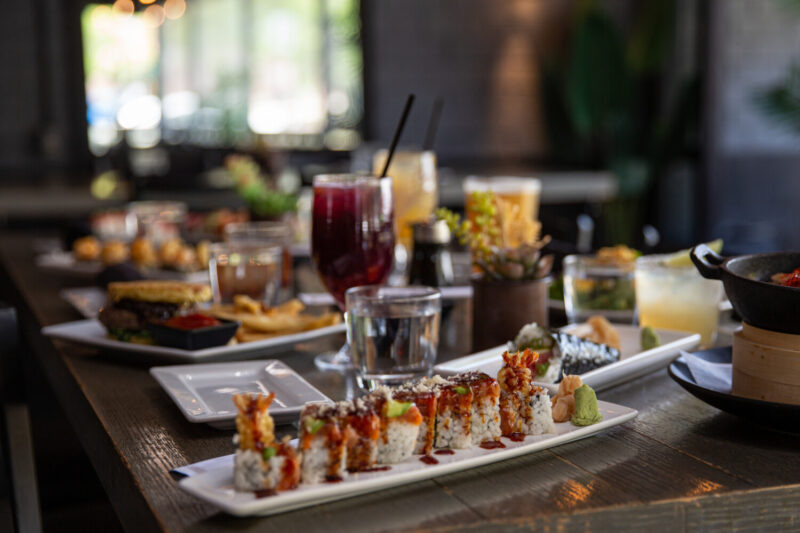 Tokio Pub
Grab your crew and head to Tokio Pub. Share some signature maki rolls and Bang Bang Calamari, or go for your own bowl of ramen. The patio offers communal seating for up to 10 guests and the main dining room and bonus room can accommodate groups from 6-10 people. 
Make a reservation at Tokio Pub
View Tokio Pub's menu
AUSTIN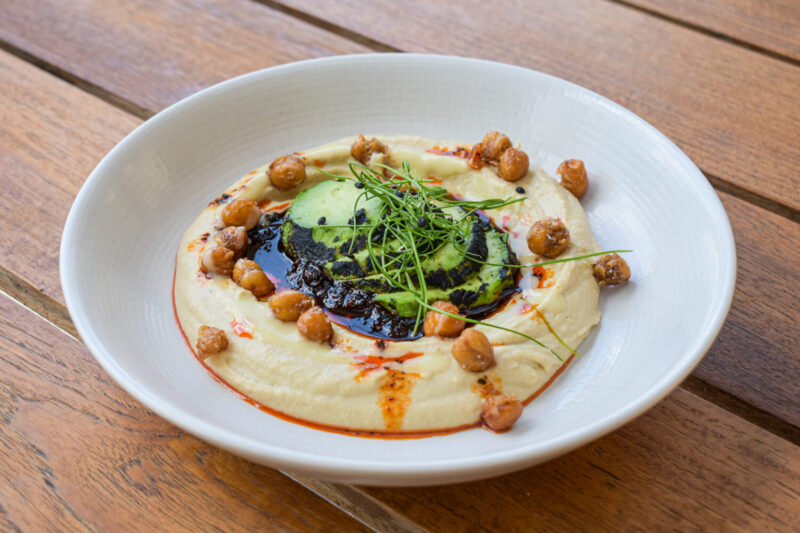 Aba – Austin
Take a trip to the Mediterranean for your next celebration at Aba and feast on mezze plates all night long! Order up favorites like the Smoky Garlic Hummus, Charred Eggplant Spread, Shawarma Spiced Skirt Steak and more 
Make a reservation at Aba – Austin
View Aba Austin's menu
WASHINGTON D.C. METRO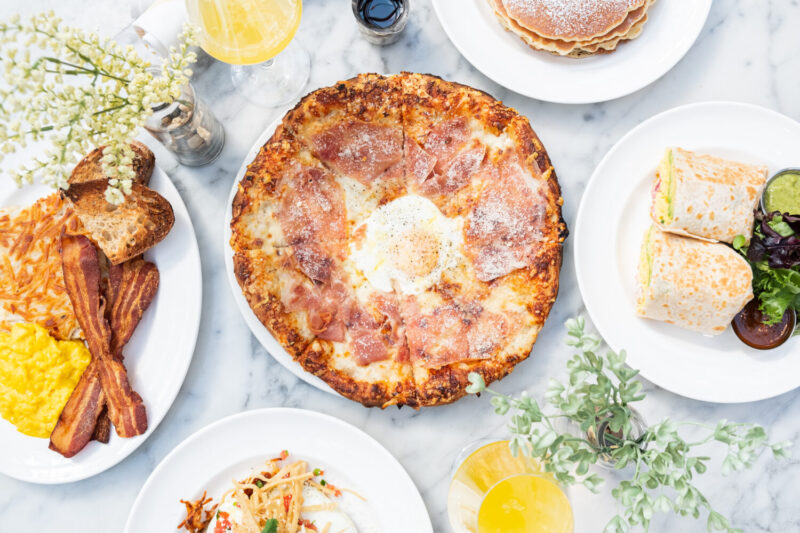 Summer House – North Bethesda
Round up friends and family to enjoy California inspired seasonal dishes and craft cocktails from Summer House. Escape to the warmth and laid-back vibes of the West Coast complete with beach house décor and certified sunshine all-day, everyday.
Make a reservation at Summer House – North Bethesda
View Summer House – North Bethesda's Menu
Wildfire – Tysons
When looking for reservations in the Tysons Corner area to host your next group gathering, look no further than Wildfire. Ideal for large parties of 8 – 10, our party platters are designed to please a variety of tastes for lunch or dinner. The menus are served family style on large platters to be passed around the table for sharing. You can bet no one will leave here hungry!
Make a reservation at Wildfire – Tysons
View the Wildfire – Tysons party platter menu
LAS VEGAS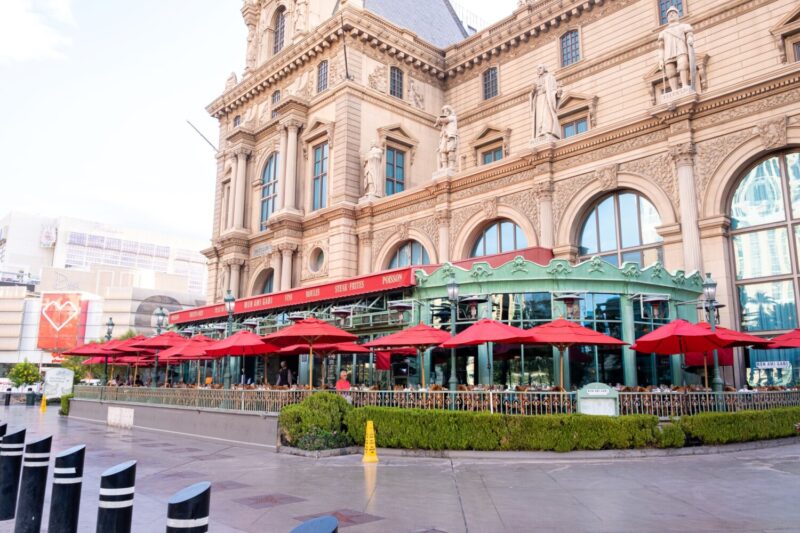 Mon Ami Gabi – Las Vegas
From special occasions to 'just because,' Mon Ami Gabi boasts the perfect setting for a group dinner. Take in views of the Strip and Bellagio Fountains and enjoy delicious French fare for Breakfast, Lunch or Dinner. Reservations recommended; patio seating is first come, first served.
Make a reservation at Mon Ami Gabi Las Vegas
View the Mon Ami Gabi – Las Vegas menu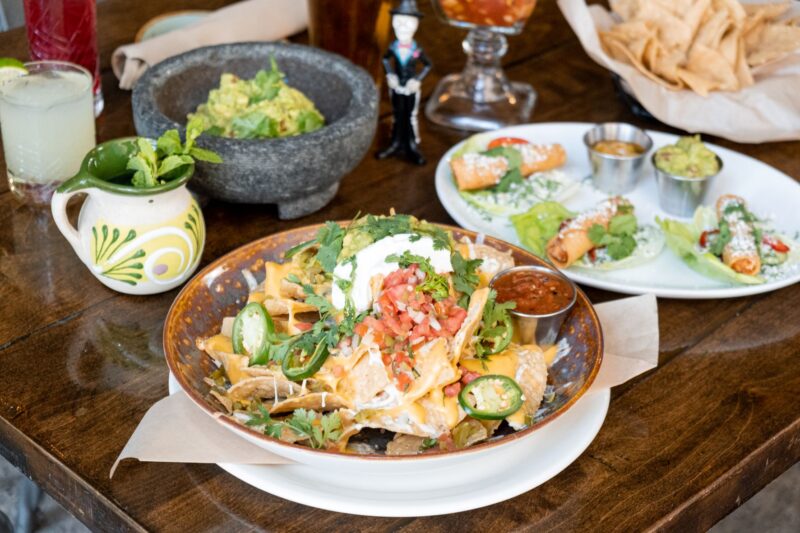 El Segundo Sol
Whether you're having a casual dinner or hitting the town, El Segundo Sol is the perfect spot to enjoy authentic Mexican eats with your crew. Share fresh-made guacamole, taco platters, enchiladas and more, and don't forget the made-to-order margaritas and pitchers of sangria. The tree-lined patio complete with piñatas and string lights make for a festive meal, no matter the occasion.
Make a reservation at El Segundo Sol
View the El Segundo Sol menu
LOS ANGELES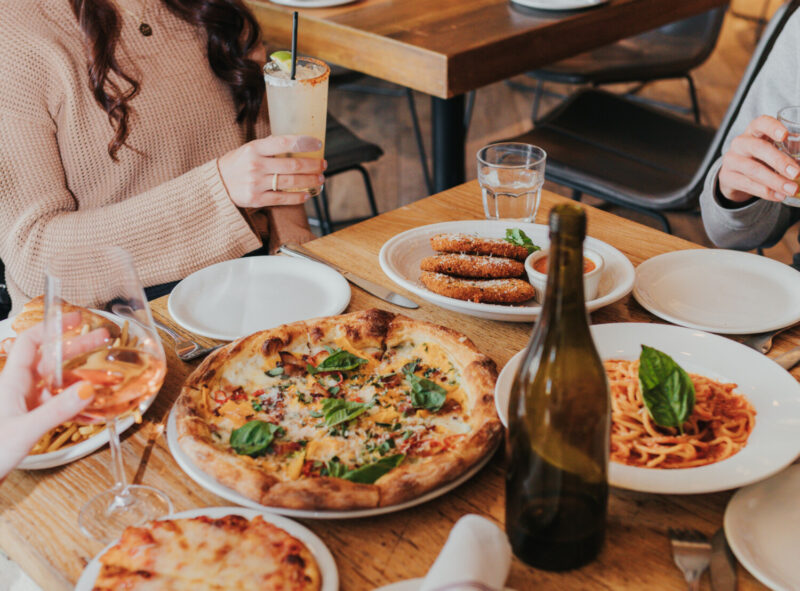 Stella Barra Pizzeria & Wine Bar – Santa Monica
With a number of large-party high-top tables in the bar area, Stella Barra is the perfect place to gather friends for Happy Hour, lunch or dinner. Enjoy house specialties like Spicy Salumi & Burrata Pizza or Prosciutto & Egg Pizza – the option for half-and-half pizzas will make everyone happy. Don't miss the weekday happy hour available Monday 12:00 PM – 9:00 PM, and Tuesday – Friday 4:00 PM – 6:00 PM! Enjoy discounted bar bites and drinks, including $5 wine, $8 cocktails, and more.
Make a reservation at Stella Barra
View the Stella Barra Menu
TWIN CITIES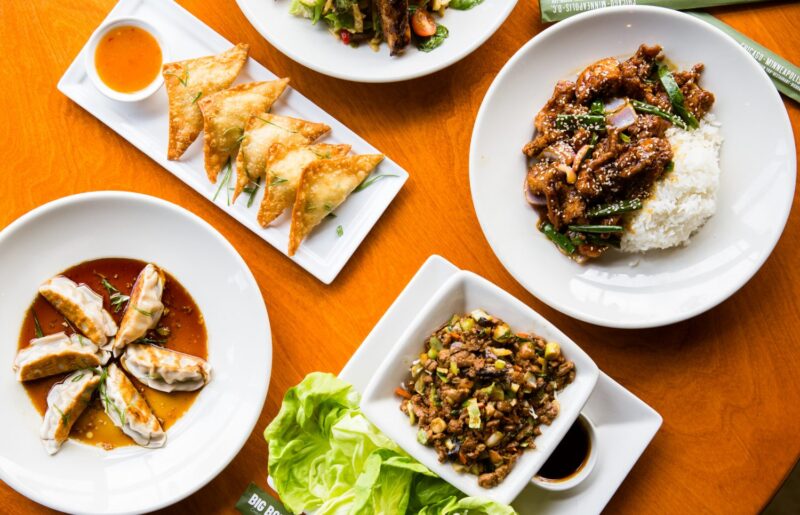 Big Bowl  – Edina, Ridgedale
Big Bowl's lively and exciting atmosphere is the ideal space for group reservations. Available for parties of 4 or more, we offer our Party Platter Menu, served family-style. It's the ideal way to sample a variety of Big Bowl favorites, while enjoying the traditional way of Chinese dining, providing our guests the option of trying a variety of delicious flavors.
Make a reservation at the Big Bowl location nearest you
Big Bowl Group Share menu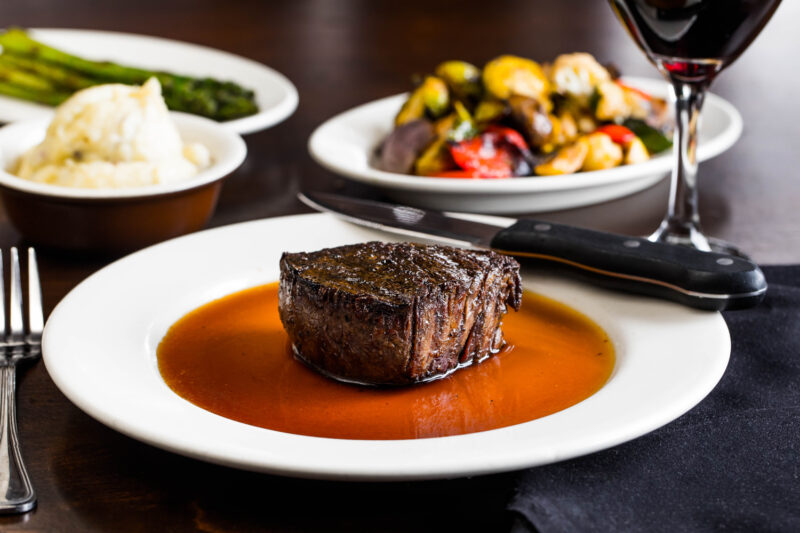 Wildfire – Eden Prairie
When looking for reservations in the Eden Prairie area to host your next group gathering, look no further than Wildfire. Ideal for large parties of 6 or more, our Club Menus are designed to please a variety of tastes for lunch or dinner. The menus are served family style on large platters to be passed around the table for sharing. You can bet no one will leave here hungry!
Make a reservation at Wildfire Eden Prairie
Wildfire Eden Prairie Club menu
Looking for private spaces for your next event?
View our private event spaces in Chicagoland
View our private event spaces in D.C. Metro Area
View our private event spaces in Twin Cities
View our private event spaces in Los Angeles
View our private event spaces in Las Vegas
View our private event spaces in Austin