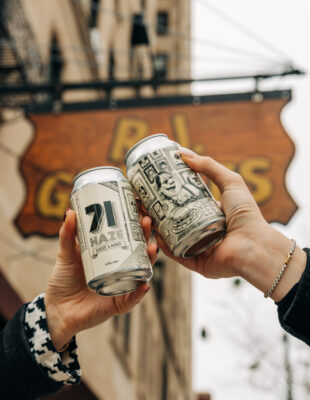 Calling All Beer Lovers! R.J. Grunts Has a New Beer for You
3 Reasons to Try 71 Haze
Beer enthusiasts, it's time to celebrate, R.J. Grunts is now serving 71 Haze, a beer collab with Spiteful Brewing. This is a full flavored, thirst quenching lager that pairs perfectly with the classic American bites and nostalgic vibes of R.J. Grunts. The name 71 Haze not only refers to the unfiltered style of beer and the opening year of R.J. Grunts (1971), it's also a nod to the "hazy" memories of the 1970s. 
Try it for yourself, make a reservation at R.J. Grunts.
Want to learn more? Here are 3 reasons to add this beer to your next order.

71 Haze is a collaboration with Spiteful Brewing
R.J. Grunts takes their role as a neighborhood staple seriously, not only warmly serving guests but also supporting local businesses. That's why when deciding on a partner for this beer they collaborated with Spiteful Brewing, a craft brewer located on the Northside of Chicago and long time supporter of the restaurant. 
71 Haze is an easy drinking, light and crisp beer
The 71 Haze is Spiteful Brewing's unfiltered "hazy" style lager that is light on the palate with just the right amount of flavor. For those interested in ABV, this comes in at 4.7%.  Grab a can for $7, plus tax, and try it with Grunts signature menu items like the Grunts Burger. 

71 Haze is a work of art
The artwork on the can was hand drawn by Lettuce Entertain You's Illustrator Alex Payne. It is the Grunts experience in a drawing with a variety of Easter eggs. It features the R.J. character at the bar with the 71 Haze in hand, burger nearby, surrounded by the iconic Grunts employee photos. The hidden drawings include  the opening date of R.J. Grunts (June 10, 1971), original Windy City Smokeout tickets, the red shoe in the rafter for good luck, sergeant "pepper" and more.
Ready to find all of the nods to Lettuce and Grunts culture? Stop by R.J. Grunts and try it yourself! Make a reservation at R.J. Grunts and order the 71 Haze.