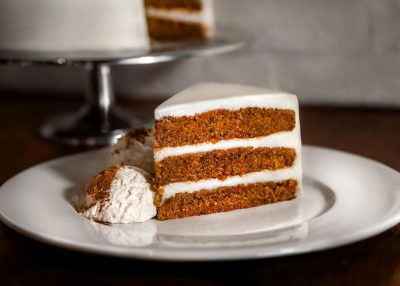 Rich Melman's Favorite Things
Trust us, you've got to try these
In honor of Lettuce's 50th Anniversary, Rich Melman, Founder of Lettuce Entertain You, has decided to look back and share some of his favorite menu items of the past 50 years. Throughout this anniversary year, we will be showcasing all of these items that you've got to try!
Follow us on Instagram as we reveal more of his favorite things.
Here they are in Rich's own words:
I believe that a successful restaurant starts with good food – whether it's a simple grilled cheese sandwich or a sophisticated French meal. I've always tried to put items on our menus that I liked and that I'm excited about. After 50 years, I'm still experimenting, still learning and still searching to find something new that I want to share with our guests. Even though some of our menu items might be a few decades old, I've found that food that tastes good usually doesn't go out of style. 
As we celebrate our 50th anniversary kicking off June 10, 2021, I wanted to share some of my all-time favorite menu items with you. Most of the dishes are from Lettuce menus, but a few items are from other restaurants that I love.
14. Pumpkin Chiffon Pie – Joe's Seafood, Prime Steak & Stone Crab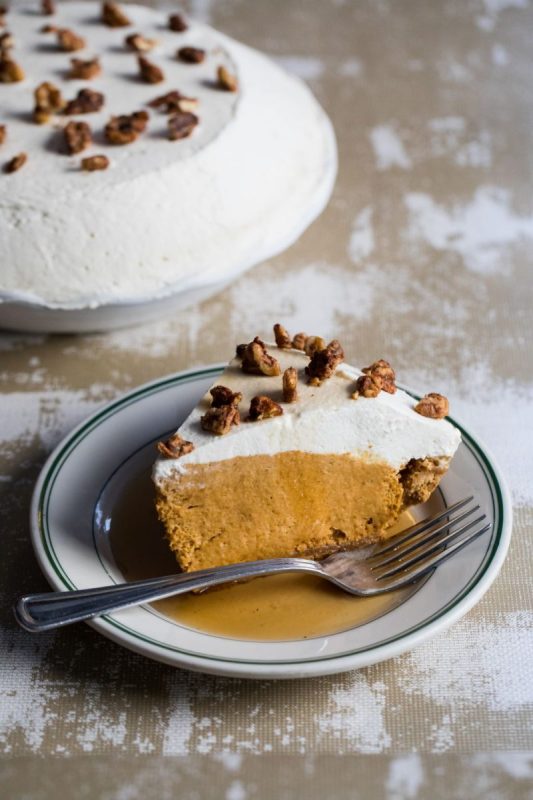 This very light pumpkin pie is one of my absolute favorites. Who can resist chiffon-style pumpkin mousse in a graham cracker crust which is then topped with whipped cream, spiced walnuts and pure maple syrup?
Make a reservation at Joe's Seafood – Chicago. Make a reservation at Joe's Seafood – D.C. Make a reservation at Joe's Seafood – Las Vegas
Summer House Santa Monica also offers a Pumpkin Chiffon Pie! Check out their version by visiting the location nearest you. 
13. Mama DePandi's Bucatini – RPM Italian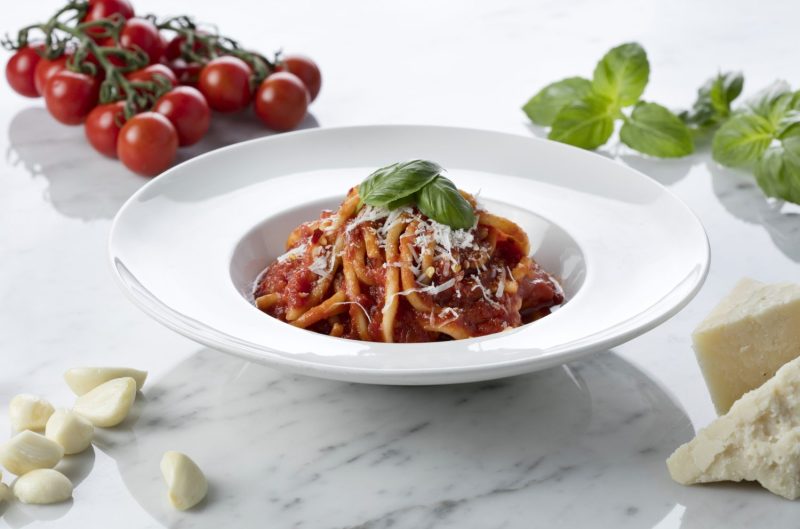 This is Giuliana Rancic's favorite family recipe since childhood. We all liked it so much that it's been on the menu since opening and has become a signature dish at RPM Italian. The Bucatini is rich in flavors and one of the most classic Italian dishes. Thank you, Mama DePandi.
Make a reservation at RPM Italian – Chicago. Make a reservation at RPM Italian – D.C.
Try this at home, click here for the recipe for RPM Italian's Mama DePandi's Bucatini. 
12. Saranello's – Eggplant Parmesan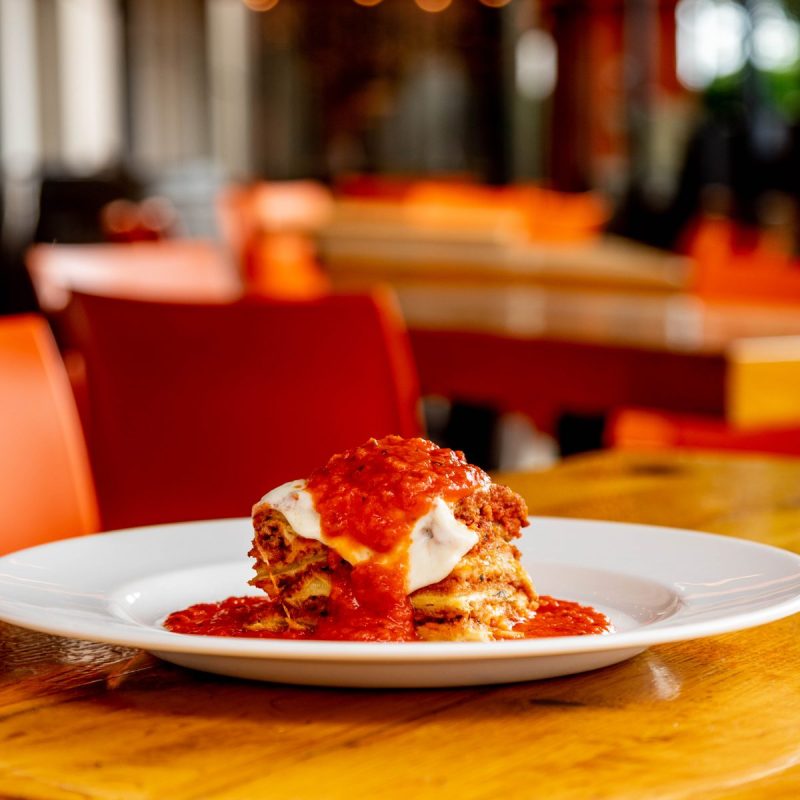 I love Chef Mychael Bonner's Eggplant Parmesan. It's made with crispy sliced eggplant layered between creamy mozzarella and tangy marinara.
Make a reservation at Saranello's.
Order carryout or delivery from Saranello's. 
11. Quality Crab & Oyster Bah – Coconut Cake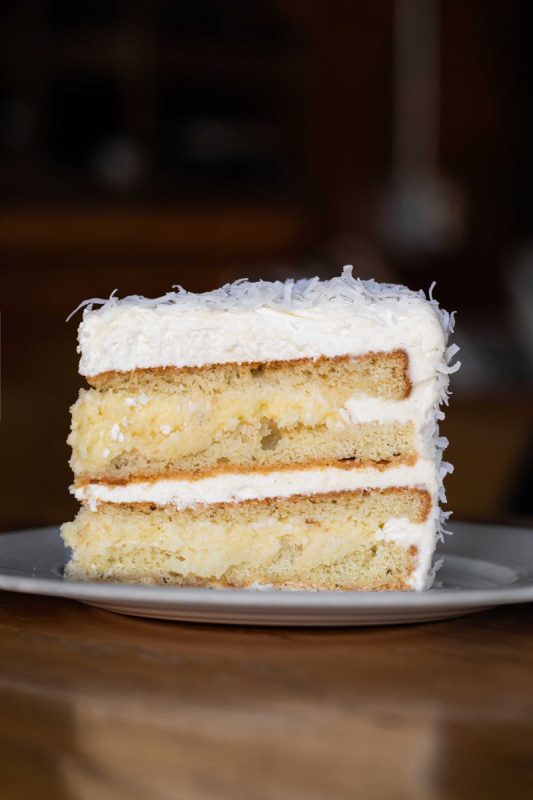 Three layers of coconut cake filled with coconut cream and frosted with coconut buttercream and shredded coconut. The perfect end to a meal of freshly shucked oysters and King Crab Legs – but I've heard it also tastes great for breakfast. Decadent, moist and surprisingly light.
Make a reservation at Quality Crab & Oyster Bah
10. Krispy Kreme – Original Glazed (served warm)
There is nothing that melts in your mouth like a warm Original Glazed from Krispy Kreme.
The "hot" light is on twice a day – once in the morning hours and then in the afternoon and into the evening – so customers will actually stop by just to see if the light is on.
Visit a Krispy Kreme location nearest you.
9. Mon Ami Gabi – Frites
I just love the frites at Mon Ami Gabi. They are always hand cut, then twice fried and finished with coarse salt. An absolute favorite.
Make a reservation at the Mon Ami Gabi location nearest you

8. Aba – Kulfi
Kulfi is a frozen dessert made with reduced cream and sugar that is often flavored. At Aba, we flavor it with Turkish coffee and serve it with toasted coriander honey and cookie crumble. I find it to be just the perfect way to end a meal.
Make a reservation at Aba – Chicago
Make a reservation at Aba – Austin
7. Osteria Via Stato – Chicken Mario
The Chicken Mario is named after Chef Mario from Sostanza in Florence, Italy. Before visiting his restaurant, it was recommended to us to order the "chicken in butter" on the menu. We ordered it and loved it. After the meal, Chef Mario took us back and showed us his kitchen. When we got back to Chicago we tried to make the dish many times, but could not get it exactly the way we remembered it, until we used a delicious butter from Vermont! That did it and we've been serving Chicken Mario at Osteria ever since.
Make a reservation at Osteria Via Stato
6. R.J. Grunts – Cheddar Burger 
The Cheddar Burger is one of the items that Grunts was built on and is the first menu item that we perfected back in 1971. I worked so hard on this burger and kept experimenting to find just the right blend of meat. And then we had to find the right piece of equipment to cook the burger on, along with the right bun and the perfect condiments. I love the Cheddar Burger with Dusseldorf mustard and a side of cottage fries and ketchup. Served medium rare, it's still my favorite and something I crave.
Make a reservation at R.J. Grunts
5. Do-Rite Donuts – Buttermilk Old Fashioned Donut
The Buttermilk Old Fashioned donuts from Do-Rite are the best. I also highly recommend the Vanilla Bean Glazed, the Valrohna Chocolate Cake, the Blueberry Crumb Cake and the Cream Cheese Danish donuts. If you're looking for vegan or gluten free options, try the Orange Olive Oil Vegan, the Maple Chai Vegan, the Valrohna Chocolate Gluten Free and the Ceylon Cinnamon Gluten Free donuts. Francis Brennan is the talented Pastry Chef Partner behind Do-Rite. He loves creating new items and has the culinary pedigree to take Do-Rite into the future. He worked for Marcus Samuelson at Aquavit and Francois Payard at Payard Patisserie in New York, as well as Sylvain Portay and Laurent Gras in San Francisco before becoming the Chef de Cuisine at Nomi in Chicago. In 2007, Francis joined Lettuce, honing his craft in the kitchens of Tru and L2O.
Check out the Do-Rite Donuts location nearest you. 
 4. Beatrix – Light & Fluffy Lemon Pancakes 
I love the Lemon Pancakes for brunch at Beatrix. They're light and flavorful, and are wonderful with just a squeeze of lemon and fresh berries. These pancakes are one of the first items that Chef Partner Susan Weaver cooked for me and I liked them so much that I wanted to create a restaurant that emphasizes breakfast. That concept eventually became Beatrix.
Make a reservation at the Beatrix location nearest you.
3. Shaw's Crab House and Quality Crab & Oyster Bah – Oyster Service
I love the oyster service at Shaw's and at their sister restaurant, Quality Crab & Oyster Bah. Their well-established oyster program features a variety of oysters on the half shell harvested from American and Canadian growers on both the East and West coasts. Over the years, Shaw's has featured all five of the North American species. Shaw's offers a sampler platter of daily selections, served with their signature frozen mignonette and great homemade cocktail sauce. I'm always confident we're getting the freshest product from Shaw's and I know that I'm not the only fan, as evident by their loyal following and numerous awards. Rowan Jacobson, author of The Essential Oyster, includes Shaw's in his list of go-to places for oysters.
Make a reservation at Shaw's Crab House – Chicago. Make a reservation at Shaw's Crab House – Schaumburg.
Make a reservation at Quality Crab & Oyster Bah.
2. R.J. Grunts – Chocolate Shake & Strawberry Malt
I worked in soda fountains when I was young, so when we were opening R.J. Grunts in '71 it was very important to me to create great soda fountain items. My two favorites are the strawberry malt and the double chocolate shake, so I alternate between the two.
Growing up, I never thought that chocolate shakes were chocolaty enough, so in developing the menu we tried a bunch of different ice cream companies and finally realized that to make a great double chocolate shake, we had to use chocolate ice cream. Most of the time chocolate shakes are made with vanilla ice cream and chocolate syrup, which we'll still do if a guest wants a light chocolate shake – but if you want a dark chocolate shake, it has to be made with a dark chocolate ice cream. The strawberry malt is made with vanilla ice cream, malt powder and our own special strawberry mixture. We went through a lot to get that one right. And if you want to try the soda fountain item that is currently most requested, just order the Oreo shake. I really think the malts and shakes at Grunts are as good as they come. 
Make a reservation at R.J. Grunts.
1. Hub 51 – Martha Melman's Special Occasion Carrot Cake
It was 1979 when my wife, Martha, first started experimenting with a carrot cake recipe and by May of 1980 she had perfected it in time for our son R.J.'s first birthday. Several decades later, this is still the cake that our kids and other family members request for their birthdays. In 2008 when R.J., Jerrod and Molly were developing their first restaurant, Hub 51, they wanted to put their mom's carrot cake on the dessert menu, but I wasn't sure it would sell. I was wrong. It's not only been served in the restaurant since opening day, but it's a bestseller.
Today, guests in Chicago can order a whole cake to-go with 48-hours notice. Order a whole Martha Melman's Special Occasion Carrot Cake to take home.