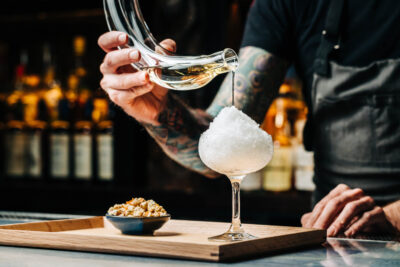 The Bamboo Room at Three Dots and a Dash Debuts an All-New Menu
Sample some of the world's rarest rums
The Bamboo Room at Three Dots and a Dash, the award-winning bar named the 'One to Watch' in the North American 50 Best Bars Awards, is introducing an all-new menu that you've got to try. From the team behind Three Dots and a Dash, The Bamboo Room is tucked inside Three Dots and a Dash in Chicago's River North neighborhood. The new menu was created by Beverage Director Kevin Beary, Lead Bartender, Scott Kitsmiller and team. Let us tell you a little bit about why you should rum, not walk, to The Bamboo Room.
To make a reservation at The Bamboo Room at Three Dots and a Dash, click here.
Click here to check out the new menu at The Bamboo Room at Three Dots and a Dash.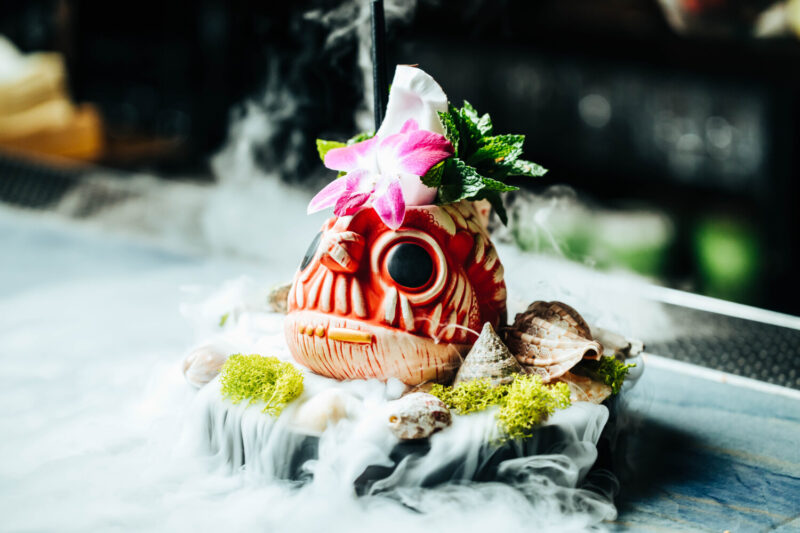 With more than a dozen carefully crafted cocktails making their debut on The Bamboo Room menu, each drink tells a story. 
"The original mission behind The Bamboo Room was to celebrate rum, rhum agricole and Ron in refined and focused drinks across multiple cocktail styles. With this newest menu, we are still doing that while pouring some of the rarest and most unique rums available we haven't yet featured from our library," says Kevin Beary, Beverage Director, The Bamboo Room. "This menu features thoughtfully composed cocktails that combine modernist techniques that bring out tropical flavors presented in a fun, interactive way."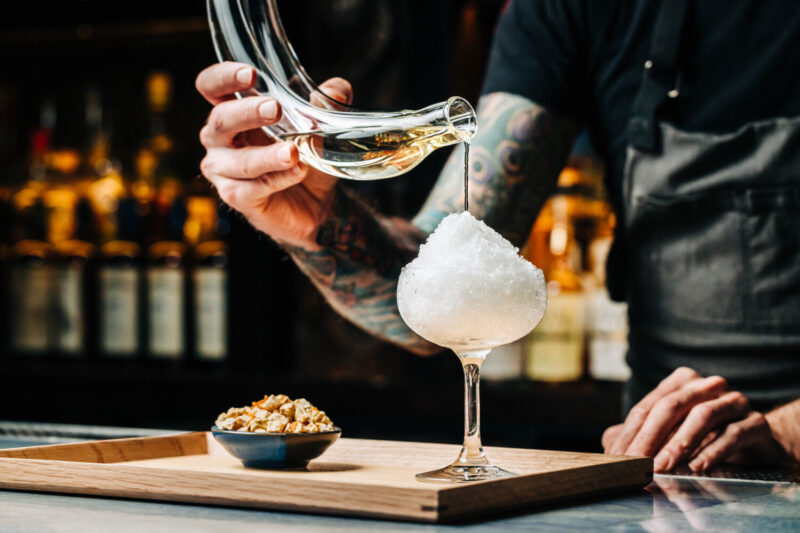 Banana Daiquiri 2.0 with a Carribean White Rum Blend, Lime, Clarified Banana Cordial and Banana Snow
A banana daiquiri has been part of the team at Three Dots and a Dash DNA for nearly a decade. This newest iteration, Banana Daiquiri 2.0, combines rum from Jamaica and Barbados with centrifuge clarified banana juice that's been frozen and hand-shaved to make delicious banana snow. The cocktail is served in a hand-blown banana vessel and guests can pour it over the snow to complete the drink. To round off the cocktail, a side of freeze-dried banana with toasted coconut and macadamia nuts from Rare Tea Cellar is served on the side.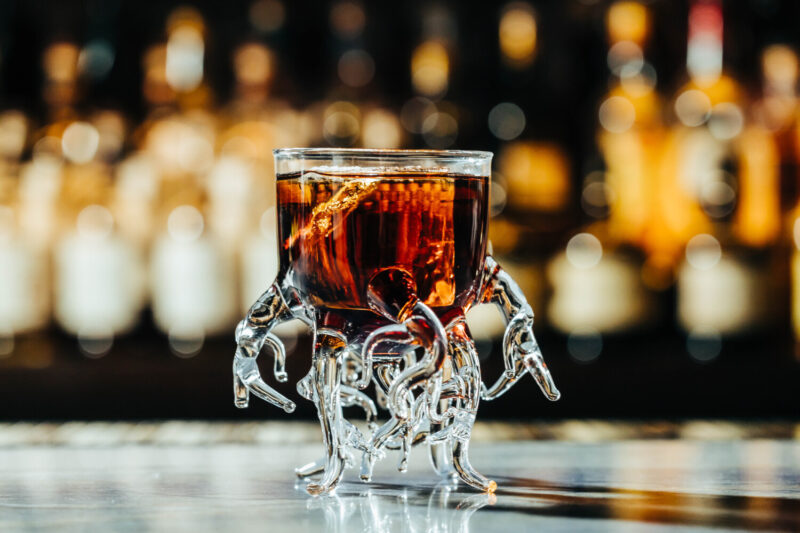 Corn and Oil with Square 2010 Barbados Rum, H&H Boal Madeira, Emperor's Tea Blend, Falernum, Sirop De Canne, Bitters and Expressed Lime Coin
Calling all rum enthusiasts, this drink is for you! For a refined take on a Caribbean classic, this cocktail drinks like a rum old fashioned complete with complex flavors from Barbados rum, madeira and a tea blend for a smooth finish.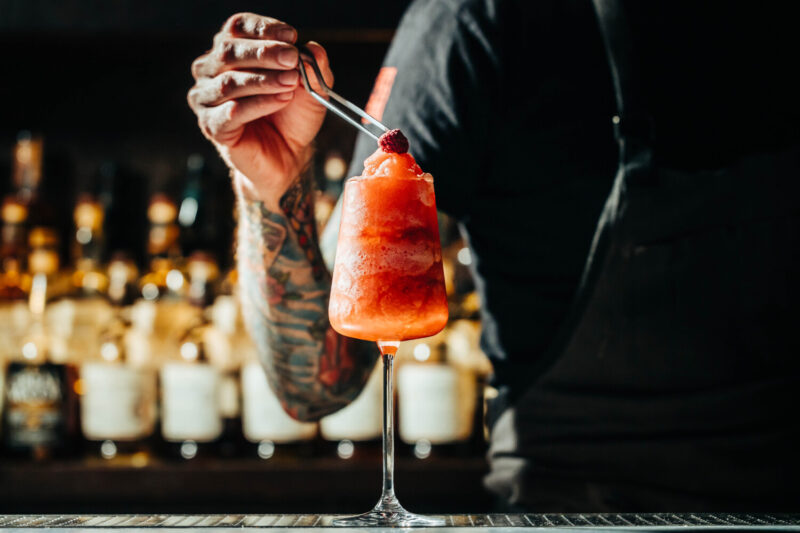 Frappe with Appleton Estate 15-Year-Old Jamaican Rum, Riesetbauer Raspberry Eau de Vie, Amontillado Sherry, Lime, Pineapple and a Pedro Ximenez Sherry Lava Flow
The goal for the Frappe was to create the best possible version of a tropical frozen cocktail from the texture to mouthfeel. This drink blends sherry with Jamaican Rum and fresh raspberries and is finished with a twist on an old-school beach resort lava flow but instead of rum, the team uses a Pedro Ximenez Sherry.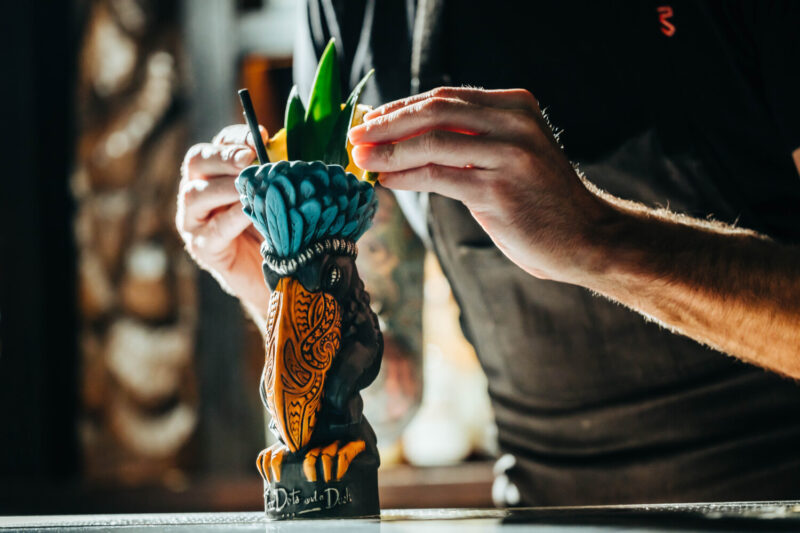 Money Melon with Arrete Blanco Tequila, Shochu, Lime, Tangerine, Pineapple, Honey Dew Melon and Almond Orgeat 
The Money Melon is a tequila drink that utilizes fresh honeydew melon juice, Sochu and other seasonal fruits to make for a well-balanced, refreshing cocktail and take on an Hawaiin style Trader Vic Mai Tai.
Kevin and the team behind Three Dots and The Bamboo Room take rum seriously. Between the two bars, more than 300 rums are utilized representing nearly every rum-producing country in the world. To tap into the deep collection of spirits, The Bamboo Room offers curated rum flights. These rotating tastings offer hand-selected rums from a variety of regions presented in a way to allow guests to guide themselves through. The limited-time-only tastings will explore various topics, including an introduction to rum, spotlights of different regions from around the world, and tastings from hand-selected Three Dots and a Dash single barrels. There are three levels of tastings offered on the menu ($30, $50 and $100) and each includes four rums. 
The Bamboo Room is located within Three Dots and a Dash at 435 N. Clark St. The bar is open Wednesday – Saturday. Reservations are encouraged and can be booked through Tock. For more information, visit https://www.threedotschicago.com/thebambooroom/ or call 312-610-4220. Follow us on Instagram at @TheBambooRoomChi.