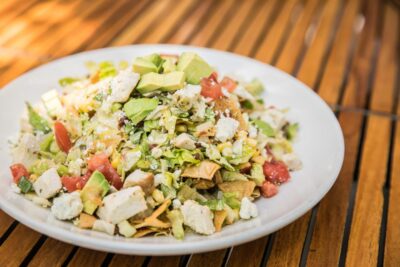 Your Guide to Our Favorite Salads
These aren't your average salads
We're here to help make eating healthier a little easier, with a guide to some of our favorite salads you can enjoy, from signatures like Wildfire's Chopped Salad to newbies like the Italian Salad at Pizzeria Portofino, and more.
CRISPY KALE SALAD AT BEATRIX 

This isn't your average kale salad. The Crispy Kale Salad is made with red grapes, pumpkin seeds, dates and Parmesan and dressed in a white balsamic vinaigrette. This salad is available for lunch only at all Beatrix locations (River North, Fulton Market, Oak Brook and Streeterville).
Find the Beatrix nearest you and make a reservation or order online.
Mix and match your favorite greens, toppings, proteins and dressings to create the ultimate salad at the Beatrix Market Salad Bar! The DIY Salad Bar is available at Beatrix Market DePaul, Loop and Streeterville every Monday through Friday.
THE CHOPPED SALAD AT WILDFIRE 
It's the salad that Wildfire is famous for, made with roasted chicken, avocado, tomatoes, corn, scallions, topped with blue cheese, bacon and tortilla chips, with a citrus lime vinaigrette that's so outstanding, they sell it by the bottle. Order it up in two sizes; a small serves 2-3 people, while a large feeds 4-6 people. Or, take a party platter home that serves 8-10 people, to order call your Wildfire location of interest.
You better believe you can try this salad at any Wildfire location, order carryout or delivery or make a reservation at Wildfire.
You can now order Wildfire Chopped Salad Meal Kit from Fresh Midwest so you can make this iconic salad at home, order now online.
WARM SUMAC CHICKEN SALAD FROM EMA
Ema's Warm Sumac Chicken Salad is made with sumac chicken, mixed greens, roasted artichokes, asparagus, farro and grilled flatbread and is available Monday – Friday for lunch.
Make a reservation at Ema.
Order carryout or delivery from Ema.
ARUGULA SALAD FROM OSTERIA VIA STATO
This salad features a peppery Arugula base, sweet Medjool dates, Applewood smoked bacon, shaved parmesan and housemade lemon vinaigrette. It makes for the perfect balance of savory, sweet and salty.
This salad from Antico Posto is simple but filled with flavor. Made with spinach, avocado, shaved parmesan and lemon vinaigrette, it is the perfect starter for lunch or dinner.
SUMMER HOUSE COBB SALAD AT SUMMER HOUSE & STELLA BARRA PIZZERIA & WINE BAR – CHICAGO & NORTH BETHESDA

The Summer House Cobb Salad is everything you ever could want in a chopped salad made with chicken breast, hard-cooked eggs, charred corn, cucumber, tomato, point Reyes blue cheese, crisp bacon, and homemade herb vinaigrette.
SEAFOOD CHOPPED SALAD AT  JOE'S SEAFOOD, PRIME STEAK & STONE CRAB

This salad is one of the most popular items on both the lunch and dinner menu at Joe's Seafood, Prime Steak & Stone Crab. The Seafood Chopped Salad includes a lettuce mix, red and yellow bell pepper, cucumber, carrot, celery, hearts of palm, green beans, corn, edamame, radish and blanched asparagus tossed with a squeeze of fresh lemon juice and creamy vinaigrette. It's topped with a chilled seafood mix of jumbo shrimp cocktail, king crab meat and lobster tail meat then garnished with a lemon wedge, sliced avocado and a hard boiled egg.

Make a reservation at the Joe's location nearest you.
BRUSSELS SPROUT SALAD AT HUB 51

This salad has always been a favorite at Hub 51 and it's available at lunch and dinner. The brussels sprouts are combined with medjool dates, almonds, lightly shaved manchego cheese and tossed in a mustard vinaigrette, which yields a nice balance of salty and sweet.
Order carryout or delivery from Hub 51.
GIULIANA'S ITALIAN SALAD AT RPM ITALIAN
This salad is celebrity-partner Giuliana Rancic's go-to salad at RPM! A blend of lettuces tossed with cherry tomatoes, roasted red and yellow peppers, pepperoncini, nicoise olives, shaved red onion, sharp provolone and parmesan cheeses, then dressed with red wine vinaigrette and topped with Genoa Salami and oregano.
Make a reservation at RPM Italian – Chicago.  Order carryout or delivery from RPM Italian – Chicago.
Make a reservation at RPM Italian – D.C. Order carryout or delivery from RPM Italian – D.C.

KALE CAESAR SALAD AT SARANELLO'S
This variation on a classic delivers both flavor and crunch. Made with crispy shallots, roasted garbanzo beans, Parmesan Reggiano and a mixture of baby and Tuscan kale.
VILLAGE SALAD AT ABA (AUSTIN & CHICAGO)
This Asian-inspired salad is available at all Big Bowl locations and packed with sliced chicken, greens, edamame, peanuts, corn, cucumbers, scallions, crispy wontons, rice sticks and tossed with a tangy cilantro-lime dressing and peanut sauce.