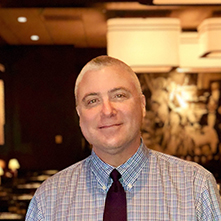 Greg Nemeth
Partner
Greg Nemeth is a Partner with the Wildfire & Big Bowl Division at Lettuce Entertain You Restaurants.

Born in Chicago and raised in the San Francisco Bay Area, Greg's passion for food started when he would assist his mom in making dinner as a child. Growing up he worked many different positions at a local iconic restaurant, The Hayward Fishery, and that cemented his hospitality career trajectory.

A graduate of California Culinary Academy, Greg held various leadership positions within the hospitality industry, including with The Santa Barbara Biltmore, Max's Restaurants of San Francisco, The Northern California Golf Association and The Cheesecake Factory.

In 2006, Greg rejoined Max's Restaurants, as they were looking to expand into the Chicagoland market. He returned to his hometown and opened Billy Berk's Restaurant & Piano Bar in Westfield's Old Orchard.

Greg joined Lettuce in 2010 and has overseen several Wildfire and Big Bowl locations where he plays an important role in developing the management team in the Wildfire & Big Bowl Division.

Greg lives in Western Springs with his wife, Marina and their children, Andrew and Lucia.