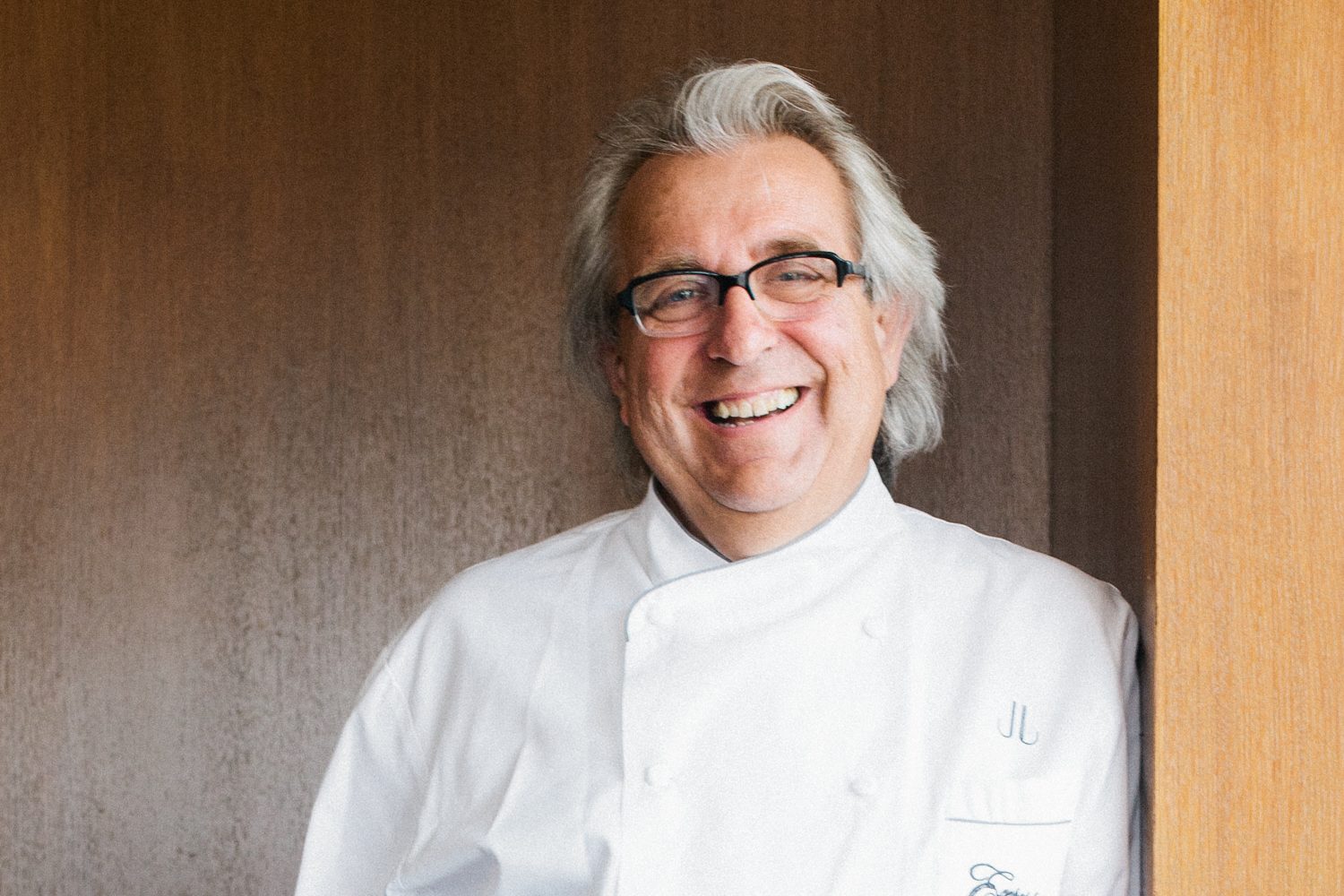 J Joho
Chef Propriétaire
Known the world over for having made an indelible mark on the culinary world with his exquisite personal cuisine, Chef J. Joho humbly entered the profession as a 6-year-old, peeling vegetables in his aunt's restaurant kitchen in Alsace, France. His formal training began as a 13-year-old apprentice for Paul Haeberlin of the acclaimed L'Auberge de L'Ill, and continued in kitchens in France, Italy, and Switzerland. By the age of 23, Joho was the sous chef at a Michelin three-star restaurant where he commanded a 35-person staff. It was while he was studying at the Hotel Restaurant School in Strasbourg that Joho immersed himself in the hotel and restaurant business, as well as the arts of butchering, pastry, cheese and wine.

Joho's rise to international success began on the 40th floor of the Chicago Stock Exchange with Everest, which became one of the world's premier dining rooms. His past establishments across the country in Chicago (Everest, Studio Paris) and current in Las Vegas (Eiffel Tower Restaurant) set standards for dining and win accolades at every turn. Joho is also a partner in several other concepts, including Chicago's M Burger, and was a founding partner of the Corner Bakery concept.

Inspired by the arts, Joho has filled his restaurants with the work of many of his friends, including Swiss sculptor Ivo Soldini, Italian sculptor Virginio Ferarri, and painters including John Westmark and Tim Anderson. Joho has also authored "The Eiffel Tower Restaurant Cookbook: Capturing the Magic of Paris" where he shared 50 of his signature dishes, transporting the magic of Paris into kitchens of gourmet homes across the country.

Chef Joho was awarded the Critic's Choice Lifetime Achievement Award by the Chicago Tribune in 2016. Joho was also named "Restaurateur of the Year" by Gayot in 2012. James Beard Foundation has awarded; "Who's Who", "Best New Restaurant", "Best American Chef: Midwest"; nominations for "Best Outstanding Restaurant", "Outstanding Chef," and "Outstanding Service."

In 2018, Chef Joho and his team at Everest celebrated the 35th anniversary of the French fine dining institution, which Robert Parker called "a brilliant meal from a great chef at the top of his game." Everest was awarded many accolades; The highest marks from Chicago Tribune, Chicago Sun-Times and Chicago Magazine, the "country's best selection of Alsace wine" by USA Today, The New York Times and Saveur and the Five-Diamond AAA rating. Everest was a member of Les Grande Table Du Monde Traditions & Qualité, Maitre Cuisiniers de France and the only Chicago member of the prestigious Relais & Chateaux/Relais Gourmand.

In 2022, Chef J. Joho teamed with Lettuce and Marriott International to create two unique concepts in the new St Regis Chicago.  Miru, a Japanese-inspired all-day restaurant opened in May 2023, with Tre Dita, a Tuscan Steakhouse to follow in late 2023.