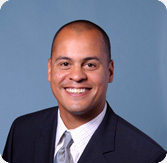 Ron Thompson
Managing Partner
Ron Thompson is Managing Partner of Wildfire and Big Bowl.

It was at the age of 15 when Ron began washing dishes at a neighborhood breakfast joint when his passion for the industry began. Gaining experience while fulfilling his interests, Ron worked in restaurants throughout high school and college and soon became part of Lettuce Entertain You Restaurants and Wildfire restaurants.

After washing dishes at a young age, Ron was ready to experience different aspects of restaurants. He moved on to work at a malt shop in high school and served at a St. Paul restaurant which focused on daily menus and specials. It was there that he developed his palate and appreciation for a wide variety of tastes. The restaurant opened its second location in Minneapolis and Ron was promoted to manager and then to general manager. Executing at high levels in both food and service, Ron perfected his managerial skills and maintained high standards for himself and his staff.

After college, Ron was looking for a restaurant company that was also known for high standards in service and food with an opportunity to learn and grow. After working with smaller restaurants, he was interested in a company involved with larger restaurants with an array of concepts. In 2001, Ron joined the Wildfire team for the opening of the Eden Prairie location and in 2008 became a managing partner of Wildfire Eden Prairie. In 2012, Ron became partner at Twin City Grill. Ron is also now a partner of Big Bowl.

Over the years, Ron has especially enjoyed teaching and working with people on a daily basis. The fast pace of the restaurant world and the interaction with customers is what Ron loves about his job. Now as managing partner he prides on giving advice to those he has worked with and making sure his staff and customers enjoy every moment of their experience at Wildfire. When Ron is away from Wildfire and Big Bowl he enjoys spending time with his wife and their three children.