14K Chocolate Cake
Recipe by RPM Steak
Surprise your Valentine with this 14K Chocolate Cake recipe from Chef Andrea Cote of RPM Steak. While optional, the gold leaf flakes add to its decadence and will elevate your baking experience.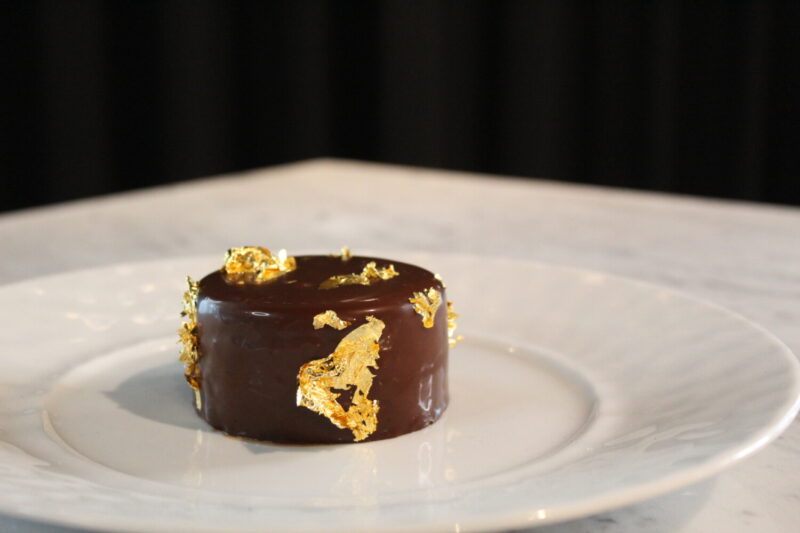 Join RPM Steak for Valentine's Day and order up this signature dessert to share.
14K Chocolate Cake
Impress your date with this cake
Serving Size: 1 small cake
Ingredients:
INGREDIENTS FOR DEVIL'S FOOD CAKE
• 1 cup and 3 Tbsp. all purpose flour
• ¾ cup cocoa powder
• 1 cup and 2 Tbsp. sugar
• 1 ¼ tsp. baking powder
• 1 Tbsp. baking soda
• ¾ cup brewed coffee
• ½ cup buttermilk
• 2 eggs
• 3 tbsp. butter, melted
• 3 Tbsp canola oil

INGREDIENTS FOR CHOCOLATE GANACHE
• ½ cup cream
• ½ cup milk
• ½ cup dark chocolate, chopped
• ½ cup milk chocolate, chopped
• 8 Tbsp. butter, melted

INGREDIENTS FOR CHOCOLATE GLAZE
• 4 gelatin sheets
• ¼ cup chocolate
• ½ cup water
• 1 cup and 2 Tbsp. sugar
• ¾ cup cocoa powder
• ¼ cup cream
• edible gold leaf (optional)
Method:
METHOD FOR DEVIL'S FOOD CAKE
1. Preheat the oven to 350 degrees.
2. Sift together flour, cocoa powder, sugar, baking powder, and baking soda into the bowl of a stand mixer.
3. In a separate bowl, whisk together coffee, buttermilk and eggs.
4. Pour the coffee mixture over the dry ingredients, using the paddle attachment to combine.
5. Add melted butter and canola oil to the mixture, using the paddle attachment to combine.
6. Pour into a parchment lined half sheet tray.
7. Bake for 16 - 20 minutes, until a cake tester comes out clean.
8. Once cool, use a circle shaped cookie cutter to punch out 3 to 4 layers of cake.

METHOD FOR CHOCOLATE GANACHE
1. Mix dark and milk chocolate together in a medium mixing bowl. Place the bowl over a pot of boiling water creating a water bath, to melt. Stir continuously until the chocolate is melted. Remove from heat.
2. Add the melted butter to the melted chocolate mixture and stir until smooth.
3. Meanwhile, heat milk and cream in a small saucepan over medium-low heat, stirring every minute or so to prevent it from boiling over.
4. As soon as the cream begins to steam, pour it over the chocolate in the mixing bowl.
5. Whisk to combine until mixture is smooth, or you can use an immersion blender to combine. Set aside to cool.

METHOD FOR CHOCOLATE GLAZE
1. Submerge the gelatin sheets in cold water for 5 minutes, until malleable and springy.
2. Add chocolate, water, sugar, cocoa powder and cream to a sauce pan and bring to a boil over low heat. Take care not to scorch the cocoa powder and chocolate.
3. Remove the gelatin from the cold water and add to the saucepan. Stir for 5 minutes.
4. Strain the mixture through a fine mesh sieve and set aside to cool to 92 - 94 degrees Fahrenheit.

ASSEMBLY
1. Place one heart layer on a plate. Use a long serrated knife to level the layer if it has domed on top. Spread ½ cup of ganache thinly over the layer.
2. Carefully place the second layer on top of the filling. Use the knife to even out any edges that overhang or don't match up. Repeat this step until all layers have been added to the cake.
3. Spread the remaining ganache over the tops and sides, fully covering the cake.
4. Place the cake in the freezer for 3 hours, until fully frozen.
5. Remove from the freezer and put on a cooling rack over a pan lined with plastic wrap. Pour glaze over the top of the cake, allowing excess to drip off.
6. If desired, add gold leaf, at random, to the top and sides of the cake.
7. Return to the refrigerator to defrost completely, approximately 1 - 2 hours.
8. Remove from the cooling rack, plate and enjoy.
Download the recipe