A Chef's Favorite Latkes
Recipe by Summer House Santa Monica
Wishing a Happy Hanukkah to all those celebrating! Chef Ben Goodnick of Summer House Santa Monica is letting us in on a little secret, his favorite family latke recipe.
CHEF TIPS:
To determine when the oil is hot enough, put a drop of water or potato juice in it and when it sizzles, it is ready. The oil should be hot enough to sizzle but not splatter.
This is a very juicy mixture and will get juicer as the latkes cook. Don't worry, you don't need to get rid of the juice.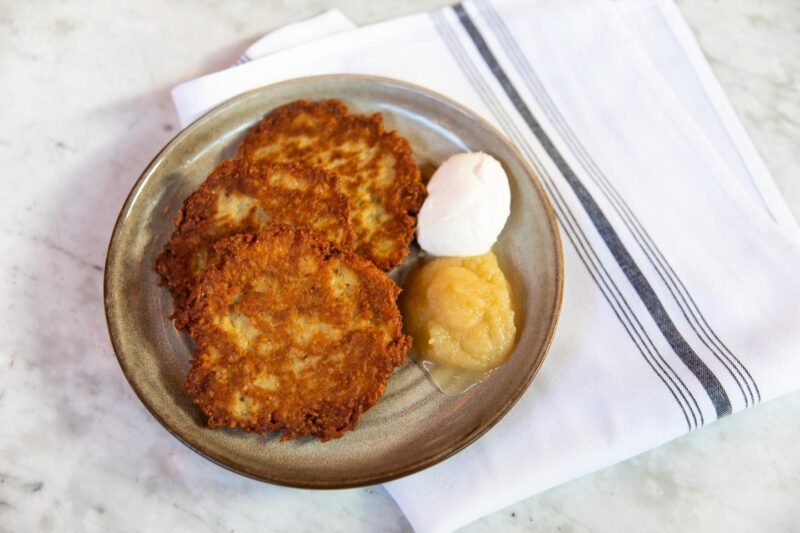 Looking to get a bit creative with your latkes this Hanukkah? Chef Ben is sharing four ways to top your latkes from savory to sweet!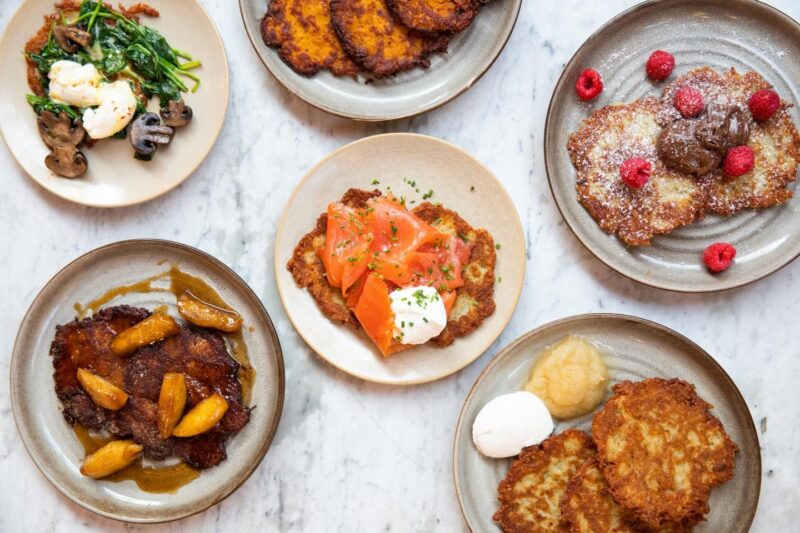 Sweet Potato Latkes with Brown Butter Caramelized Apples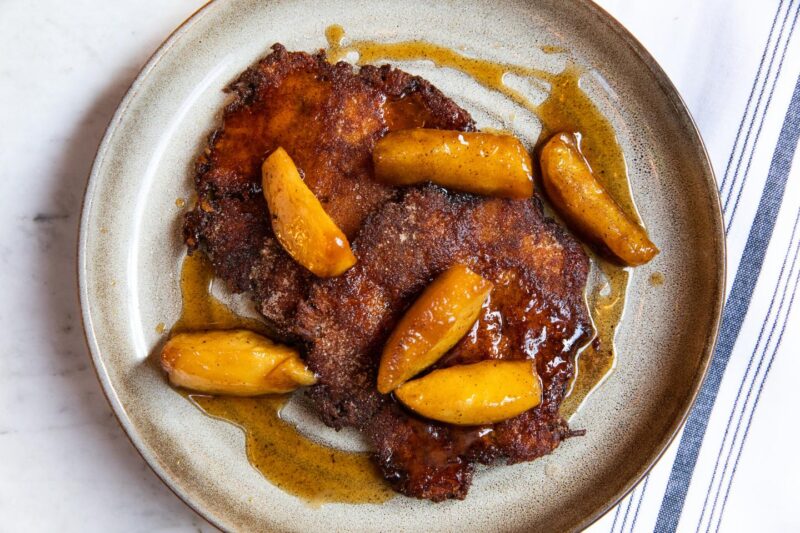 Change up the grated potato for sweet potato and leave out the onion which will give you a sweeter version that is great with warm fruits like the delicious caramelized apples or vanilla scented pineapple. Sprinkle warm latkes with ample cinnamon sugar and top with brown butter caramelized apples.
Recipe for Brown Butter Caramelized Apples
INGREDIENTS:
2 Gala Apples peeled, cored and cut into eighths
2 tablespoon Butter
2 tablespoon Dark brown sugar
2 tablespoon Apple cider or water
1 teaspoon Cinnamon
METHOD:
Melt butter in a sauté pan and cook until golden.

Add the apples and toss to combine.

Add brown sugar and cider or water and simmer for 5-10 minutes until apples are tender but not falling apart.

Stir in cinnamon.
Latkes with Nutella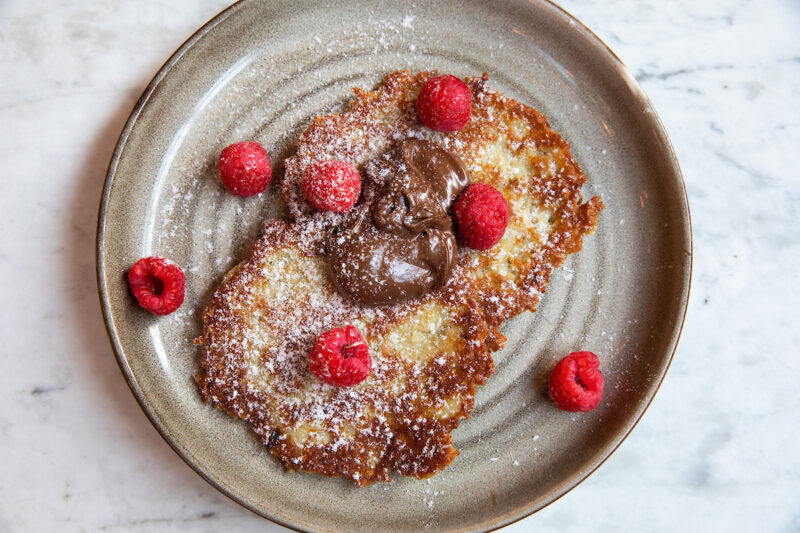 "Leave the onion out of the latke recipe for this version and add a pinch of orange zest to the latke batter."
Sprinkle warm latkes with powdered sugar and add dollops of Nutella. Garnish as you like with berries or sliced bananas.
Leek Latkes with Smoked Salmon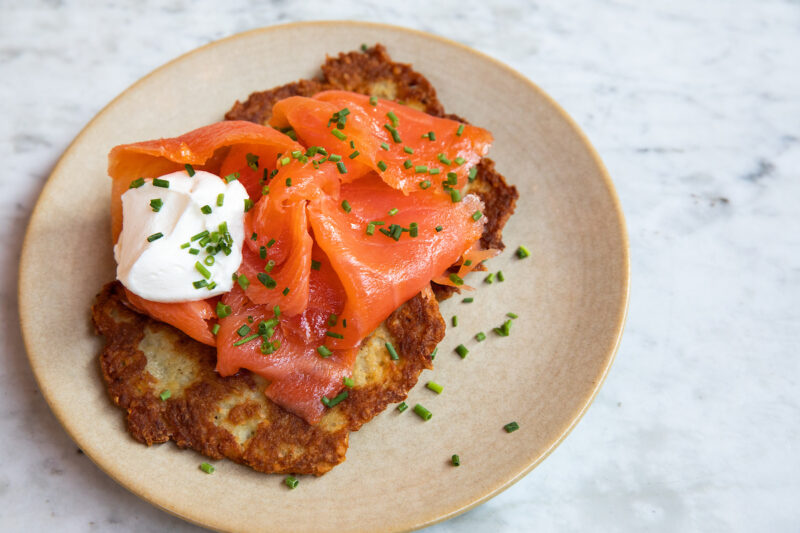 "I like to take the basic latke recipe and swap out half of the potato for finely sliced leeks. They are great served with your favorite smoked salmon or make them small and serve with caviar for a decadent appetizer."
This version is easy and great for brunch. Top the warm latkes with cold smoked salmon or nova lox. Spoon on a bit of sour cream and sprinkle with chives.
Latke Benedict Florentine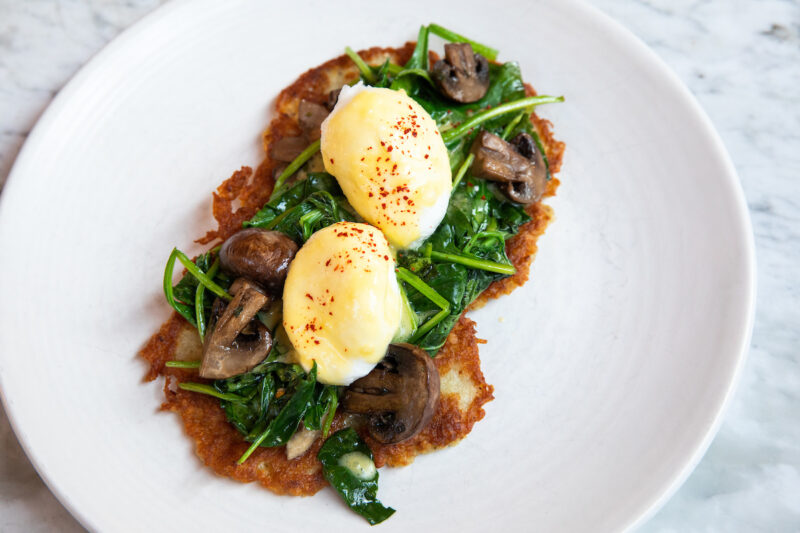 "Latkes for brunch is always a good idea. Top warm latkes with sautéed spinach and mushrooms and finish with a poached eggs. Pour on the hollandaise sauce and garnish with paprika."
Recipe for Hollandaise
INGREDIENTS:
2 egg yolks
3 tablespoon white wine
1 cup melted butter, warm but not hot
Salt and pepper to taste
METHOD:
Place egg yolks in a bowl with the wine.

Whip with a whisk while holding the bowl over a simmering pot of water.

When the yolks are airy and starting to thicken place the bowl on a folded towel on counter.

While continually whisking, drizzle in the melted butter.

Season to taste.
A Chef's Favorite Latkes
Serving Size: 6-8 people
Ingredients:
2 eggs, lightly beaten
4 large Idaho potatoes, peeled and grated on the small holes of a box grater
1 small onion, peeled and grated on the small holes of box grater
1 teaspoon salt
2 tablespoon matzah Meal or flour
Salt and black pepper to taste
Your preferred oil, duck fat or rendered chicken fat (schmaltz) for frying
Method:
In a bowl stir together eggs, grated potatoes and grated onions.
Stir in salt, pepper and matzah meal or flour
Heat about 1/4 inch oil over medium high heat in a heavy bottomed sauté pan.
When a drop of the latke mixture immediately sizzles the oil is ready.
Place large spoonful's of the batter into the pan and spread into 3-4 inch circles.
Fry for 3-5 minutes on the first side or until golden.
Flip and fry the second side.
Remove to a sheet pan lined with a rack to drain.
Hold in a 200 degrees F oven as you fry the rest of the batch.
Download the recipe