Bar Harbor Mussels
Recipe by Pizzeria Portofino
Chef Sam Dickstein of Pizzeria Portofino gives us a breakdown of their Bar Harbor Mussels, showing us how simple it is to make this easy seafood dish! It pairs great with a chilled glass of bubbly or a sparkling zero-proof cocktail. Ready to give this recipe a try? We are!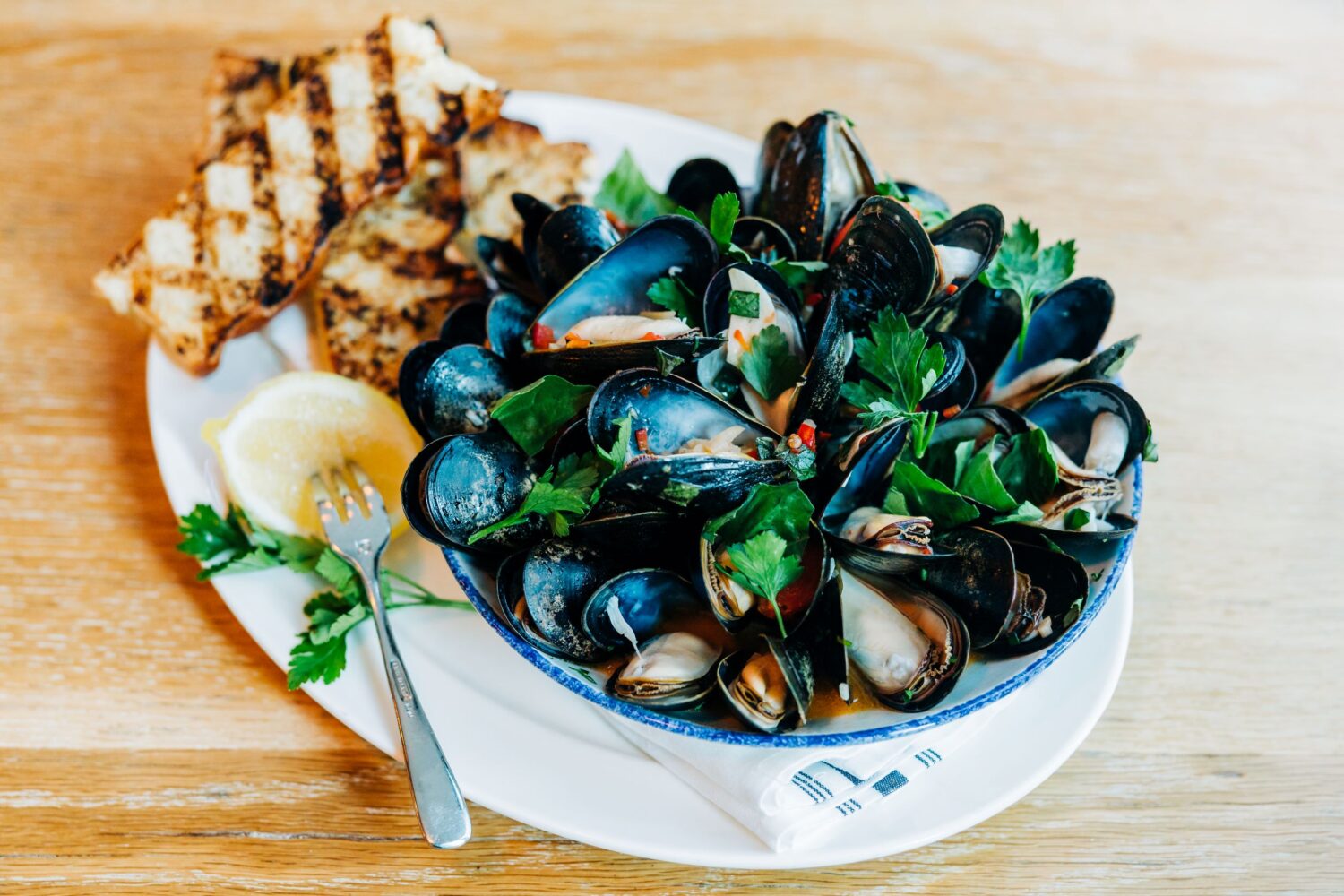 You can also visit Pizzeria Portofino and enjoy the mussels with a view of the Chicago river.
Bar Harbor Mussels
An impressive yet simple one-pot meal
Serving Size: 2
Ingredients:
2 Tbsp canola oil
4 Tbsp butter, cubed
1 Pound mussels, cleaned
½ cup white wine
1 Tbsp garlic, thinly sliced
4 medium-sized shallots, diced
1 Tbsp fresno chilies, finely diced
½ Tbsp Calabrian Chili Paste
¼ cup, sun dried tomatoes, coarsely chopped
1 large pinch parsley, finely chopped
1 large pinch basil, finely chopped
1 tsp lemon-infused olive oil
4 - 6 petite basil leaves, garnish
4 - 6 parsley springs, garnish
1 lemon for squeezing
Bread for serving
Method:
1. In a large pot with a lid, heat the canola oil and butter over medium heat, until glistening.
2. Add shaved garlic, fresno chilies, and shallots to the pot and sauté, stirring constantly, until golden brown.
3. Add the sundried tomatoes, Calabrian chili paste and white wine. Stir to break apart the tomatoes. Bring the pot to a boil.
4. Once boiling, add the mussels, stir well, then cover the pot and shake once or twice to be sure the mussels don't burn on the bottom. Cook over medium heat for 2 to 4 minutes, or until the mussels have opened.
5. Once mussels have opened, gently stir in the lemon-infused olive oil, basil and parsley.
6. Place mussels into a bowl and garnish with parsley, basil leaves, and a squeeze of fresh lemon.
7. Plate and serve with bread.
Download the recipe