Butternut Squash Risotto
Recipe by Saranello's
Saranello's is sharing the perfect fall recipe for Butternut Squash Risotto. This vegetarian dish can be served as a side dish or as the main event. Topped with crispy sage, toasted pumpkin seeds and parmesan, each spoonful will remind you of the cozy fall season.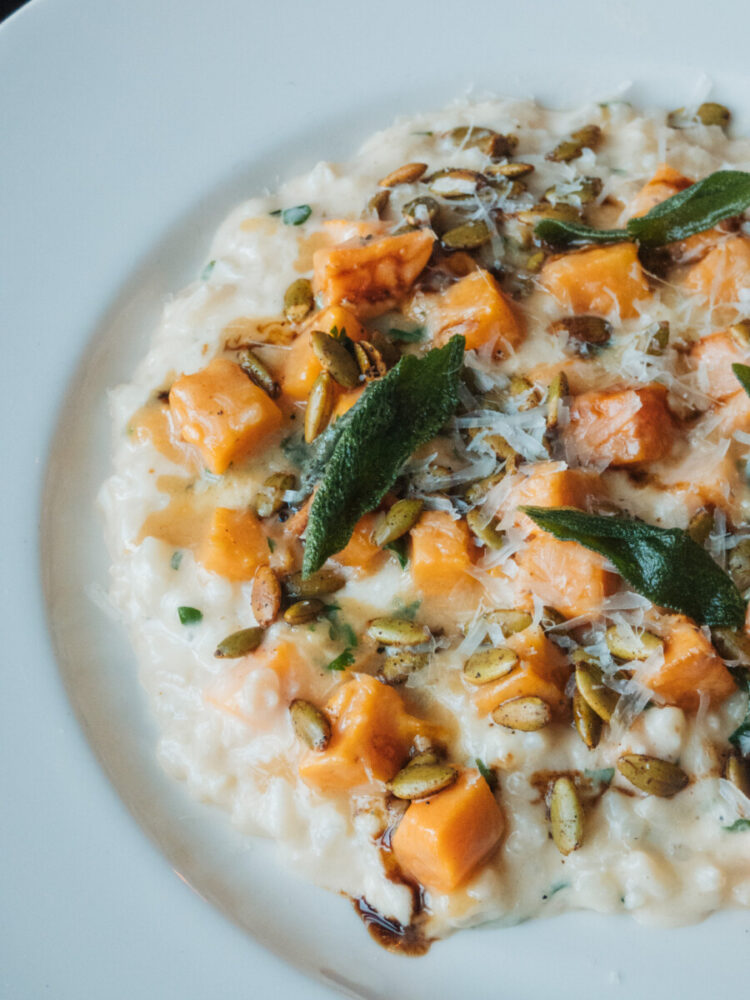 Butternut Squash Risotto
The perfect fall risotto
Serving Size: 4
Ingredients:
1 butternut squash, peeled, seeded, and cut into small cubes
1 onion, finely diced
2 cloves of garlic, minced
1 1⁄2 cups arborio rice
4 cups vegetable broth
1 cup white wine (optional)
1⁄2 cup grated parmesan cheese
2 Tablespoons butter
2 Tablespoons olive oil
salt and pepper to taste
2 Tablespoons of unsweetened whipped cream
1 Tablespoon of toasted pumpkin seeds (for garnish)
Fresh sage, chopped (for garnish)


Method:
1. In a large saucepan, heat the vegetable broth over medium heat until it simmers. Keep it simmering throughout the cooking process.
2. In a separate large pot or Dutch Oven, heat the olive oil and butter over medium heat. Add the diced onion and minced garlic, and sauté until the onion becomes translucent and slightly golden.
3. Add the butternut squash cubes to the pot and sauté for about 5 minutes, until they start to soften.
4. Add the arborio rice to the pot and stir well, coating the rice with the oil and butter mixture. Cook for another two minutes, stirring constantly.
5. If using, pour in the white wine and cook until it is absorbed by the rice, stirring continuously.
6. Begin adding the vegetable broth, one ladle at a time, stirring constantly and allowing the rice to absorb each ladle before adding more. Repeat this process until the rice is cooked al dente, about 20-25 minutes. Adjust the amount of vegetable broth as needed to reach the desired consistency.
7. Once the rice is cooked, remove the pot from the heat. Stir in the grated parmesan cheese until it is fully melted and incorporated. Finish with whipped cream and season with salt and pepper to taste.
8. Let the risotto rest for two minutes before serving. Garnish with freshly chopped sage, toasted pumpkin seeds, and additional grated parmesan cheese.
Download the recipe