Blackened Mahi Mahi
Recipe by Shaw's Crab House
Switch up your go-to Mahi Mahi recipe with this Blackened Mahi Mahi from Shaw's Crab House for a flavorful kick.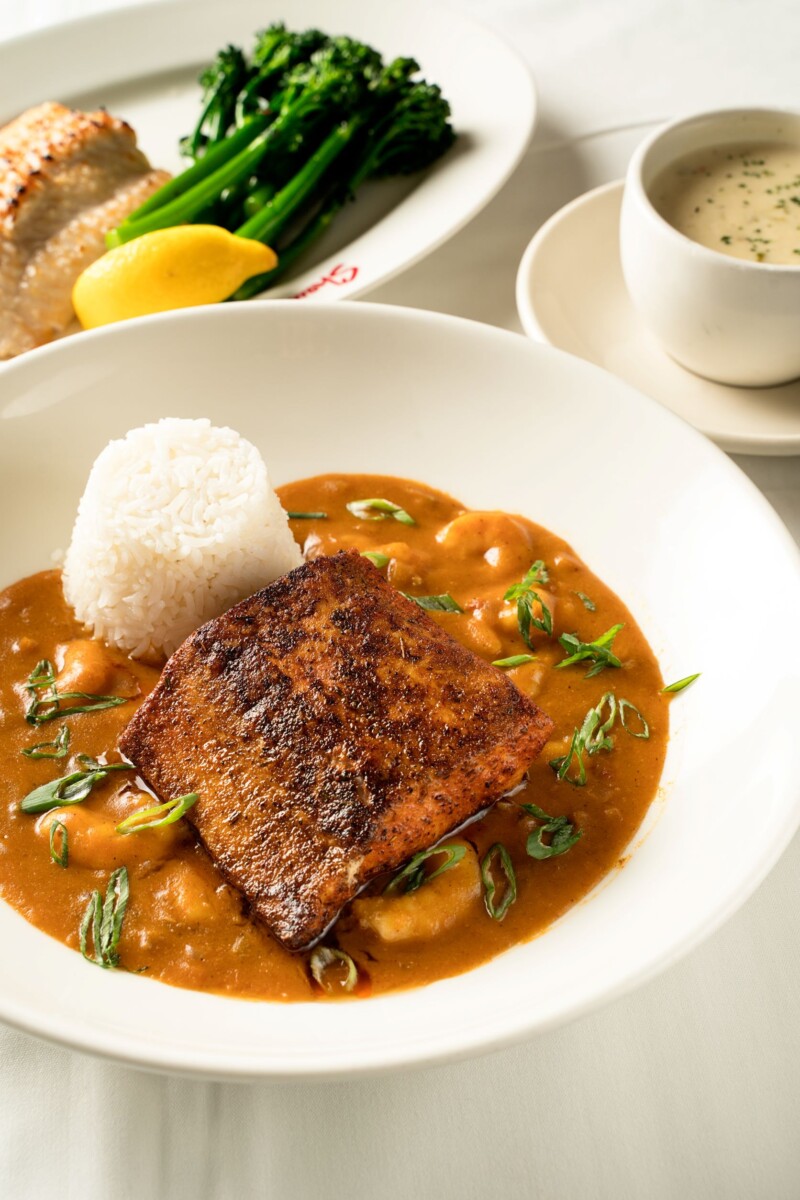 Dining out? Head to Shaw's for more seafood options.
Blackened Mahi Mahi
Add Cajun spice to your meatless Mondays & Fridays
Serving Size: 4
Ingredients:
MAHI MAHI INGREDIENTS
• 4 ea. (7 oz.) Mahi Mahi filets
• 1 Tbsp. Kosher Salt
• 4 Tbsp. Cajun Spice
• 6 oz. Crawfish tail meat, parboiled, fresh frozen. Thaw before cooking.
• 4 cups Étouffée Sauce (recipe to follow)
• 2 cups Cooked Jasmine Rice
• 2 ea. Scallions, thinly sliced.

Chef Tip: Crawfish can be purchased online from www.lacrawfish.com

ÉTOUFFÉE SAUCE INGREDIENTS
• 1 tsp Cooking Oil
• ¾ cup Onions, small diced
• ½ cup Green Bell Peppers, small diced
• ¼ cup Celery, small diced
• ¾ tsp Cayenne Pepper
• ¾ tsp Ground White Pepper
• ¾ tsp Ground Black Pepper
• 1 ½ tsp Granulated Garlic
• 1 tsp Onion Powder
• 1 Tbsp Paprika
• 3 Tbsp Water
• 2 Tbsp Butter
• 6 Tbsp All-Purpose Flour
• 3 cups Lobster Stock (if not available lobster stock can be substituted with seafood stock from the store)
Method:
MAHI MAHI METHOD
1. Preheat the oven to 400 degrees Fahrenheit.
2. In a large sauté pan on medium heat, add in oil.
3. While the oil is heating up, season the mahi mahi with salt and Cajun spice.
4. Put the mahi mahi into the sauté pan and cook 3 minutes on each side.
5. Place the sauté pan in the oven for 7 minutes.
6. After 7 minutes, bring the sauté pan out of the oven. Add the 4 cups of étouffée sauce in the same pan and the crawfish.
7. While the crawfish heat up, place a scoop of jasmine rice on one side of each bowl.
8. Once the crawfish are heated up, you can pour the sauce in front of the rice and place the mahi mahi and fish over the sauce. Garnish with green scallions.

ÉTOUFFÉE SAUCE METHOD
1. Using a large saucepan, add in oil over medium heat.
2. Once oil is hot, add in the vegetables and cook until translucent.
3. Add in the water to the sauce pot. Mix with the vegetables.
4. Once the base and vegetables are well incorporated, add in spices and flour. Mix well and add the lobster/seafood stock.
5. While stirring, bring to a medium boil and then lower the heat and keep stirring with a whisk until it thickens. This step should take about 25 minutes.
6. Cool down and store in the refrigerator until ready to use.
Download the recipe