Braised Beef Short Rib
Recipe by Saranello's
Saranello's Chef / Partner Mychael Bonner is sharing an easy-to-make Braised Beef Short Rib recipe that is the perfect cozy night in recipe. Made with red wine, winter vegetables and herbs, this dish is best served over mashed potatoes or a hearty polenta.
Prefer for Chef Mychael Bonner to do the cooking? Try the Braiseed Beef Short Rib at Saranello's which he serves with parmesan mashed potatoes and carrots.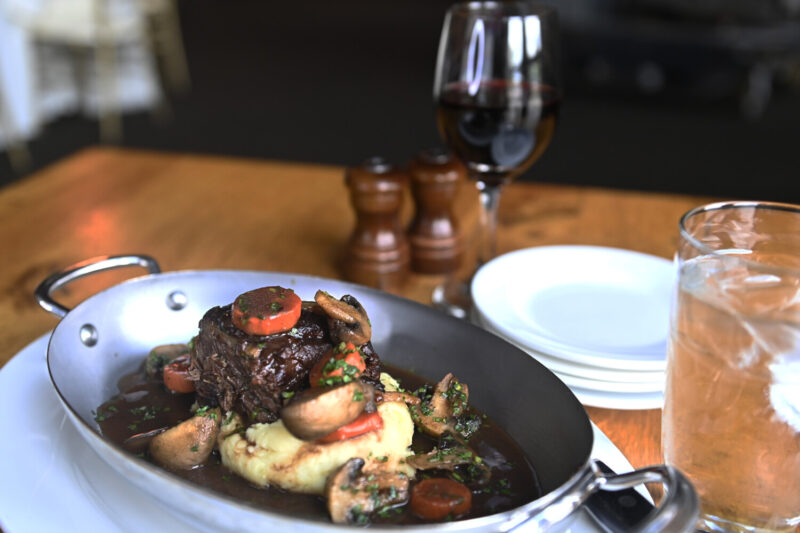 Braised Beef Short Rib
The perfect recipe for a cozy night in
Serving Size: 3-4 people
Ingredients:
2 1/2 lbs boneless beef short rib
2 tablespoons olive oil
1 yellow onion, medium dice
1 cup carrots, ¼ inch slice
2 garlic cloves, peeled and coarsely chopped
1 12 ounce can whole peeled plum tomatoes
2 cups red wine
2 quarts beef stock
1 sprig rosemary
1 sprig fresh thyme
2 bay leaves
Salt and pepper to taste

Method:
1. Preheat the oven to 325 degrees.
2. Cut the meat into 4 portions, and season on all sides with salt and black pepper.
3. Heat a large pot or Dutch oven over a medium heat, then add 2 tablespoons of olive oil.
4. When the oil is hot but not smoking, add the beef and sear for about 2 minutes per side.
5. Remove the beef and set it aside.
6. Discard any excess oil, and add the onions, carrots and garlic. Cook, stirring occasionally, until the vegetables are translucent, about 2 minutes.
7. Add the tomatoes, and deglaze the pot with red wine.
8. Add the beef so it sits on top of the vegetables without touching the bottom of the pot and add beef stock until the liquid comes up 3/4 way on the beef.
9. Add the rosemary, thyme and bay leaves to the pot.
10. Cover the top of the beef with parchment paper to hold in the steam from the braising.
11. Cover the pot with the lid and place in a preheated oven.
12. Continue cooking until the meat is fork tender, about 3 to 3.5 hours.
13. Remove from the oven and let the meat sit in the liquid for at least an hour, to absorb moisture and flavor from the sauce.
14. Remove the beef from the sauce and set aside, covered.
15. Strain the remaining liquid in the pot through a fine mesh strainer, and then continue to cook the sauce until reduced to about half.
16. To serve, warm the beef briefly in a 350 degree oven for about 5-10 minutes, and garnish each portion with sauce.

Download the recipe