Bucatini Carbonara
Recipe by Pizzeria Portofino
While you may not be spending your summer vacationing in southern Europe, you can still bring the taste of Italy to your kitchen with Pizzeria Portofino's Bucatini Carbonara recipe. In this Italian staple dish, egg yolks, pecorino, and bacon come together to create a mouth-watering rich pasta.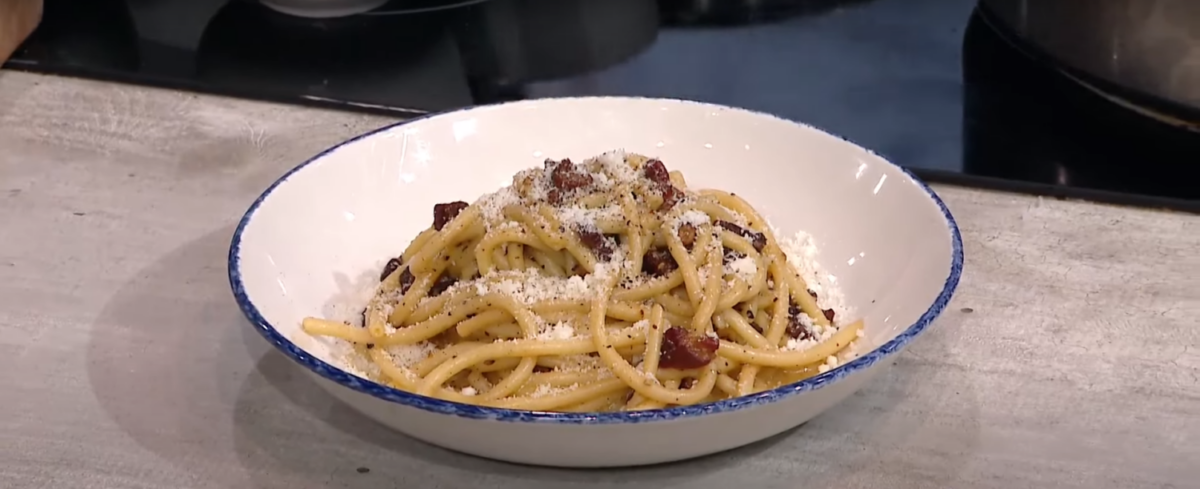 Bucatini Carbonara
Easy, Italian comfort food brought to your kitchen
Serving Size: 2
Ingredients:
• ⅔ lb bucatini
• ¼ lb peppered bacon, cut into small cubes
• 2 Tbsp butter
• ½ cup pasta water
• 2 egg yolks
• ½ cup grated pecorino, divided
• salt and coarsely ground black pepper to taste
Method:
1. Put a large pot of salted water on to boil (1 tablespoon salt for every 2 quarts of water.)
2. Once the salted water has come to a rolling boil, drop the pasta in and cook until al dente. Drain the pasta and reserve the water.
3. In a small mixing bowl combine the egg yolks, half of the pecorino, black pepper and salt. Set aside.
4. Heat a large sauté pan over medium heat. Add the bacon and cook until the bacon is rendered and crispy. Remove and set aside.
5. Add butter and black pepper to the pan. Stir continuously until melted. Add in pasta water and cook for one minute, or until the mixture can coat the back of a spoon. Remove from heat and reincorporate the bacon.
6. Drop the al dente pasta into the sauté pan and stir to combine. Slowly add the pasta yolk mixture and vigorously fold to fully incorporate.
7. Plate the pasta in a bowl and top with the remaining pecorino and coarsely ground black pepper.
8. Serve and enjoy!
Download the recipe