Cinnamon French Toast
Recipe by The Oakville Grill & Cellar
Inspired by the brunch menu at The Oakville Grill & Cellar, this Cinnamon French Toast recipe is what brunch dreams are made of. Thick brioche slices are soaked in sweet batter, griddled golden, and paired with caramelized roasted peaches for a burst of summer anytime. For more dishes like this, check out The Oakville's brunch menu and be transported to a leisurely morning in Napa Valley.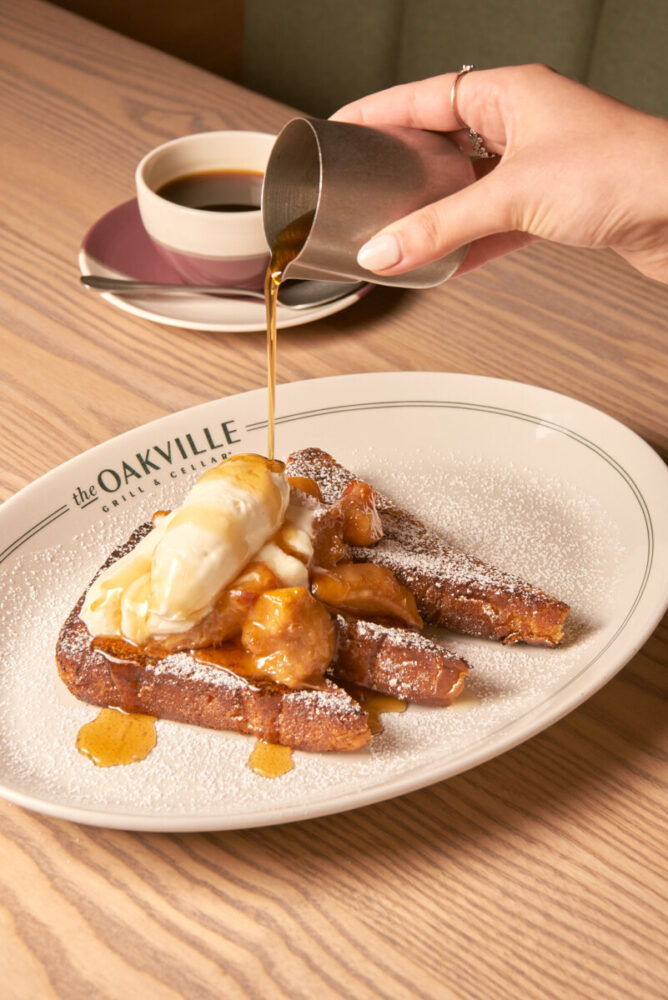 Cinnamon French Toast
With a burst of roasted peaches
Serving Size: 1
Ingredients:
CINNAMON FRENCH TOAST INGREDIENTS
2 pieces Brioche Bread, sliced 1 ½" thick
4 cups French Toast Batter, recipe below
½ cup Cinnamon Powder Sugar, recipe below
3 ounces clarified butter
½ cup roasted peaches, recipe below
¼ cup whipped cream, previously whipped
¼ cup 55% maple syrup

FRENCH TOAST BATTER INGREDIENTS
2 whole eggs
1 egg yolks
1 cup whole milk
1 ½ tsp vanilla paste
¾ cup sugar

CINNAMON POWDERED SUGAR INGREDIENTS
1 cup powdered sugar
2 Tbsp ground cinnamon

ROASTED PEACHES INGREDIENTS
1 lb of peaches, pitted and quartered
1 Tbsp sugar
½ tsp vanilla paste

Method:
CINNAMON FRENCH TOAST METHOD
1. Preheat griddle.
2. Take two pieces of brioche bread and dip them into the French toast batter.
3. Dust one side of the French toast with the cinnamon powdered sugar.
4. Grease griddle with butter and lay the two pieces of French toast, powdered sugar side down on the griddle.
5. Griddle the toast until golden brown and crunchy on the bottom.
6. Dust on the other side with powdered sugar and flip the French toast over. Cook until golden brown.
7. Remove from griddle and place on a cutting board. Cut the French toast in half on a diagonal.
8. Lay the french toast slices down on the plate, overlapping one another.
9. Top with roasted peaches.
10. Add a dollop of whipped cream.
11. Dust with cinnamon powdered sugar.
12. Serve with a creamer of maple syrup.

FRENCH TOAST BATTER METHOD
1. Combine eggs, milk, vanilla and mix together.
2. Add sugar and mix until incorporated.

CINNAMON POWDERED SUGAR METHOD
1. Put ingredients into a mixer.
2. Slowly mix up to 5 minutes to incorporate.

ROASTED PEACHES METHOD
1. Combine all ingredients and marinate for at least one hour.
2. Roast at 300 degrees for 30 minutes.
Download the recipe