Classic Turkey Stuffing
Recipe by Wildfire
Stuffing, the most ideal starch for Thanksgiving dinner, is always a high point of the meal. Great alongside hot turkey and smothered in gravy, and is even great as leftovers the next morning. Basically, everyone loves stuffing, so without further ado let's get into how Wildfire makes their classic turkey stuffing. If you prefer to skip the cooking, Wildfire is open on Thanksgiving Day for dine-in service and carryout.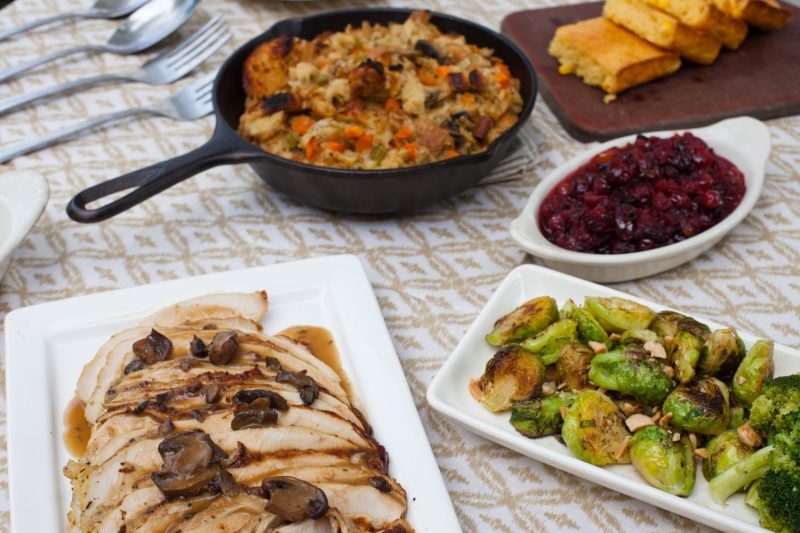 Classic Turkey Stuffing
A tried and true holiday favorite
Serving Size: 8
Ingredients:
1 ¼ pounds tuscan bread (ciabatta), cubed
1 ounces butter
5 ounces onions ½ inch dice
5 ounces celery ½ inch cross cut
5 ounces sliced mushrooms
Pinch cayenne pepper
1 teaspoon chopped garlic
1 teaspoon chopped fresh rosemary
1 teaspoon chopped sage
1 teaspoon chopped thyme
1 teaspoon chopped basil
1 teaspoon + ¼ teaspoon kosher salt & black pepper
3 cups chicken stock
2 ounces melted butter
1 whole egg
1½ ounces whole butter
Method:
1. Placed cubed bread in large stainless bowl.
2. In large sauté pan, melt butter. Saute garlic, onions, celery ,mushrooms, with herbs and
spices till tender and let cool.
3. Heat 1 quart of chicken stock.
4. Mix all remaining ingredients together except whole butter.
5. Spray 9"x13"2" with Pam spray.
6. Evenly distribute stung.
7. Dot with butter. Cover with plastic wrap and foil.
8. Bake in 350 degree oven for 30 minutes.
9. Take o plastic and foil covering and bake for another 20 minutes. Serve warm. Enjoy!
Download the recipe