Corn Fundido
Recipe by Tallboy Taco
We're giving you the recipe to make the Corn Fundido from Tallboy Taco at home! This appetizer has the perfect amount of spice and creamy corn in every bite. Scoop it up with your favorite tortilla chip and voila, you've got yourself an epic dip!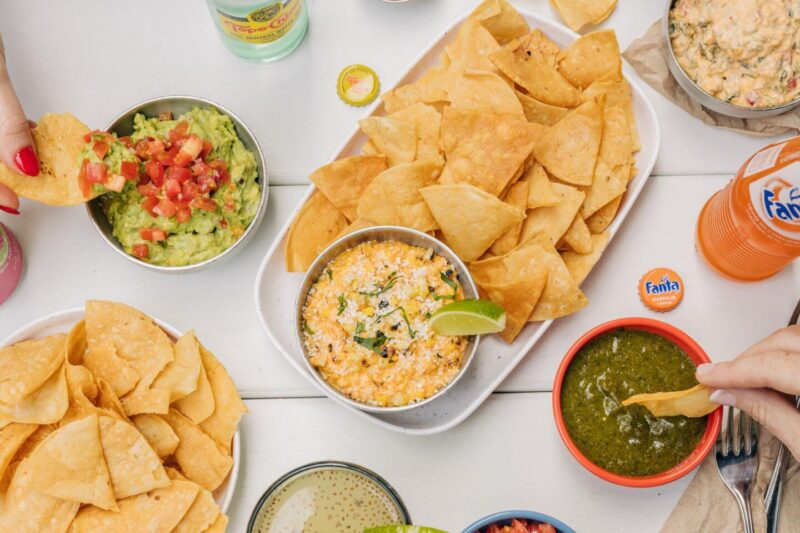 Corn Fundido
A delicious queso dip with a twist
Serving Size: 10
Ingredients:
INGREDIENTS FOR CORN FUNDIDO:
6 Whole Corn on the Cob
5 cups Chihuahua Cheese, shredded
2.5 Cups Chipotle Mayo
½ Cup Cilantro, chopped
¼ Cup Queso Fresco, crumbled
1 Bag Tortilla Chips for serving
INGREDIENTS FOR CHIPOTLE MAYO:
1 Tbsp White Vinegar
½ tsp Kosher Salt
1 tsp Sugar
2 Tbsp Lime Juice
1 oz Chipotle in Adobo Sauce
2 Cups Kewpie Mayonnaise
2 Tbsp Sour Cream
1 Ancho Chile, seed and stem removed

Method:
METHOD FOR CHIPOTLE MAYO:
1. Yields 2.5 cups
2. Boil 1 cup of water.
3. Pour boiling water over the ancho chile and cover and let sit for 10 minutes.
4. Remove the chiles from the water and add to a blender with everything except the mayo and sour cream.
5. Blend on high until smooth, about 30 seconds.
6. Add to a bowl with the mayo and sour cream and whisk until it comes together, about 30 seconds..

METHOD FOR CORN FUNDIDO:
1. Heat a large sauté pan over high heat.
2. Cut the corn off the cob.
3. Add a small amount of Canola Oil to the pan and add the corn, tossing until charred, about 30 seconds..
4. Add the cheese and mayo, and cook for 2 minutes on medium heat, stirring to prevent it from burning.
5. Pour into a bowl and top with the cilantro and queso fresco.
6. Serve with tortilla chips.


Download the recipe